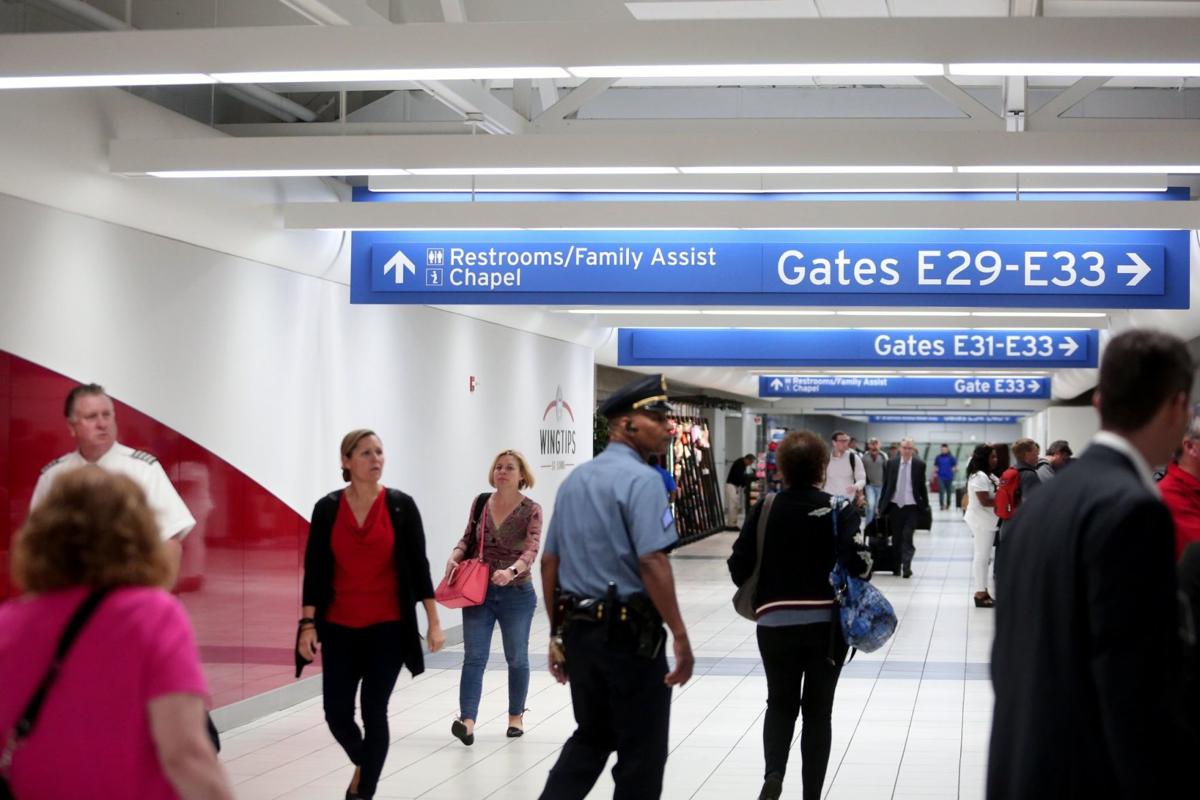 ST. LOUIS COUNTY — A city committee considering the privatization of St. Louis Lambert International Airport on Tuesday delayed a vote to cut the number of bidders on a long-term airport lease, pushing back that decision by at least a week.
St. Louis Budget Director Paul Payne, chairman of the Airport Advisory Working Group, said after a two-hour closed-door meeting that members of the group were still reviewing documents — "and that takes time."
But records obtained by the Post-Dispatch indicate that a disagreement about whether to advance a bidder connected to Jeff Rainford, a lobbyist who was a chief of staff to former mayor Francis Slay, may have been a factor in the delay.
That bidder, STL Aviation Group, wasn't among eight groups the city's lead consultant, Moelis and Co., had recommended, the records show.
Reached by phone later Tuesday, Payne said the Airport Advisory Working Group hadn't decided on any number of finalists. He declined to comment on STL Aviation Group.
"We haven't decided who we would advance to the next stage — that decision has not been made," he said. "Because there hasn't been a decision yet, I'm not going to characterize discussions on any of the particular respondents at this point."
Payne did, however, confirm that the working group has interviewed 11 of the 18 groups that responded to the city's request for qualifications, or RFQ.
That number — but not the names of the bidders — was listed in minutes from closed-door meetings on Nov. 27 and Dec. 10 obtained by the Post-Dispatch. Of the seven remaining groups that want a shot at leasing the city-owned airport, six were not invited for an interview because they failed to meet qualifications. One group had dropped out of the process.
Moelis and Co. recommended to the working group Dec. 10 to advance eight to the next round, according to meeting minutes.
Based on the recorded exchanges of committee members, STL Aviation Group, a New York-based consortium led by California-based Oaktree Capital Management, was not among them.
Linda Martinez, a top aide to Mayor Lyda Krewson, suggested that STL Aviation Group should be added, but the Airport Advisory Working Group wrapped discussion up, expecting to make a decision at its next meeting.
"Excluding them," Martinez said, according to the minutes, "would send a negative message to the community since they are familiar with the St. Louis area."
Martinez did not respond Tuesday to requests for comment by the Post-Dispatch.
STL Aviation Group, which has retained a number of other prominent local lobbyists, includes a company that runs airports in France and elsewhere. Others involved in its bid include prominent St. Louis firms: Clayco and Clayco's real-estate development arm, CRG; KAI Enterprises; KWAME Building Group; and World Wide Technology.
According to the airport group's closed-door meeting minutes:
On Oct. 31, 2018, Deputy City Counselor Michael Garvin told the airport working group he received a phone call from "a firm that employ's (sic) the former Chief of Staff of former Mayor Francis Slay asking if it would be a conflict of interest according to the conflict of interest policy of the Working Group," according to meeting minutes. Garvin said there was no conflict in his opinion, but that the working group could take action if there is appearance of conflict. The group asked Garvin to tell the firm they considered Rainford's involvement to cause "an appearance of conflict."
On Dec. 10, Martinez asked the working group to amend its minutes to say that, based on city code, Rainford's involvement "didn't create an actual conflict and that the group believes that there is an appearance of a conflict."
Payne responded that the working group didn't have all the facts to definitively conclude whether or not there is an actual conflict, but agreed that the minutes be adjusted.
Garvin said that there was no conflict based on the information he had.
Jefferson City lawyer Marc Ellinger suggested the minutes should state "it is the position of the Working Group that there is an appearance of conflict."
Gerard Hollins, who represents Board of Alderman President Lewis Reed at the meetings, motioned to approve the minutes. He, Payne and LaTaunia Kenner, who represents Comptroller Darlene Green, voted in favor. Martinez abstained.
Garvin said the group's conflict-of-interest policy "is subjective and could lend itself to arbitrary decisions." He suggested bidders have a chance to respond to concerns.
Hollins said that if the group adopt a recommendation by Moelis, referring to Moelis and Company, that the group should clarify to Oaktree that "Rainford's involvement is not the reason they weren't selected to advance to the next process."
Glenn Muscosky, managing director of Moelis and Company, reiterated that the firm's recommendation was to advance eight out of 11 bidders that were interviewed. He said that the working group's next steps were to review the request for proposals, have the finalist bidders sign non-disclosure acts, and obtain redacted copies of all 18 bidders' responses to a request for qualifications.
Martinez then "suggested that the group consider advancing Oaktree to the next stage" because she believed they met the RFQ criteria. She "stated that excluding them would send a negative message to the community since they are familiar with the St. Louis area," according to the minutes.
Payne and Hollins "disagreed on account of their presentation."
Matthew Hughes, of Moelis and Company, said "advancing Oaktree carries the risk of losing other stronger parties the city would rather include."
The working group ended the Dec. 10 closed-doors meeting by agreeing to make a decision on the matter at following meeting, which was held Tuesday.
A draft of a potential airport lease agreement, also obtained Tuesday by the Post-Dispatch, said the city would lease the airport for 45 years.
Payne said that number and other details have not been finalized.
"There are many iterations of multiple documents," he said. "Each time they're circulated and each time they get comments and each time they can get changes. Those are the kind of things that we discuss at those meetings and that's what we're doing."
Payne said after meeting Tuesday that the working group is attempting to coordinate a meeting next week.
Meanwhile, the group has released redacted versions of all 18 candidates' responses to the RFQ, issued in October to assess whether potential bidders have the operational and financial capacity to run Lambert. The redacted responses are available at www.fly314.com/marketplace.
The release follows a process to redact proprietary information from the documents, Payne said.
"It gives you a little more of the substance about what this process is about and what is out there," Payne said.
The Airport Advisory Working Group has four voting members: Krewson, Aldermanic President Lewis Reed and Comptroller Darlene Green or their designees and Payne.