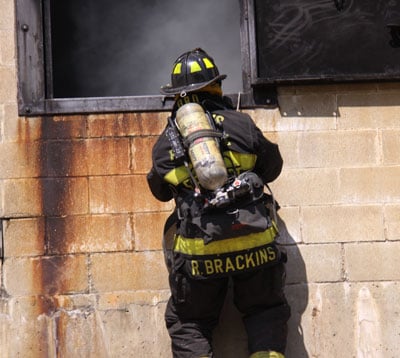 ST. LOUIS • Aldermen approved Monday the first step in Mayor Francis Slay's sweeping plan to overhaul the city firefighter pension system – but just barely.
In the key motion, Slay got 18 votes from the 28-member board. The bill would not have passed with one vote less.
Several aldermen called the move one small step in the right direction.
"We have to go on record and prove to our constituents that we're doing what they sent us down here for," said Alderman Craig Schmid, chair of the Public Employees Committee and sponsor of Slay's bill. "They sent us down here… to be good stewards of their money. And part of that is taking responsibility, even when it's not the most pleasant thing to do."
The balcony of the board chambers was filled with firefighters, retirees, and retirement system leaders.
"Obviously, we're disappointed," said fire union President Chris Molitor. "We have a real plan to address the city's cost issues in Jefferson City, and that bill is moving."
Slay's bill almost didn't pass this session.
Schmid introduced the bill this winter, late in the legislative cycle. Aldermanic President Lewis Reed, who was preparing his own pension reform proposal, delayed two weeks before assigning it to committee. Alderman Greg Carter then held the bill for a few weeks in his Public Safety Committee before the committee finally voted it to the full board, just before spring break.
That left Slay's bill in need of three separate votes today.
Aldermen debated the issue for nearly an hour, with at least seven speaking on the issue. The vocal minority argued that Slay's bill was likely illegal, and would trigger an immediate lawsuit from the retirement system – which is indeed expected to file suit today.
"We're in a terrible bind fiscally, I think, with the current system," said Alderman Scott Ogilvie. "And I think we're also in a terrible bind legally, figuring out what to do to correct the system."
Ogilvie, and others, urged the board to go back to the drawing board, and write up a bill that is clearly legal.
Still, with two board members absent, the bill passed the first motion easily, 19-8, with Reed also voting against it.
The second motion, however, which sought to suspend the board's rules and rush final passage, needed a two-thirds majority, and barely got it, 18-9.
The final passage, which only needed a simple majority, again passed easily, 20-7.
Aldermen Sam Moore, Kacie Starr Triplett, Larry Arnowitz, Terry Kennedy, Antonio French, Jeffrey Boyd, and Joe Vaccaro joined Reed and Ogilvie in voting against the bill at least once.
Slay's overhaul still has a long path in front of it. Despite today's passage, the plan only goes into effect if the mayor's second bill also eventually passes. His second bill starts the new city-governed system.
The next aldermanic session officially begins tomorrow. Slay and Schmid will now have to restart the process.