ST. LOUIS • Overnight wind and rain left thousands of Ameren customers without power Sunday morning and the Old Cathedral in downtown without part of its historic roof.
"They say God's always got a plan," St. Louis Archbishop Robert Carlson said in an interview while assessing the damage. "I think we are going to have to wait for him to reveal what this one is."
A top layer of lead-coated copper was blown off the west side of the building overnight. About 10:30 a.m. Sunday, another large section on the east side of the roof also began sliding off the structure.
There is a layer of wooden decking under the roof covering, but water penetrated the interior plaster ceiling. Officials were unsure of the extent of the interior damage.
Several pots were scattered among the pews to catch dripping water.
An emergency crew arrived to spread tarps on the roof and cut up remaining debris.
The roof, more than 100 years old, was not part of a recent $12 million restoration of the Old Cathedral.
Carlson vowed to make repairs.
"We'll fix it up, absolutely," he said. "This church dates back to 1831."
He said the church was a symbol of the Roman Catholic faith in St. Louis.
"It shows, on one hand, how fragile life and things are," he said. "And it shows that the roots of faith are deep in this community."
The cathedral building was completed in 1834 on riverfront land set aside for use as a church location since the city's founding in 1764. The cathedral is the first one west of the Mississippi River.
The storm canceled Palm Sunday services, which kick off Holy Week for Christians, but the Rev. Richard Quirk, associate pastor of the Old Cathedral, was still able to give out palm fronds to people who showed up.
"Did you bless them?" Carlson asked.
"They are blessed," Quirk assured.
Quirk, who lives in the church rectory, said he slept through the storm. So did some tourists who stayed at a nearby downtown hotel.
"I was going to sneak my son to church," Nancy Ramirez, 44, of Las Vegas, said when she showed up at the Old Cathedral on Sunday.
Wind gusts of 60 mph hit St. Charles County about 2:30 a.m., with similar gusts measured then at St. Louis Lambert International Airport.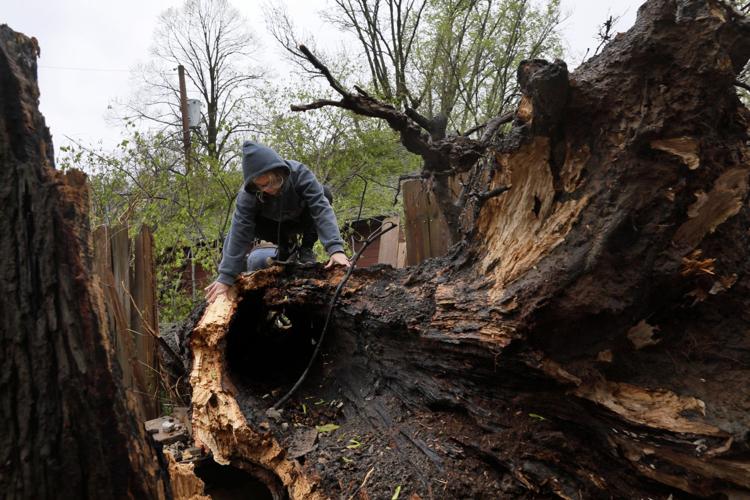 "It was just a very strong, low-pressure system that caused very strong winds," said Ben Herzog, a meteorologist at the National Weather Service in Weldon Spring.
In other damages, more than 16,000 Ameren Missouri customers were still without power at 1 p.m. Sunday from fallen branches and trees that struck power lines. Ameren said about then that it had restored service to about 20,000 customers and expected to "have a significant number" of others restored by Sunday night.
Ameren said south St. Louis County was the hardest-hit area.
"Some of the trees are just fallen over, some uprooted, others are broken," said Capt. Kevin Reis of the Mehlville Fire Protection District.
Cars were reported smashed in parts of the region.
On Manchester Avenue, a large sign marking the entrance to the Grove neighborhood hit the ground.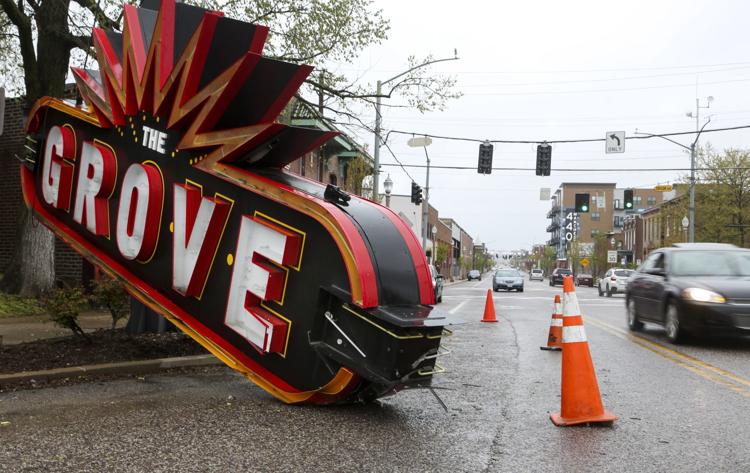 Abi Hillrich, a barista at nearby Rise Coffee, said spring was usually a busy time for them.
"It's slower because it's a dreary day," she said.
A widespread frost is expected Monday morning, with a high later in the day of 67 degrees. Tuesday's high is expected to be near 80 degrees.