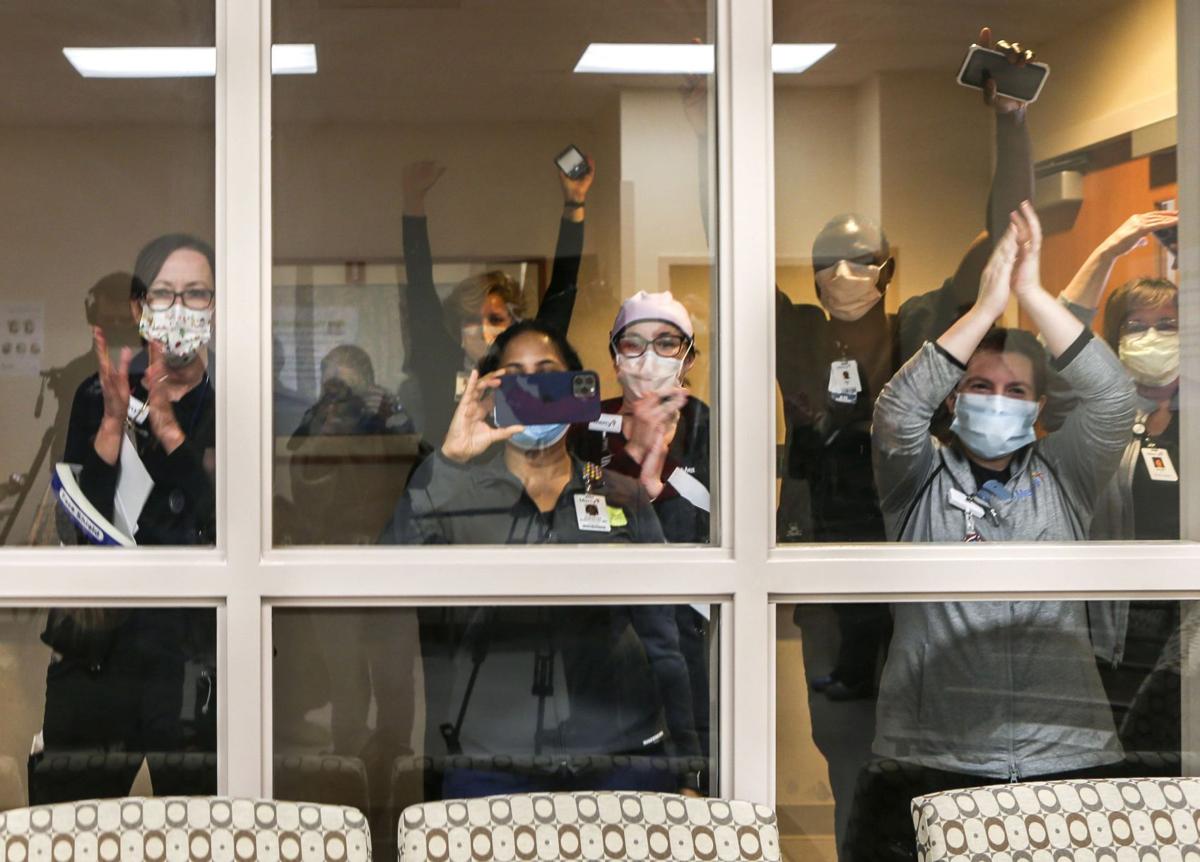 ST. LOUIS — St. Louis-area hospitals on Tuesday reported the lowest COVID-19 admission levels in months, with numbers dipping below a key capacity threshold.
The St. Louis Metropolitan Pandemic Task Force reported a seven-day average of 39 COVID-19 admissions to area hospitals, the lowest level since early October, and almost four times less than the peak in November.
"I think this is the first time, since all this started, that there is a sense that there is a light at the end of that proverbial tunnel," said Dr. Aamina Akhtar, an infectious disease specialist and the chief medical officer of Mercy Hospital South.
In the fall, the coronavirus surged across the Midwest. At one point in late November, Missouri was reporting more than 4,700 new cases each day on average. But by the final weeks of 2020, new case numbers had begun to slide, and on Tuesday the average fell to 413, a figure last seen in late June and early July, according to a Post-Dispatch analysis.
NOTE: On Saturday, April 17, 2021, the Missouri Department of Health and Senior Services (DHSS) noted on its dashboard that it discovered a database error that was causing individuals with both a positive PCR and antigen result to be counted as both a probable and confirmed case. This correction removed 11,454 cases that were counted twice in previous probable antigen cases, according the notation.
NOTE: Beginning Monday, March 8, 2021, the Missouri Department of Health and Senior Services (DHSS) began posting county-level data showing "probable" COVID-19 cases detected by antigen testing. Using historical data from the DHSS dashboard, we reconfigured this graph to include that number.
But hospital officials point to signs that the region's progress in curbing COVID-19 admissions has slowed somewhat over the past couple of weeks.
The rolling average of new daily COVID-19 admissions fell to 63 over the last two weeks in January, a drop of 36%. Over the next two weeks it dropped to 43, a fall of 31%. But in the two weeks since then it dipped only 9%.
Akhtar said much of the rapid decline in case numbers seen in the early part of the year was related to the end of the holiday season, when travel and gatherings slowed. She also suspects that more people began adhering to mask-wearing and social distancing. But some still aren't.
The declining COVID-19 patient numbers, Akhtar said, not only allow staff at Mercy Hospital South to "catch their breath," they also allow the health systems to focus on preventive measures, like rolling out vaccines and monitoring for coronavirus variants.
Hospital officials cautioned that with new variants of the virus circulating, the region is not yet out of the woods.
Akhtar said the new, more infectious variants will be perhaps the most important factor in the efforts to combat COVID-19, and March and April will be "very indicative" of how the variants will affect the region. If case numbers plateau, or begin to increase, that will be cause for concern.
Dr. Alex Garza, chief community health officer at SSM Health and incident commander of the Pandemic Task Force, said he worries that if people begin to believe that the pandemic is over and stop taking precautions, that will lead to more cases and hospitalizations.
"The key to the pandemic is really to suppress it so far down that you can't get that big swing back up," Garza said.
He said that after the summer, the region's case numbers were still on a high plateau, which made matters worse in the fall.
"All it really took was just another jump in the cases for it to skyrocket, and that's exactly what happened," Garza said. "We're in a little bit different environment now because we have vaccine, so the probability of that happening again is much lower. But there's still potential, because of those variants."
Missouri reported 266 new cases of COVID-19 on Tuesday, up from 192 the day before. Statewide virus hospitalizations dipped to 1,025 from 1,066 the day before. Missouri hospitalization data lags three days, and not every hospital reports every day.
The state also reported 13 more deaths due to the virus.
Vaccinations rose to 869,424 people with a first dose, or 14% of the state, up from 849,864 the day before. Of those, 446,443 have received a second dose.
The task force reported 30 new COVID-19 patients admitted to hospitals in the area, down from 38 the day before, and a total of 266 virus patients across area BJC HealthCare, Mercy, SSM Health and St. Luke's Hospital facilities — down from 284 the day before. Task force data lags two days.