RICHMOND HEIGHTS — Lisa Thompson has seen dozens of COVID-19 deaths, but, for some reason, this one hit her hard.
As Thompson, 44, was doing chest compressions, trying to restart the heart of a woman not much older than her, tears welled up in her eyes. Another nurse took over, and Thompson backed up against the door, frozen.
"A couple of my fellow nurses grabbed me and they were like, 'You need to go. You need to go,'" Thompson said. She sat in her boss' office and sobbed for the next 45 minutes.
Thompson is a charge nurse — the nurse in charge of caring for other nurses and assisting with patients — in the intensive care unit at SSM Health St. Mary's Hospital. Throughout the 18-month pandemic, she has been the strong one, keeping everyone calm, focused and positive. Nearly every week, she picked up an extra 12-hour shift so others wouldn't be overloaded.
Nearly two months ago, her family convinced her that she was now the one who needed help. Thompson took a leave from work and began seeing a therapist. She looked for less-stressful work, applying for a job at an urgent care, where she hoped to deal with relatively minor things like strep throat or cuts needing stitches.
Her devotion to her job as a critical care nurse seemed senseless, futile — especially because so many of her patients could have avoided this outcome.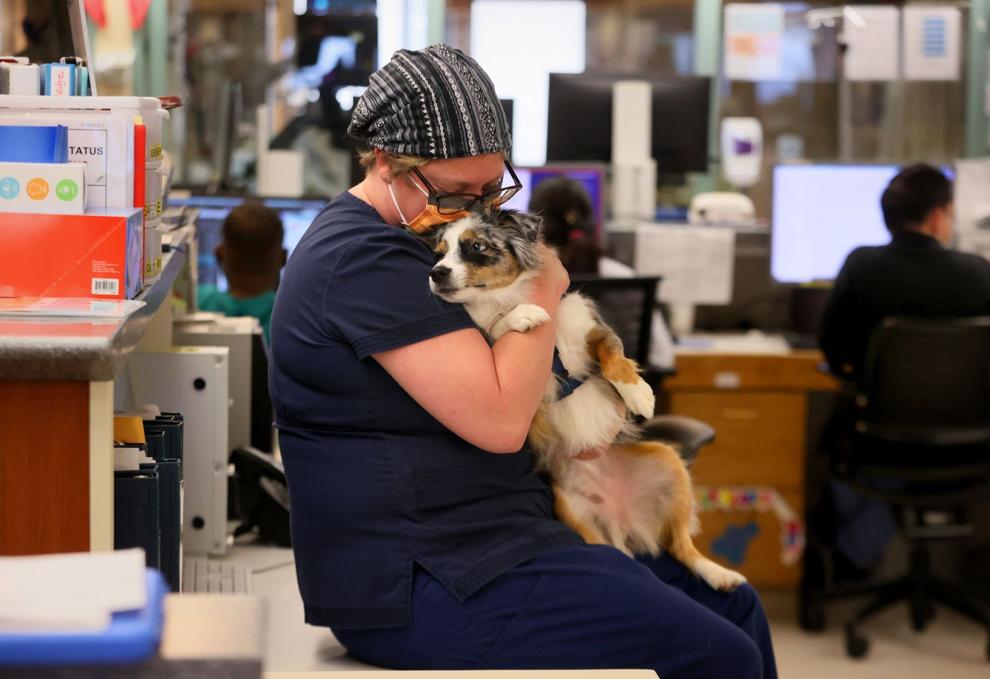 "It's just the fact that it wouldn't have been this bad had she gotten the vaccination," Thompson said. "It seems that people just don't realize that not only is their choice affecting them, it's affecting their family. It's affecting nurses and doctors that are taking care of them, because we love to take care of them.
"But when you see that on and on and on, it just destroys you after a while."
The nation's nursing shortage has been building over the past decade. Now, with nurses leaving or considering leaving their profession during the pandemic, it's turning into a full-blown crisis, nurses and hospital administrators say.
Turnover began during the long fall and winter surge of patients. Workers put their hopes for relief in the release of vaccines. But many people refused to get the shots, and the more infectious delta variant caused hospitalizations — nearly all among the unvaccinated — to surge again.
Missouri, the first state to experience a major delta outbreak, saw the variant take hold by early summer, leaving health care workers with only about a month of reprieve. Not only were cases rising unexpectedly, hospitals also were dealing with an influx of people who had delayed care or had been sickened by other infections that masks had previously kept at bay.
After a summer of stress and overtime, those on the frontlines are cracking. They have stopped giving in to requests to work extra hours. They are switching to less stressful careers. Some have retired early. Others have left hospitals to become a temporary "traveler," as massive demand for contract workers to fill gaps has pushed salaries four to five times what they would typically make.
Patients are waiting several hours in emergency rooms to be admitted. Rural hospitals can't find a place to transfer patients needing high-level care. Surgeries are being delayed. Nurses say they are taking care of more patients than they should.
Mercy is losing about 160 nurses a month out of the 8,500 working in the Chesterfield-based system's hospitals and clinics across Missouri, Arkansas, Kansas and Oklahoma, said Betty Jo Rocchio, Mercy's chief nursing officer. Filling the openings with new hires or travelers is becoming increasingly difficult, especially in rural areas.
"It's pretty serious," Rocchio said. "It's impacting the amount of patients in this country that we can take care of."
BJC HealthCare Chief Nursing Officer Denise Murphy said she's seen nursing shortages in the past, but they have been short-lived and cyclical. "That is not what we are predicting right now," Murphy said. "This is a sea change. Something big is happening here." Murphy said she was unable to provide specific numbers across the St. Louis-based system, which includes 13 area hospitals.
Jeremy Fotheringham, president of eight SSM Health St. Louis-area hospitals, said the shortage is "severe," with about 80 out of 5,500 system nurses leaving each month. He and other hospital officials are in constant communication about how to make sure they are able to care for everyone.
"I've been in health care almost 25 years, and I've never seen anything close to the challenges that we are facing now for all the people that work in our hospitals and clinics," Fotheringham said. "It's something that we wake up thinking about, it's something that we think about all day, and it's something we go to bed thinking about — the overall wellness and ability of our providers to have all the resources they need to provide really good care."
Some states like Alaska and Idaho have had to ration medical care during the latest wave of COVID-19 patients, meaning care gets doled out based on the likelihood of survival.
The American Nurses Association sent a letter on Sept. 1 to the U.S. Department of Health and Human Services asking the agency to declare the nursing shortage a national crisis and implement short- and long-term solutions.
The letter stated: "ANA is deeply concerned that this severe shortage of nurses, especially in areas experiencing high numbers of COVID-19 cases, will have long-term repercussions for the profession, the entire health care delivery system, and ultimately, on the health of the nation."
Resistance among health care workers to vaccine mandates in some places such as New York are reportedly exacerbating a labor shortage. However, administrators of St. Louis-area hospital systems, bearing some of the highest loads of critical COVID-19 patients, report little impact from employee vaccine resisters so far.
The systems were among the first to issue mandates. BJC HealthCare's deadline for its employees to be vaccinated was Sept. 15; Mercy and SSM Health's was Sept. 30.
BJC's mandate had a near 100% compliance rate, did not contribute to the shortage and actually cut down on absences, officials say.
The main reasons behind the shortage, area nurses and hospital officials say, are burnout, the lure of traveler salaries and feeling forgotten by the nearly half of Missourians who have not gotten vaccinated.
"That's when I felt the ultimate betrayal. When it was time for everyone else to do their jobs. They chose not to do it," said Katie Lappas, 38, another intensive care nurse at St. Mary's.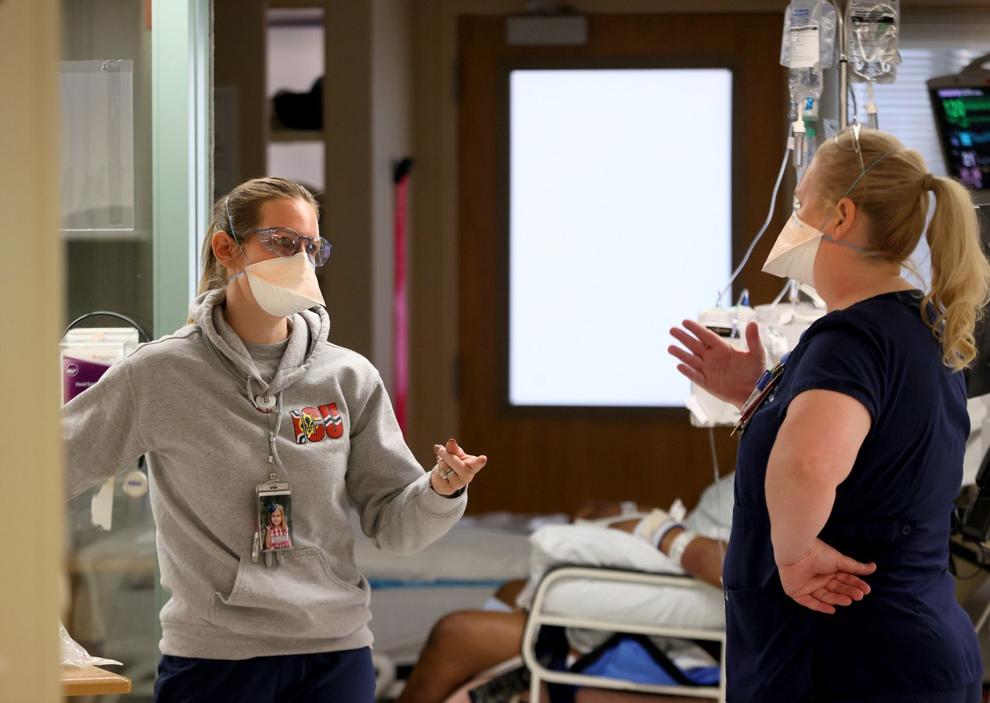 Thompson, the nurse who took leave, is back at work at St. Mary's. The job she sought at the urgent care was filled before she even had a chance to interview, she said. But she's worried she could break down.
"Is this going to happen again? Are we going to have another patient for whatever reason is going to affect me like this?" she said. "Should I really be here?"
New nurses crushed
Madeline Thomas, 25, of west St. Louis County, was completing her orientation as a new nurse in the intensive care unit at BJC's Missouri Baptist Medical Center in Town and County when the first COVID-19 patient came through their doors.
Thomas remembers not knowing who was infected because tests took days to get results and being scared they could contract the disease. She struggled alone in a room, covered in protective equipment with negative air flow whirring, to ask her patient questions.
Working the night shift, she has never had a night without a COVID-19 patient since. The deaths caused by the disease have been relentless.
"There will be weeks when it seems like every patient is just dying or crashing or just so sick that we can't do anything, and it really takes a toll on you after a while," Thomas said. "I think pretty much all the nurses agree that it is very, very challenging to go to work sometimes."
She and her colleagues often talk about taking traveler jobs, even giving up on nursing.
Just over a month ago, Thomas said she decided to start seeing a therapist. It was after a week when a patient died every night she was working.
Thomas' older colleagues tell her that this is not what being a critical care nurse is like. It is more than just moving bodies around and trying to make room for more. They usually help most patients get better. They get to know them and their families.
But Thomas doesn't know any different.
"I've only been a nurse for a year and a half, but I'm already like pretty burned out on it, which I think is the saddest part about it," Thomas said. "I don't really understand why, and I don't know how to fix it."
She struggles with seeing lies spread on social media about hospitals making up patient numbers, or about the safety of vaccines.
"That's the hardest part. It seems like we are screaming into the void, 'Please get this vaccine. Please help us save all these people's lives,'" Thomas said. "All of these nurses that work in the ICU are good nurses, and they are asking our community to help. And people are not doing it. And it hurts."
Leslie Remington, 57, feels like a mom toward new nurses. She has worked as a nurse for nearly 30 years at Research Medical Center in Kansas City. The past 20 have been in intensive care. She is seeing colleagues starting their careers get crushed.
"I can't tell you how many we've lost," Remington said. She can't remember their names because they come and leave so fast.
Even as a veteran, Remington said she gets anxious each Friday when she begins her three 12-hour shifts. Younger, unvaccinated patients with COVID-19 are filling her unit. Some have been on ventilators several weeks, and she knows they likely won't survive. "It's hard to face their families every weekend," she said.
A few weeks ago, two patients in their 30s died of COVID-19 on the same day.
Remington said she sold her house so she could have a "nest egg" and not have to work extra shifts for overtime pay until she can retire when she's 65. "I could be making big money right now, but I just can't drag myself into there to work and take care of everybody and watch the COVID patients slowly die, it's just depressing."
Quadrupling her paycheck
Kelsey Fassold, 31, was among four nurses in January who left their intensive care unit at Barnes-Jewish Hospital to become travelers. She signed a contract with Mercy Springfield making $6,700 to work 48 hours a week, quadrupling her paycheck.
After going through a divorce this past year, Fassold said, the money allowed her to pay off debt and buy a car and a house for her and her 8-year-old son.
Every Friday, she leaves her son with her ex-husband and drives three hours from her home in Valley Park to Springfield to work three or four 12-hour night shifts in a row.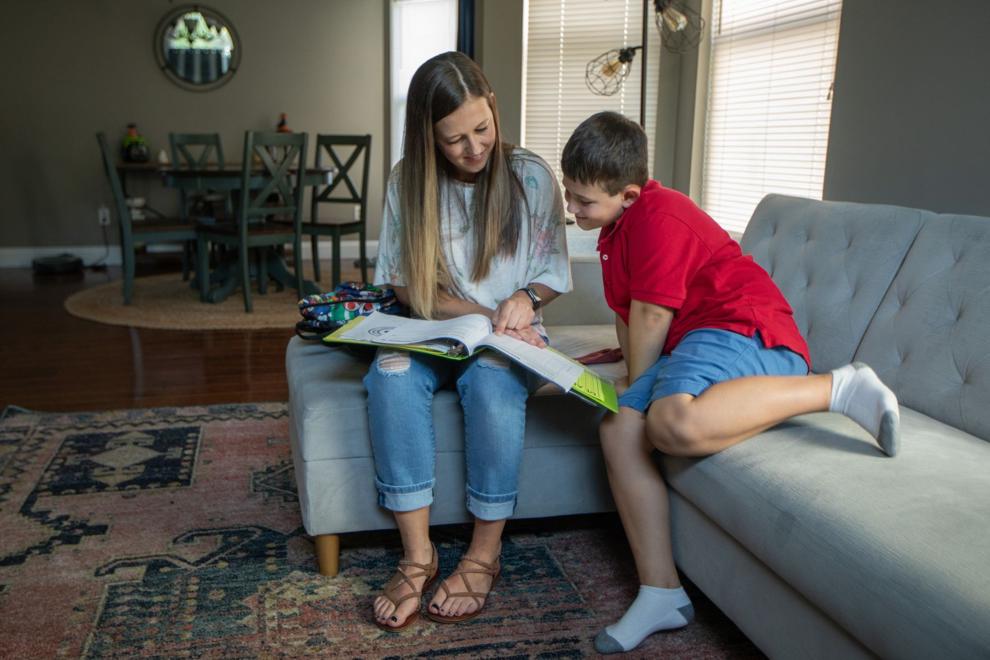 Barnes-Jewish, as a large, specialized academic hospital, was hit hard with COVID-19 patients at the start of the pandemic, Fassold said. It stopped elective procedures and furloughed workers. Then came a freeze on raises, retirement fund contributions and overtime pay.
Nurses started to leave, which meant they had to be replaced with travelers whom short-staffed hospitals across the country were competing for.
Fassold and her colleagues found themselves working next to less-experienced nurses making far more than they were.
"You can be an ICU nurse, or you can be a Barnes-level ICU nurse, and that range can be very, very different," she said. Staff grew even more frustrated.
What kept them in their jobs was their loyalty to each other, Fassold said. But they began talking about creating their applications on the traveler websites.
"Once you started to feel that be shaken in a sense, then it's like, well, I don't want to be the last one standing," she said.
It hasn't been easy. Mercy Springfield ended up being among the first hospitals affected by the delta variant wave, experiencing its highest patient loads in the pandemic.
"We bag and tag and do post-mortem care and take bodies to the morgue almost every day, and then on top of that, you're not at home, you're not with your family, your friends, your everything. You're in a strange environment, living out of a suitcase dealing with some of the most stressful times of your life," Fassold said. "It does pay very well, but it comes with a significant amount of sacrifice."
After two 13-week contracts working 48-hour weeks, Fassold's dropped to 36 hours for $2,800 a week in her third 13-week contract, which she signed before the latest surge. That has increased to $4,500 a week in her latest offer for another 13 weeks.
Because you can only work as a traveler in the same city for a year, Fassold is considering seeking a contract to work in Columbia, Missouri, next.
Hospitals received federal funding to help fill the gaps with traveler nurses, but it has created an expensive, vicious cycle: Overwhelmed nurses take the contracts for more pay, which leaves staff nurses feeling more overwhelmed and likely to leave, thus increasing the need for travelers.
A year ago, there were about 2,000 open traveler positions across the U.S. That has since ballooned to 30,000, said Fotheringham at SSM Health.
Fassold said, "The staffing crisis and staffing shortage is something that I don't think is going to be fixed anytime soon with or without COVID. It's either going to change the way that nurses are going to be paid, or the government's going to go broke trying to bail out these hospitals, or smaller hospitals are going to end up bankrupt because they can't keep up with it."
"Everywhere that I've seen or heard or gone, anybody that has staff nurses left are either completely miserable and burned out and long for their next place or next step or seeing how to get in the travel game."
Disrespected, disregarded
It's not just nurses who have struggled during the pandemic, but the buck often stops with them.
During a recent shift in the intensive care unit at St. Mary's Hospital, nurse Katie Lappas said she was caring for a patient on oxygen support and a feeding tube who needed to move from a chair for exercise.
Lappas couldn't find an available respiratory therapist, so she had to manipulate the oxygen support herself. She set up a phone for a daughter to talk to her mom. She answered all the daughter's questions. She had to run to the kitchen to get food. With no phlebotomist, she dropped off blood work at the lab.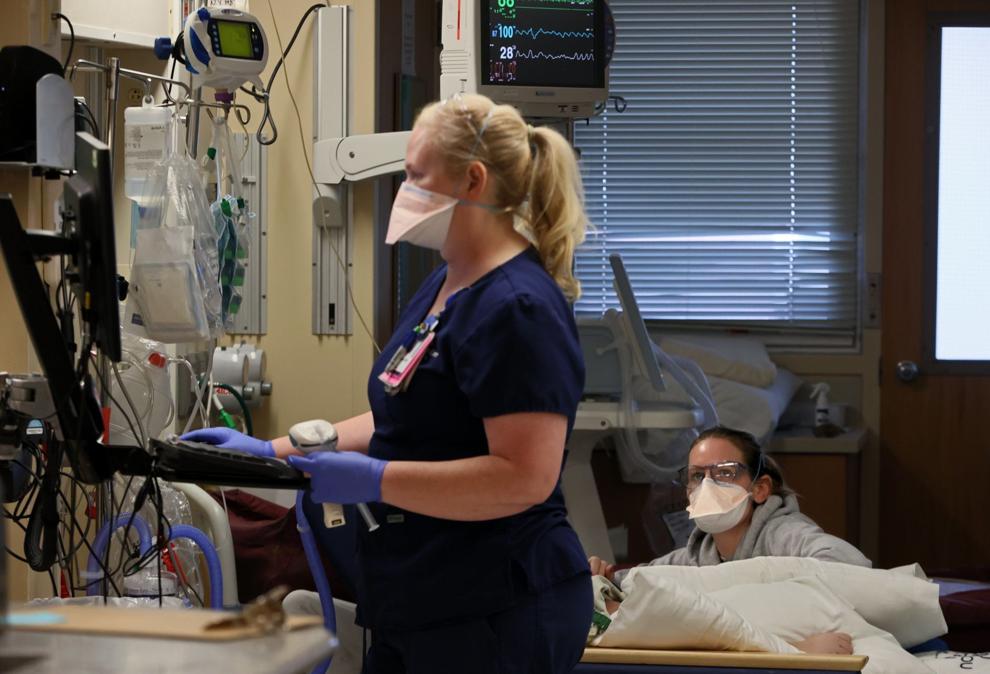 "I went from just being a nurse to being a nurse and a physical therapist and a social worker and a food service worker. And I did all my own room cleaning, so I was a janitor as well," Lappas said. "Like, how much can you pile on someone until they say enough?"
Lappas, 38, of Clayton, said she's thought about quitting. Her husband is a doctor. She could stay home with her 3-year-old, spend more time with her two teenage stepchildren.
Her colleague Micah Toombs, 49, says she also often thinks she can't work one more day and browses job listings for a desk job.
"It's very emotional now in a very different way," Toombs said.
On top of caring for dying patients, they get accused by those refusing to get vaccinated or wear a mask of lying about how bad the disease is. They face family members in disbelief over how sick their loved is and telling them how to do their jobs.
"In a year we've gone from being 'heroes' to being 'pushers of the propaganda,'" Toombs said. "It's disheartening. We feel disrespected and disregarded for everything we've done."
But something — a calling to help others, a loyalty to her colleagues — keeps them coming back.
Lappas thinks about the large white board she set up at the start of the pandemic, which now sits on a shelf at the nurses' station. In April of last year, she began writing in small letters in the corner, the initials and date of patients who died of COVID in their 12-bed intensive care unit, one of two at the hospital.
The board is nearly full with over 150 deaths. Those along the first row are starting to fade.
"I just didn't know what else to do with our grief, but sometimes when you look at it, you see there's a reason I'm mad. There's a reason I'm sad. There's a reason we keep begging people to get vaccinated," Lappas said.
The board became a way of not only honoring the patients, but each other and the care they gave.
It's Lappas' job to write the names on the board. As the list grows, she wonders how much more she can handle, but at the same time, she finds a renewed sense of purpose.
"I just think, the amount of loss and trauma that we see in a week is more than most nurses have seen in their entire careers, and I think that's getting forgotten a lot," Lappas said. "It's a reminder that these were actual people, and when we don't feel like we are making a difference, like maybe we did."
"They mattered. The work we did mattered."