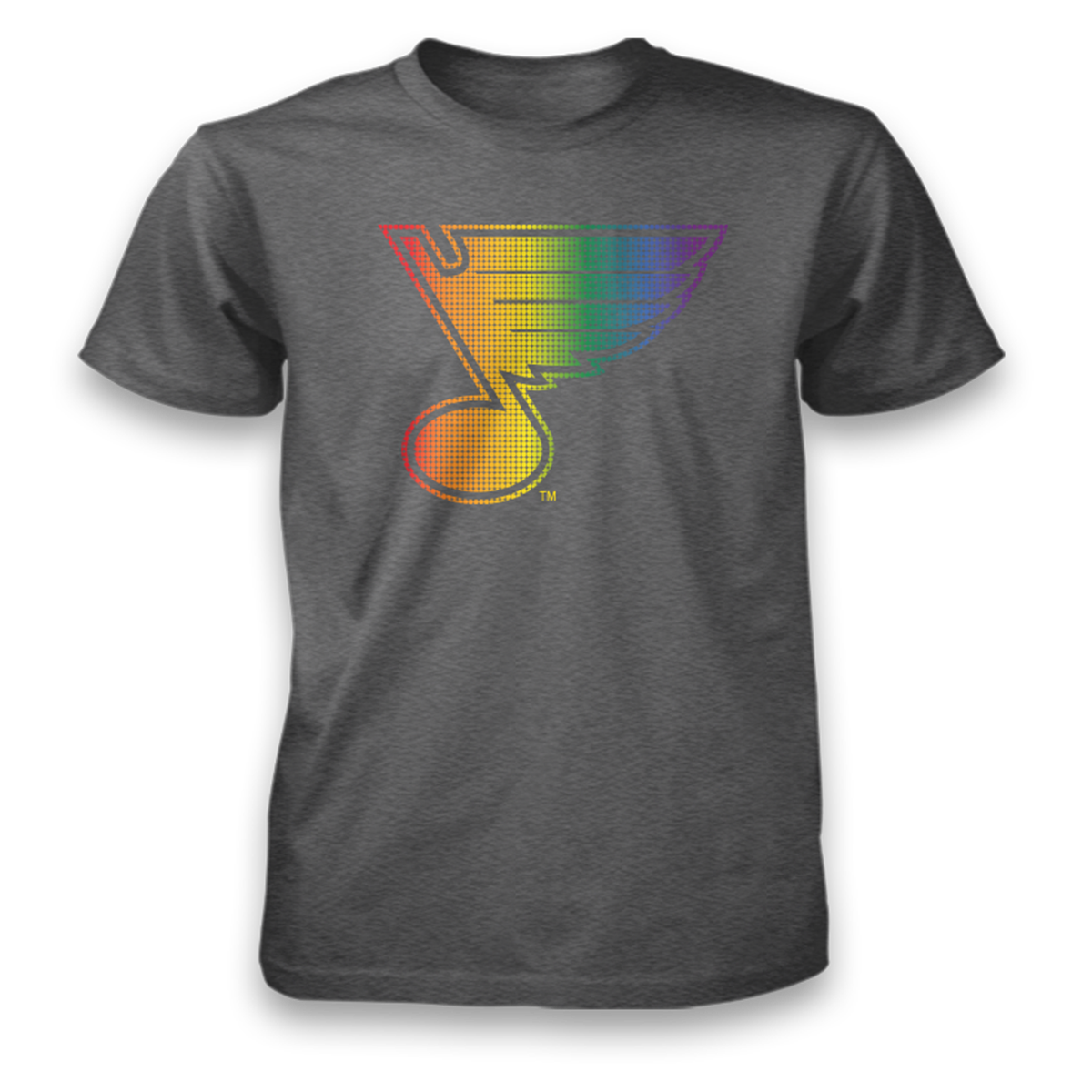 EDITOR'S NOTE: This story was first published online on Dec. 31. Tonight is the Pride night game.
It also was a setback in the National Hockey League's effort to be more inclusive to the lesbian, gay, bisexual and transgender community. Three years earlier, the NHL and its players' union announced they had formed a partnership with You Can Play, an advocacy organization that fights homophobia in sports.
The Blues point to the incident with Shaw as a regrettable blip that should not overshadow a league striving to make everyone feel comfortable, on and off the ice.
To prove their point, the team is holding a Pride night Jan. 19. Those who purchase a ticket with a promo code will get a pride T-shirt. The iconic Blue Note on the front will instead be the colors of the rainbow.
While hockey games are known for their rowdy crowds and on-ice fights, players are "open-hearted, open-minded people," said Steve Chapman, a vice president with the Blues. "They are very inclusive."
Chapman said the outburst by Shaw on April 19 did not lead to the Pride night, which had already been in the works and is a part of an effort to create more promotional events and expand the base of hockey fans.
"I don't want to make too much of it," Chapman said. "It's not like we're changing the world. It's a hockey game. We're not trying to preach or be part of a major social platform. It's about making sure everyone knows they are welcome." Last year, the Blues had a booth at PrideFest, giving away tickets to games.
Members of the St. Louis LGBT community said the gestures by the Blues are welcome and help with continued efforts to break down barriers, real and perceived.
"What it really says is that fans are fans including people who are lesbian, gay, bisexual and transgender," said Steph Perkins, executive director of PROMO, a statewide advocacy group for LGBT issues.
Pride St. Louis, a nonprofit that organizes the annual PrideFest in downtown St. Louis, is working with Pride St. Charles to promote the hockey game, offering a free shuttle to and from the game from Just John, a popular bar in the Grove.
"To show support of the community is really important, especially from a sports-related organization," said Landon Brownfield, board secretary of Pride St. Louis. In September, the Cardinals worked with Just John to provide an LGBT night at Busch Stadium, with a portion of ticket sales going to Pride St. Louis.
The night at Scottrade Center will feature the Gateway Men's Chorus singing the national anthem and Miss Missouri Erin O'Flaherty, the first open lesbian to win the title, dropping the ceremonial first puck in the game against the Washington Capitals. As well, public service announcements about the You Can Play project will be broadcast throughout the game.
It wasn't that long ago that LGBT groups were lobbying sports teams to "advocate to have one night that they feel accepted, feel safe going to a sporting event," said Chris Mosier, vice president of program development and community relations for You Can Play. "Now you have an organization taking the initiative. That's a tremendous shift."
In April 2013, when the partnership between the NHL, its players union and You Can Play was announced, NHL Commissioner Gary Bettman was effusive.
"Our motto is 'Hockey Is For Everyone,' and our partnership with You Can Play certifies that position in a clear and unequivocal way," Bettman said.
The project's co-founders include Patrick Burke, a former scout for the Philadelphia Flyers now serving as director of player safety for the NHL, and Brian Kitts, a former front office executive with the Colorado Avalanche.
All 30 NHL teams have signed on with You Can Play and have gotten involved in various ways including holding Pride nights and players PSAs.
Despite a shift in public acceptance of LGBT issues, very few professional athletes have come out, making such a pronouncement big news.
"I'm a 34-year-old NBA center. I'm black. And I'm gay," Jason Collins said in a Sports Illustrated article in May 2013. "I didn't set out to be the first openly gay athlete playing in a major American team sport. But since I am, I'm happy to start the conversation." He retired from the game a year later.
And even though the NHL touts itself as the most inclusive professional sports organization, no hockey player has come out as gay. But if and when it happens, Bettman said in June, "believe me, that person will have the full support of the commissioner's office."
Buffalo Sabres goaltender Anders Nilsson brought awareness to LGBT issues this summer when he put a pride flag decal on the back of his mask.
"I have a couple friends who are gay, and life hasn't been easy for them growing up," Nilsson told the Buffalo News in December. "It's time that hockey starts to pay some attention to that."
As for Shaw, the Chicago Blackhawks player who called the referee a derogatory remark in April, he followed up the next day with an apology. The NHL suspended him for a game and fined him $5,000.
"I'm upset with myself obviously. I'll never use that word again, that's for sure," Shaw said.
As the Pride night approaches in St. Louis, gay activists say they hope Scottrade is filled with members of the LGBT community and those who support them.
At the Gateway Men's Chorus holiday party Dec. 12, it was announced that Wells Fargo again would be contributing $25,000, which represents about 1/10th of the community choir's budget. The news was met with cheers, said artistic director Robert Stumpf. Then the members were told the chorus would be performing in front of a national audience at a Blues game.
"It was pandemonium," Stumpf said. "This is a major opportunity. It's great the Blues are building a bridge to a section of the community that has been under-represented and has been pretty badly treated over the years."