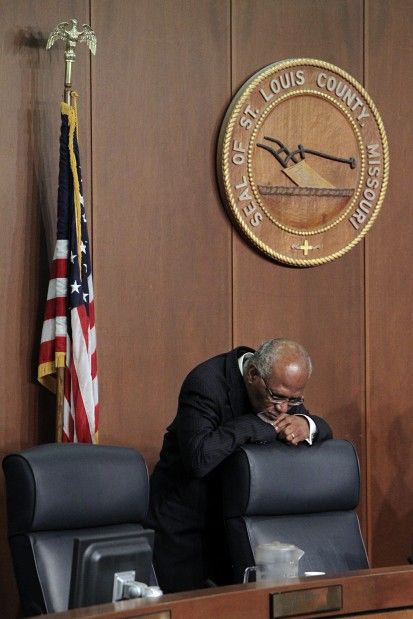 CLAYTON • Citing a litany of improprieties and mismanagement he contends has damaged Charlie Dooley's ability to lead, St. Louis County Prosecutor Robert McCulloch has informed the county executive he will not support his re-election bid next year.
During an Oct. 1 meeting in the embattled county leader's office, McCulloch also encouraged Dooley to step aside for another candidate.
"The credibility of St. Louis County government has been destroyed by all of these incidents," McCulloch said in an interview Wednesday with the Post-Dispatch. "He's the chief executive officer and that's the person who bears the responsibility. He disagrees with that and doesn't believe he bears any responsibility."
Apprised of McCulloch's remarks, Dooley lashed out at the prosecutor.
"It is none of Bob McCulloch's business how this county is run," Dooley said of the meeting. "He told me about things he knows nothing about."
McCulloch characterized Dooley's refusal to accept responsibility for a growing list of controversies during the past 18 months as "distressing."
The list McCulloch cited includes the appointment of a county real estate official with a felony conviction for embezzling federal housing funds, the hiring of a tax collector delinquent on her own taxes, the $3.7 million crime lab contract that has ensnared former police board president Gregory Sansone in an FBI investigation and the top health department administrator who committed suicide last month after it was discovered he'd operated a fake company that collected $3.4 million from county contracts.
"People are starting to come up to me on the street and ask me what is going on with county government, so it's beginning to affect everyone who is associated with county government," said McCulloch. "There has been so much damage to the credibility of St. Louis County government that can't be repaired by Charlie."
Dooley brushed aside the criticism, revealing that it was not the first time McCulloch has urged him to abandon a campaign for the county's top office.
"Bob McCulloch did not want me to run (the first year he sought the office) in 2004 and he told me six months ago he didn't want me to run," said Dooley.
The McCulloch disclosure comes on the heels of an announcement that St. Louis area labor organizations will also withhold support for Dooley in 2014.
The county executive shrugged off the loss of the endorsements while vehemently emphasizing his intent to remain in the race.
Neither the labor factions nor McCulloch "knocked on doors for me, anyway," he said.
McCulloch disputed Dooley's claims, noting he'd known Dooley when Dooley served as the mayor of Northwoods and supported him in his successful bid that made him the first African-American elected to the County Council, and in previous bids to be county executive.
The prosecutor declined to name a candidate he will endorse next year.
McCulloch himself was mentioned as a possible successor to George "Buzz" Westfall, the longtime county executive who died in office in 2003.
Democratic officials instead tapped Dooley to serve the remainder of Westfall's term. Dooley won the 2004 special election as well as re-election bids in 2006 and 2010.
McCulloch said he distanced himself from Dooley's 2014 candidacy with reluctance.
He described the tenor of last week's conversation as "cordial" and expressed hope the two officials can remain friends despite the political divorce.
That seems unlikely given Dooley's combative response to McCulloch's public revelation of the meeting.
"I don't need a prosecutor to tell me how to do my job," the county executive said. "I know my job. He should do his job."