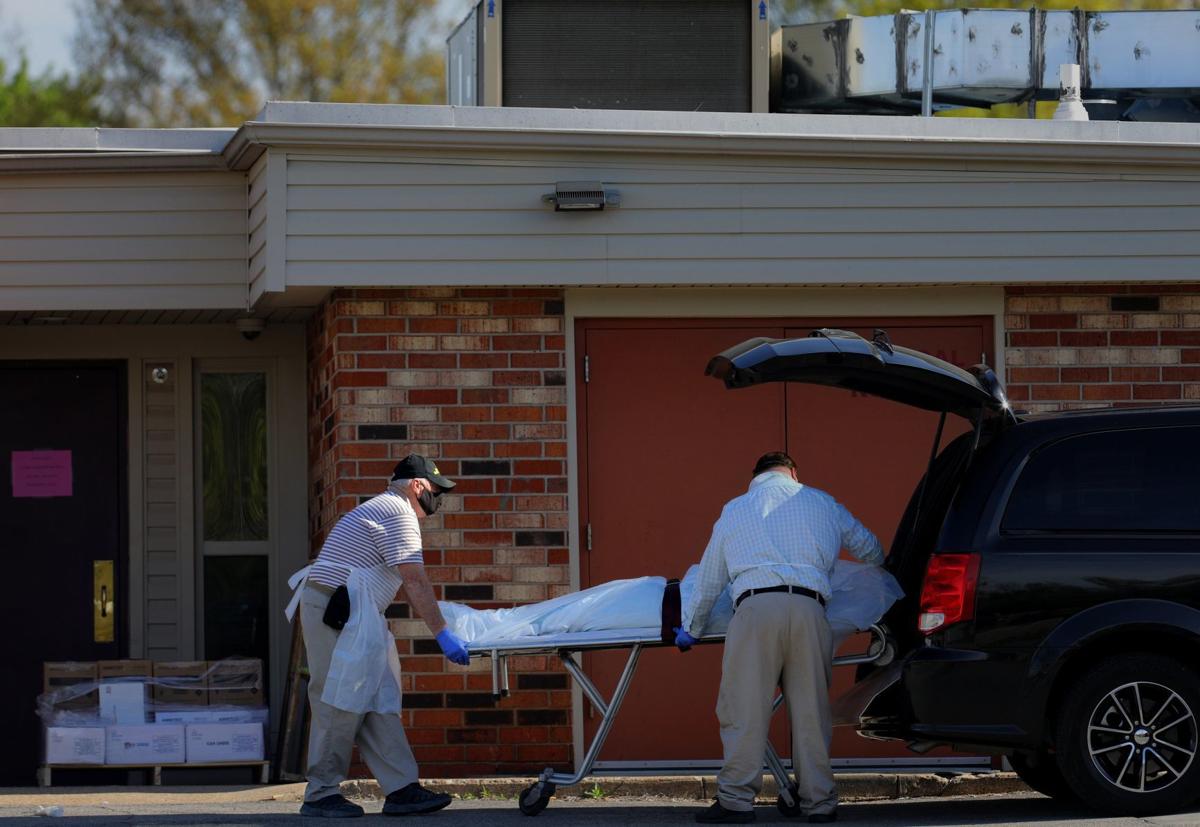 ST. LOUIS — St. Louis County plans to publicly identify by name the dozens of nursing homes and other long-term care facilities in the county with confirmed COVID-19 infections among residents or staff, a spokesman said Thursday.
"This is a way to ensure that the public knows where these areas of concern are and to help everyone in the process respond and help curb the virus," said Doug Moore, spokesman for St. Louis County Executive Sam Page.
The county will become the first among local Missouri governments to name all residential care facilities hit by COVID-19, which is particularly dangerous to older adults and people with preexisting health conditions. Nationwide, the New York Times reports that more than a third of COVID-19 deaths have been linked to long-term care facilities, according to available data.
While several St. Louis-area homes have independently confirmed dozens of COVID-19 infections and deaths among residents or staff, Missouri state and local officials have declined to identify the facilities or release more information, frustrating families with relatives in nursing homes, advocates, and officials.
Statewide, 176 long-term care facilities have reported at least one COVID-19 case, according to the Missouri Department of Health and Senior Services. Of those facilities, 115 are in the St. Louis region, including 74 in St. Louis County.
DHSS does not release more information other than the number of facilities in each county reporting at least one COVID-19 case. The department denied an open records request by the Post-Dispatch for the names of facilities experiencing COVID-19 outbreaks and the number of cases at each facility, citing a state statute governing patients' medical privacy that says the department may only release information in a form that "prevents the identification of patient, physician, or medical facility."
But local governments could decide to name them, DHSS Director Randall Williams said Wednesday at a press briefing.
More than half of St. Louis County's nursing homes report outbreaks.
"Legally we're not allowed to address, to release the names of the facilities," he said. "The locals can. And some of them have chosen to and some of them have not chosen to. But for us it's not a choice."
Moore said Williams' comment prompted St. Louis County officials to revisit the issue, as well as reports of families in recent weeks struggling to obtain information about COVID-19 outbreaks at their relatives' nursing homes.
"This is what we think makes sense and is the responsible public health response," Moore said.
The county will publish the names of congregate living facilities with COVID-19 infections and list the number of COVID-19 cases at each, Moore said. The information is being compiled into one format and could be released as early as next week, he said.
Other St. Louis officials did not reach the same decision Thursday.
St. Charles County declined Thursday to release information about COVID-19 cases at residential care facilities there. At least 14 facilities in the county have reported at least one COVID-19 case, according to state data.
The county previously confirmed an outbreak at one nursing home, Frontier Health and Rehabilitation, after the home publicly reported several infections.
The county agreed with Frontier to jointly confirm the outbreak "because of the large number of cases," Mary Enger, a spokeswoman for County Executive Steve Ehlmann, said in a written statement. But the county will "leave it up to other individual facilities if they want to do so."
City of St. Louis officials did not respond to requests for comment Thursday. Jacob Long, spokesman for Mayor Lyda Krewson, referred the Post-Dispatch to the St. Louis Department of Health. The department's spokesperson, Harold Bailey, did not respond to the newspaper.
At least 17 facilities in St. Louis have reported a COVID-19 outbreak, according to state data.
Frontier Health and Rehabilitation in St. Charles was the first nursing home in the St. Louis area to publicly disclose COVID-19 infections. As of Wednesday, 20 Frontier residents have died of COVID-19, out of a total 111 residents who have tested positive.
A second St. Louis-area nursing home hit by the coronavirus, Life Care Center of St. Louis, reported Thursday that 48 residents have tested positive for COVID-19 and that seven residents have died.
Other states have been more transparent about nursing home COVID-19 infections, releasing facility names along with their death and case counts. Illinois, for example, began releasing information April 19.
In the Metro East counties of Madison, Monroe and St. Clair, there have been at least 94 COVID-19 deaths at 17 nursing homes, accounting for more than 60% of the deaths caused by the disease in those counties. The state's database identifies each of those facilities affected by the coronavirus.
Federal regulators have also said they will release similar information. The Centers for Medicare and Medicaid Services on April 19 began requiring uniform COVID-19 reporting in nursing homes nationwide, but isn't expected to release the information until the end of May. The reports would not include COVID-19 cases discovered before May 8.
Daily updates on the latest news in the St. Louis business community.