Toxic lead coursed through Christopher Holland Jr.'s body at two critical points in his life: as a toddler poisoned by lead paint and as a 20-year-old struck down by bullets.
"I saw how it affected his life — with relationships, with his anger issues, always complaining that his head hurt," Christopher Holland Sr. said of the lead poisoning discovered when his son, known as "Lil Chris," was 4 years old and living in north St. Louis.
Lead poisoning cases have dropped dramatically since the 1990s, when Lil Chris was a child, but the problem hasn't gone away. The city's old housing stock still poses a danger to children in many neighborhoods.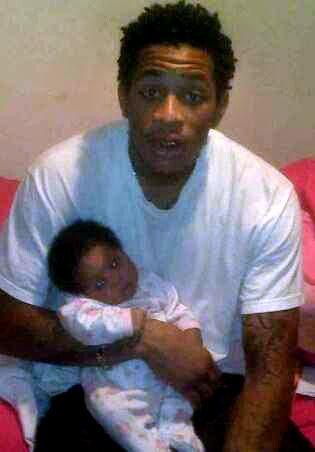 Last year in St. Louis, more than 2,600 children had measurable levels of lead in their blood, which can lead to stunted growth, learning disabilities, risky behavior and other health problems. There is no safe amount of lead in a body, and damage to developing brains is permanent.
The main source of lead poisoning here is lead paint, banned in 1978 but too late for the nearly 90 percent of housing stock in St. Louis that was built earlier. City officials worry that demolition of old houses could reverse the years of progress in reducing lead poisoning.
The renewed push to demolish vacant buildings, generally thought to be a positive step for decaying urban areas, could have unintended and long-term public health consequences.
When the structures fall, heavy metals carried by dust can travel several blocks, drifting into open windows and settling into neighbors' yards. Demolitions elsewhere have been blamed for a rise in lead-poisoned children, who in turn are at higher risk of criminal behavior as adults.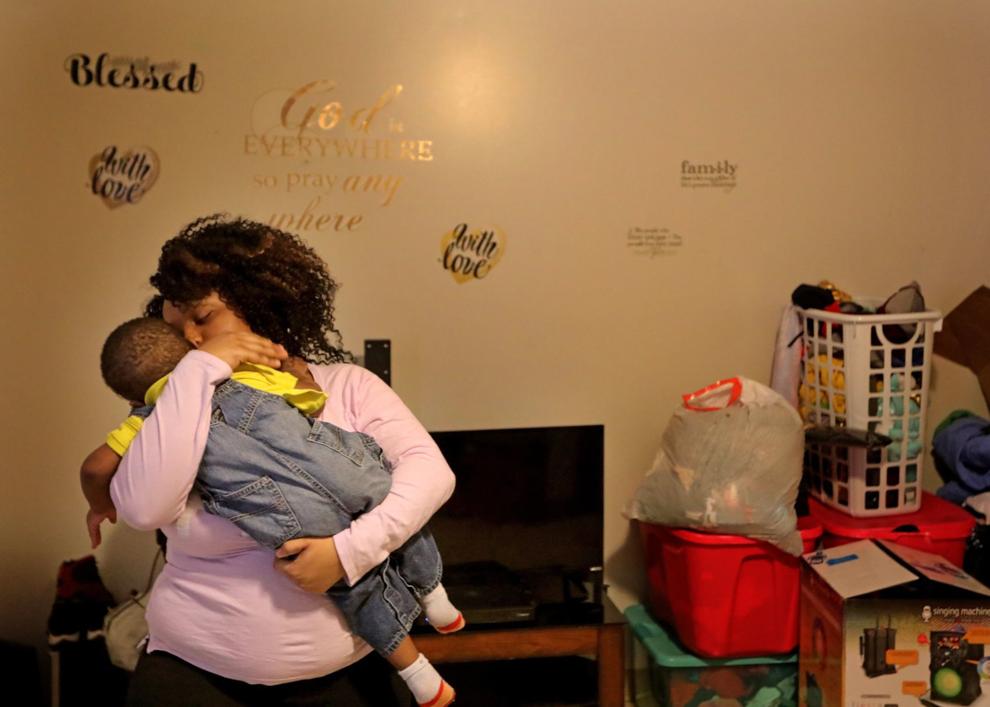 'My boys were my life'
Christopher Holland Sr. graduated from high school in 1988. Chris Jr. came along the next year, his brother Demontae in 1991. The family lived in a $210-a-month apartment on Ashland Avenue with "those windows with the wooden frames with the paint chipping," Holland said.
Even when houses are repainted, disturbing walls or opening windows can dislodge paint chips and dust to be ingested or inhaled by children.
After both boys tested high for lead during a regular checkup as preschoolers, "It was really tragic for me, being a young parent at that time with two kids. My boys were my life. For them to be sick like that, it was really on me," Holland said.
Nearly 30 years later, old houses in St. Louis continue to poison children despite an aggressive anti-lead campaign by former Mayor Francis Slay, who vowed to eradicate lead poisoning in the city by 2010. The results of the campaign were impressive — the number of elevated blood lead levels dropped from nearly 1 in 3 children in 2000 to about 1 in 50 for the last few years.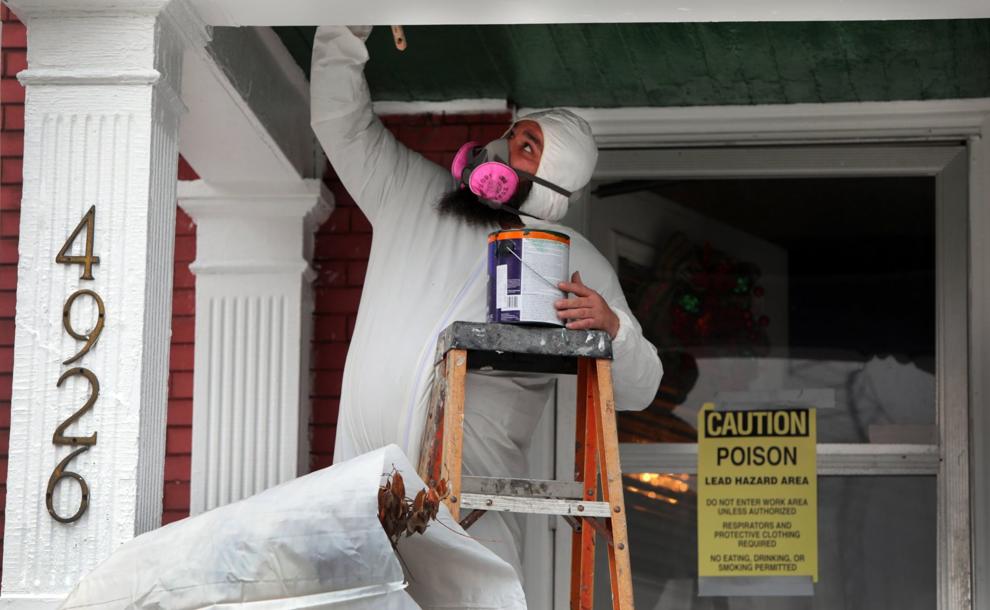 But just as the city reduced its rates of lead poisoning, federal health authorities moved the goal line. In 2012, the U.S. Centers for Disease Control and Prevention lowered the definition for potential lead poisoning from 10 micrograms of lead per deciliter of blood to 5, based on evidence that children can suffer harm from lower concentrations of lead.
In 2017, there were 678 children ages 6 and younger in St. Louis with blood lead levels above 5 micrograms, and an additional 150 with a lead level above 10. State health records show 1,660 children tested at a level between 3 and 5, enough to cause developmental delays.
"We did a great job for 20 or 30 years, then we've kind of let our guard down," said Dr. Christina Gurnett, a Washington University pediatric neurologist. "In a way it's off our radar screens because the levels are so low that we can't on an individual basis detect who's being harmed by this low level of exposure."
Lower concentrations of lead are more challenging to identify and treat because a child may not show immediate, obvious symptoms. And the lower the concentration in the blood, the harder it becomes to find the source of lead in the child's environment, Gurnett said.
Demolitions as a health threat
While living in a house with leaded paint is considered the primary pathway for lead poisoning, living near demolition sites has also been established as a risk factor. Building demolitions are known to disperse leaded dust through a neighborhood, and are blamed for a recent uptick in childhood lead poisoning in Detroit.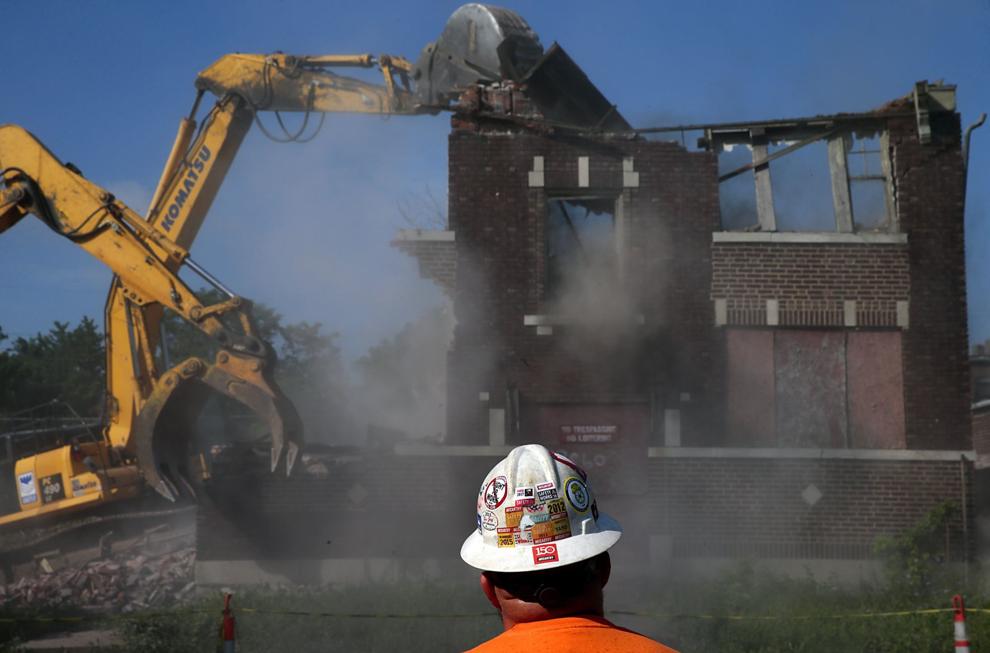 The connection was made many years earlier in St. Louis. In 2002, the city's lead abatement teams reported to the health department that children living near demolition sites repeatedly tested high for lead. With money from the CDC, the city commissioned a study on proximity to demolition sites and lead poisoning.
"If you demolish an old house, you put up this cloud of dust that blows with the wind, deposits in your yard and creates a potential risk," said Felicia Rabito, an environmental epidemiologist from Tulane University and one of the authors of the study.
The researchers mapped the houses of more than 10,000 children who had blood lead tests in 2001 and 2002 and the addresses of 990 demolitions completed in 2001 and 1,033 in 2002. Even when controlling for the age of houses, the team found a link between high lead levels and living within a quarter-mile of demolition sites.
A series looking at the consequences of decades of disinvestment in St. Louis. See all related stories at stltoday.com/tippingpoint
"Controlling ambient lead dust released during a demolition is important because it potentially can enter the residential environment on the soles of shoes, on the clothes of children, or through open windows and doors, thus increasing the likelihood of ingestion by children," the researchers concluded.
Despite the known link between demolition dust and lead poisoning, there are no federal, state or local laws requiring the removal of lead in a building before a total demolition. What's missing is the financial and political will to take the necessary precautions, Rabito said.
"There are lead-safe practices for demolitions of risky buildings, so do it, that's all we're asking," she said. "It's very frustrating. This stuff has been known for a really long time, and we're still talking about it. I can't understand why children's health isn't a primary priority."
Best practices
The safest way to demolish a house contaminated with lead is called the Baltimore protocol, named for an experiment in that city. Houses were covered in plastic before demolition and soaked down to diminish dust. The protocol worked — lead in dust traveled less than 20 yards, compared to 191 yards in a dry demolition without any precautions.
But across the country, and even in its namesake city, the Baltimore protocol is viewed as too costly and time-consuming. Buildings are mostly brought down under a requisite spraying of water, which still allows lead dust to settle across a 300-foot radius.
Before September, St. Louis only required demolition companies to spray work sites with a hose — a "half measure" that wasn't sufficient to reduce dust, said Patrick Brown, chief resilience officer and Mayor Lyda Krewson's senior policy adviser on vacancy and blight.
Now contractors must use powerful misting fans to wet down buildings during a demolition. The city purchased two fans for about $100,000, and it rents them to contractors for $250 a day — half the cost of the $500 fine for not using the fans. One contractor has been fined since the rule went into effect, Brown said.
Wrapping a house in plastic before tearing it down could double the average demolition cost of $8,000 to $10,000, city officials said.
"The more that a demolition costs, the fewer buildings we're going to be able to take down," Brown said.
Brown added that city officials for the first time are having conversations about balancing the risks and rewards of demolitions to public health. The Economic Policy Institute estimates that every dollar invested in lead poisoning prevention saves $119 in tax revenue and reduced health care and legal costs.
"All the money and time and effort trying to reduce the blood lead levels in children, we do not want to reverse that because of demolition practice," said Frank Oswald, the city's building commissioner.
While the more expensive process is not financially feasible for all 12,000 city-owned vacant properties, officials are hopeful that the 30-building pilot project set for 2019 will expand.
The extra costs upfront are worth it, said Roger Lewis, professor of environmental health at St. Louis University who oversees research on lead exposure.
"What's the cost of the child who has developmental disabilities versus the cost of cleaning up this yard, making sure dust doesn't get in the air?" Lewis asks. "It's a moral question. It's an economic question. They have to find a better way of dealing with the demolition of buildings than they do now."
'There was lead everywhere'
The 20th Ward in south St. Louis, which includes the Gravois Park and Dutchtown neighborhoods, has the highest rates of lead poisoning in the city, at more than 14 percent of children. Alderman Cara Spencer attributes the high rates to a lack of renovated housing stock and a history of predatory landlords in the area.
"It is terrifying when your child is exposed to something that is totally irreversible," said Spencer, who encourages families in the ward to get their homes tested.
Born in February 2017, Kendrick Brown was a healthy baby until he started crawling around his house on Potomac Street near Gravois Park, his mother, Kardedra Brown, said.
"He was barely eating. Everything slowed down for him," Brown said. "When we went for his 1-year checkup, we found out that his (lead) levels were high."
An initial inspection cleared the family's home for lead. But Kendrick's levels kept rising until they hit 40 micrograms, requiring hospitalization for a few days last summer at SSM Health Cardinal Glennon Children's Hospital.
A second inspection found the home was contaminated.
"There was lead on the stairs, in my room, downstairs in the kitchen. There was lead everywhere," Brown said.
Kendrick's lead levels, now tested every month, have dropped to 24 micrograms but are still too high. He takes iron supplements to help his body absorb nutrients, but his appetite hasn't returned. The family has had to move a few times after Brown's father's house in the city also tested high for lead.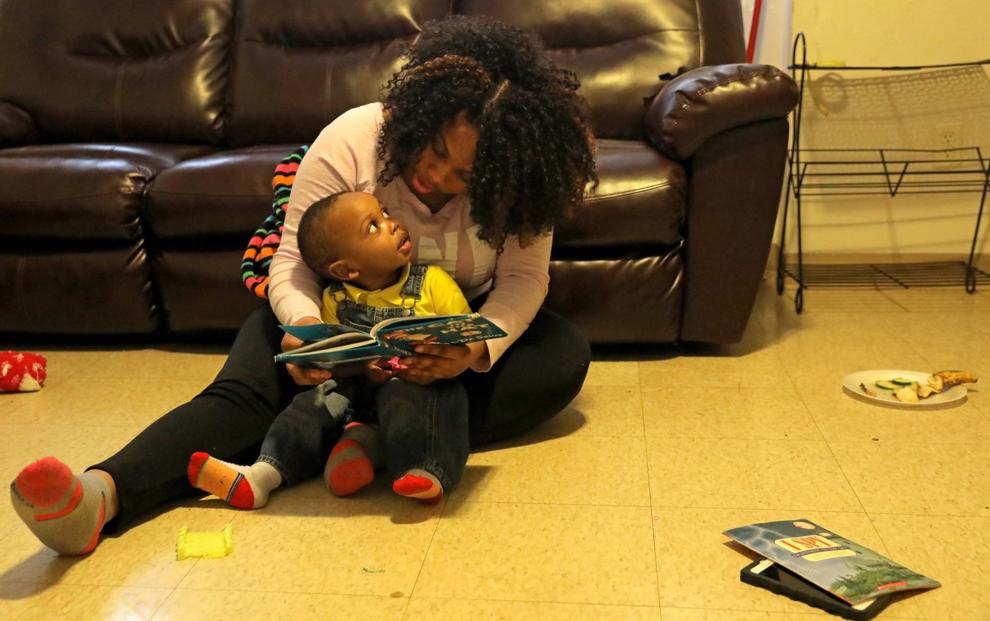 The toddler goes to follow-up appointments at Cardinal Glennon's Knights of Columbus Developmental Center and so far is hitting milestones on time. Brown said she has other family members who have experienced learning delays after lead poisoning.
"It scares me to see that happen to him," she said. "It's hard, and it's frustrating because we don't have anywhere stable to go right now. We're still jumping from house to house."
Links to crime
The city's high rates of gun violence, opioid overdoses and sexually transmitted diseases all get more media attention. But a growing body of evidence, including research from St. Louis University, hints that some of those problems likely started with lead-poisoned babies.
Lead, a neurotoxin, disrupts and damages the area of the brain that controls behavior, reasoning and intelligence. The toxin can cross the placental barrier, damaging the nervous system of a developing fetus. Exposure to lead in utero or in early childhood raises the risk of attention deficit hyperactivity disorder, lowered IQ and learning disabilities.
While no one has tracked lead-poisoned children in St. Louis over time, the long-term Cincinnati Lead Study found that children with high blood levels had higher arrest rates as adults. In Detroit, researchers found that lead-poisoned children were seven times more likely to drop out of high school.
"There is a fairly strong and consistent correlation between lead exposure and a variety of social issues and social problems," said Brian Boutwell, a criminologist at SLU.
Nationwide, a decades-long decline in violent crime has been attributed in part to the removal of lead from gasoline and paint in the 1970s. Locally, SLU's research has shown a correlation between crime rates and lead exposure in St. Louis neighborhoods, even when controlling for socioeconomic factors.
"There was quite a bit of progress made in removing lead from gasoline and pipes and paint, but there are still places like St. Louis where exposure levels are high," Boutwell said. "When you have aging houses that begin to decay, it is still a great benefit to society to remove those heavy metal toxins."
A shortened, lead-poisoned life
It took a couple of years for Christopher Holland Sr. to save up enough money to move out of the lead-tainted apartment on Ashland Avenue. After the family got out, they sued their landlord in 1995 for failing to resolve the lead contamination.
Lil Chris, whose blood lead level was higher than his brother Demontae's, was awarded an $85,000 settlement to be paid in $5,000 annual installments after the boy turned 18, court records show. He received two payments before dying in 2010 at age 20 when a man he tried to rob on a Hazelwood street killed him in self-defense.
Hazelwood police at the time said the shooting was justified, that Lil Chris died with his finger on the trigger of a .38-caliber revolver. He had two bullet wounds, one in his side and one in his back.
His father paid the funeral expenses with the $18,000 left from the lead poisoning settlement after taking a penalty for cashing out early.
Holland Sr. remembers Lil Chris as "quick to get mad all the time." Demontae "has problems with coping with life, too, impulse control and decision-making. A lot of that, I know it comes from lead."
The father's discussions with his children always involve making better choices, talking out their problems or walking away and controlling their anger, he said.
"When your kid hurts, you hurt, and I'm like that," Holland said. "I know I can't keep you from bumping your head and making mistakes, but I'm trying my damndest to try to stop you from making mistakes."
Holland knows he couldn't stop the boys from being poisoned, and it haunts him, wondering how different their lives could have been.
Janelle O'Dea, Post-Dispatch data specialist and reporter, and Andrew Nguyen, newsroom developer, produced the accompanying graphics.