ST. LOUIS • Protesters and a group of faith leaders Monday called the arrest of a clergyman who was pepper-sprayed by police at a demonstration Friday another example of excessive use of force by officers.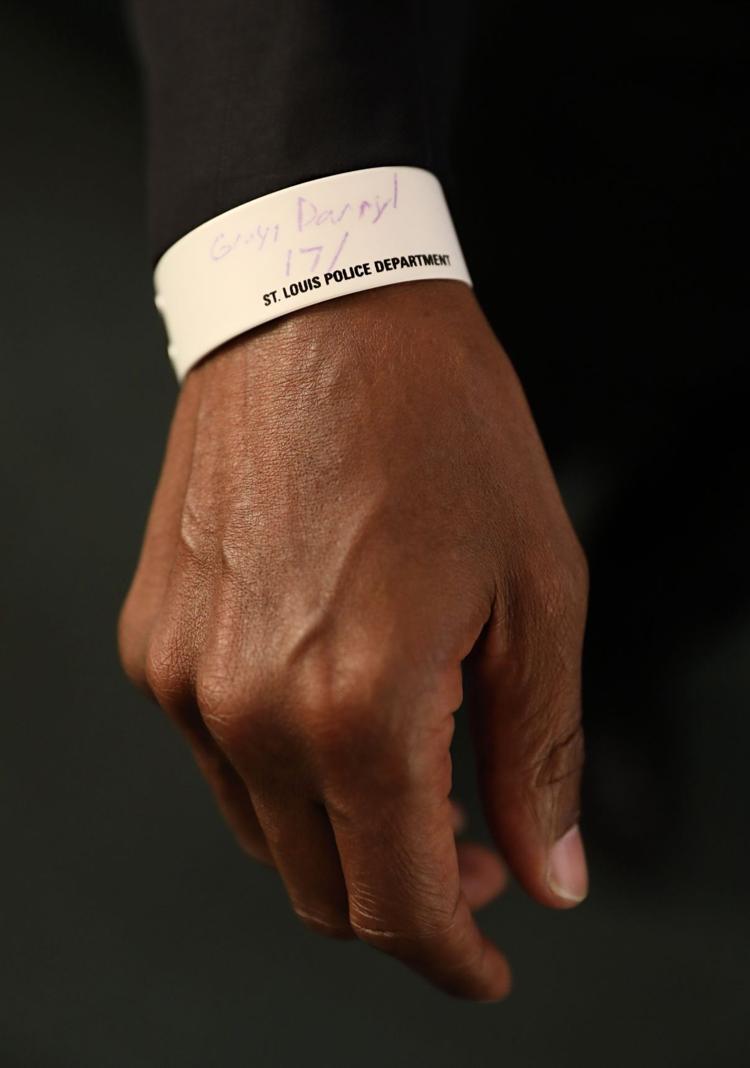 At a gathering of about 20 faith leaders at the Wayman African Methodist Episcopal Church, the Rev. Darryl Gray pointed to the jail bracelet still on his wrist, which lists him as inmate 171 at the St. Louis City Justice Center.
"I wear this to remind me," Gray said, "of where I've been and where I want to go."
Gray, 63, of the Missionary Baptist State Convention, was arrested at a protest in downtown St. Louis Friday and was charged with interfering with an officer, police said. 
The protests have continued in the St. Louis region for more than two weeks following the acquittal of former St. Louis police Officer Jason Stockley, who is white, in the killing of a black drug suspect, Anthony Lamar Smith, who fled police.
At Friday's demonstration, protesters marched downtown to Busch Stadium and some unfurled a banner at the Cardinals-Brewers game with a drawing of the Cardinals' mascot and the words: "Stop Killing Us."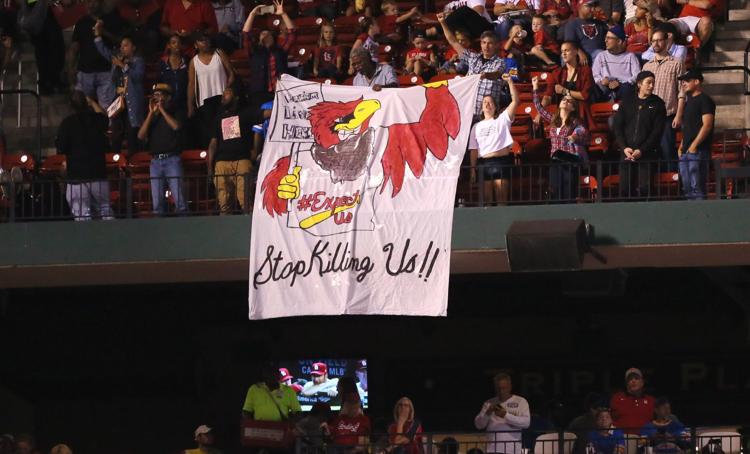 The protest later spilled onto the streets near the stadium, where three people, including Gray, were arrested. The Rev. Erin Counihan, pastor of Oak Hill Presbyterian Church in Tower Grove South, said she witnessed the arrest.
The confrontation began when officers allowed cars to come through the intersection of Walnut Street and South Broadway, despite a few remaining protesters, Counihan said. 
Counihan approached police to object to them letting the cars through and was grabbed and shoved by several officers, she said. She claims she then saw Gray asking police why they were grabbing a member of the clergy before he was swarmed by officers, thrown to the ground, pepper-sprayed in the face and arrested.
Gray said he was wearing his liturgical collar at the time of his arrest. 
"Officers deploy tactics when criminal activity arises and escalation depends on the level of aggression," the St. Louis Police Department said in a statement. "Pepper spray is a non-lethal tool used when unlawful behavior occurs to protect life and property."
Police did not specify what constituted the criminal activity or aggression at the protests Friday. Counihan claims neither she nor Gray were a safety threat at the time of the arrest.
The reverend was one of three people arrested in connection to the protest, according to police.
Police used a Taser on protest leader Calvin Kennedy, 37, of St. Louis, before he was arrested, the department said. St. Louis police claim officers used the stun gun on Kennedy after he "continued to resist arrest." 
Police at Friday's protest also pepper-sprayed a well-known livestreamer, Heather DeMian, as well as 5th Ward Democratic Committeeman Rasheen Aldridge.
Police said a third man, Anthony Engle, 23, of Wildwood, was also arrested and charged with assault and unlawful use of a weapon.
The ACLU of Missouri issued a statement Saturday criticizing police conduct during the protest. 
"It appears that officers yet again have demonstrated hostility toward the U.S. Constitution and the rights of the people by gratuitously using pepper spray and Tasers in a crowd," the statement by legal director Tony Rothert read.
Gray said he still planning his response to his arrest, but did not want to specify because of possible litigation.
But he said the clergy members will continue to support the protesters, despite the arrest.
"(We) will continue to stand up for what is wrong, which will make us targets," Gray said. "We'll get the full brunt of whatever frustration and anger some in law enforcement have."