Now in its eighth year, the annual Jewish and Muslim Day of Community Service is, for many of its hundreds of volunteers, a Christmas tradition.
"I look forward to it every year," said Kay Sherman, who was among more than 1,000 people of all faiths Tuesday to volunteer for projects benefiting more than 20 different charities throughout the St. Louis area. "It feels good to do something good for other people. And you're breaking barriers and making friends with people you might not meet otherwise."
Sherman, of Olivette, has volunteered every year since 2011, when the Islamic Foundation of Greater St. Louis and the Jewish Community Relations Council coordinated the first Day of Community Service. The idea began a year earlier with a small group of Jewish and Muslim friends who came together informally to help relieve Christian volunteers on Christmas Eve.
The day of service also has been an important way for members of the Jewish and Muslim communities to strengthen bonds, said longtime volunteer and organizer Sophie Malik.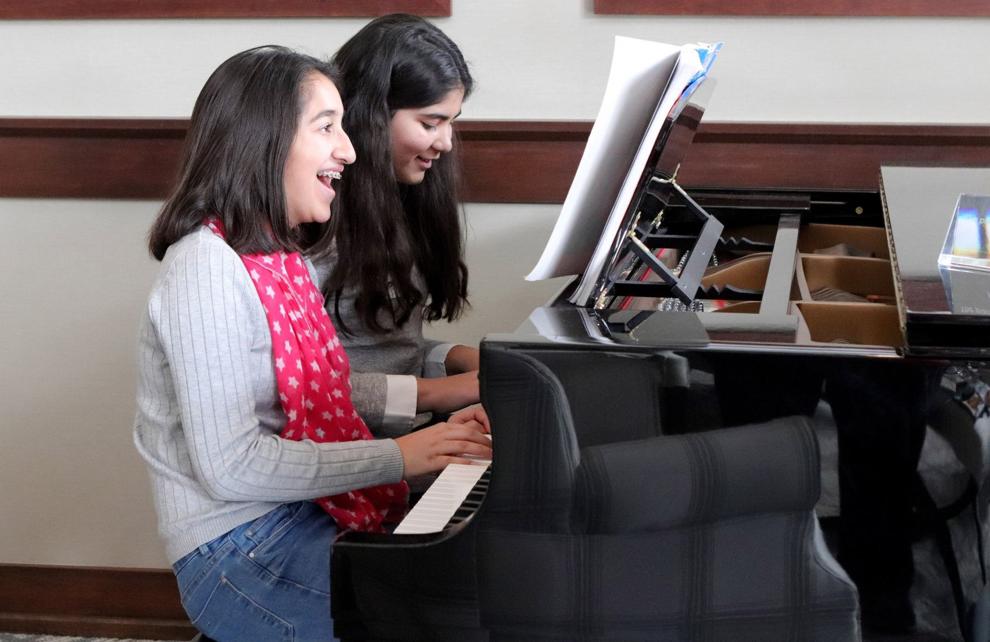 To further that goal, the Day of Service included this year several new events, including potluck lunch at the Turkish American Society of Missouri, where guests were asked to bring a dish that represented their religion, culture or family tradition; and more than four hours of "classes" set aside for Jews, Muslims and participants of all faiths to talk about their shared values and histories.
The classes include lessons about both communities' religious holidays, what each faith says about protecting the environment and the history of the Jewish and Muslim communities in St. Louis, incorporating the stories of groups seeking refuge in the U.S. from persecution abroad.
"It's when the other is a stranger that you have prejudice and discrimination," said co-chair Julie Williams. "If we can come together as parents passing down stories to our children, or just as friends, it's all to the greater good."
Tzedekah, sadaqah
More than 300 people began the day with a communal breakfast at Daar-Ul-Islam mosque near Ballwin, where participants were reminded of charity's importance to both Judaism and Islam. "Charity" translates to "tzedekah" in Hebrew and "sadaqah" in Arabic.
Volunteers spent the next several hours at community centers throughout the St. Louis area on projects including delivering hot meals and bags of goodies to impoverished families, playing games with teens in juvenile detention, and visiting infants or young children at the St. Louis Crisis Nursery.
This year organizers also added a new project: cooking and sharing a meal for families visiting loved ones at Evelyn's House, a hospice for terminally ill patients at Barnes-Jewish West County Hospital.
Amy Eilers, 57, of Edwardsville, was among more than 100 volunteers at Daar-Ul-Islam making supply kits for homeless families, toiletry bags for health clinics and no-sew blankets for cancer patients at Missouri Baptist Medical Center, among other projects.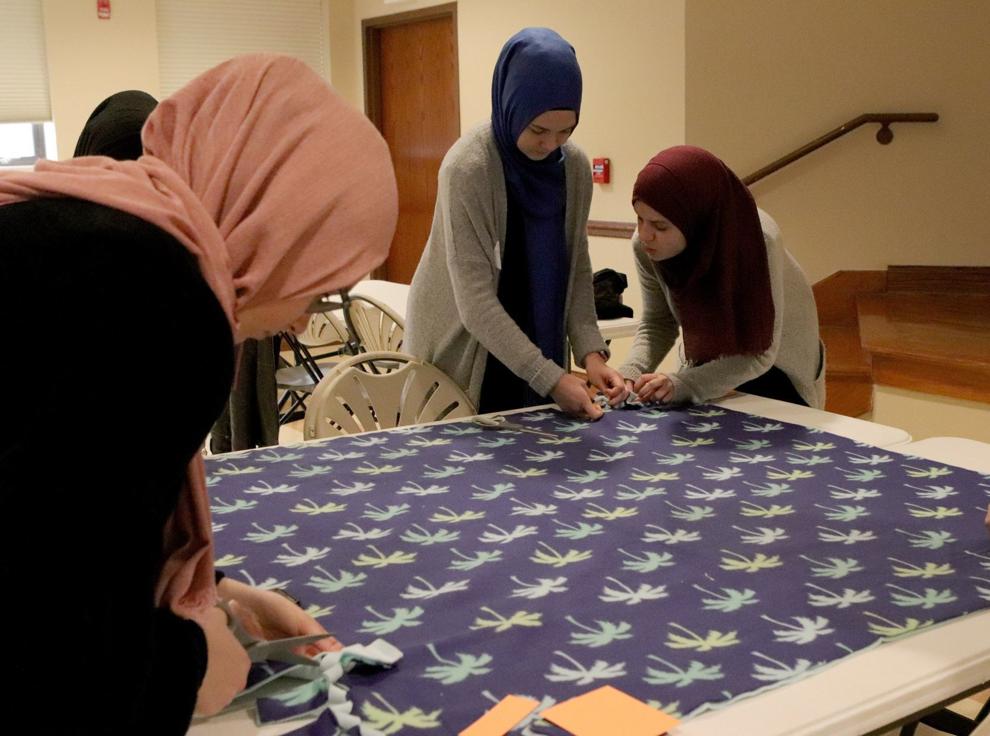 Eilers, a social worker at Missouri Baptist, first volunteered for the day of service two years ago after learning about it from a doctor there who is Muslim. Eilers is Christian but likes to spend Christmas Eve with family and Christmas morning volunteering, she said.
"It's nice to sit side-by-side and work on these wonderful causes," Eilers said. "This is an act of love."
The day of service is about building relationships to make St. Louis a stronger community, said Maggie Duwe, a volunteer and member of Central Reform Congregation in St. Louis.
"We're all riding the same rock," said Duwe, 67, of Kirkwood. "I'd rather do that as a community than as disparate groups."
'The way we move forward'
The Day of Service has seen an increase in volunteers in past years that has been in part a reaction to an apparent increase in Islamophobia, anti-Semitism and political rhetoric attacking minority groups, organizers say.
The new classes this year were added at the request of last year's participants, who wanted more direct ways to dialogue and learn about each other, Malik said.
The class on the history of Jews and Muslims as immigrants, which included Imam Muhamed Hasic's personal story of seeking refuge in Canada from war in Bosnia, was meant to emphasize "how for each faith, it's important to open your doors," Malik said.
"Sometimes we live in our privileged bubble and don't realize how many people are struggling to find a safe and secure place for their children," Malik said. "This gives an opportunity for people to understand what other people are going through right now."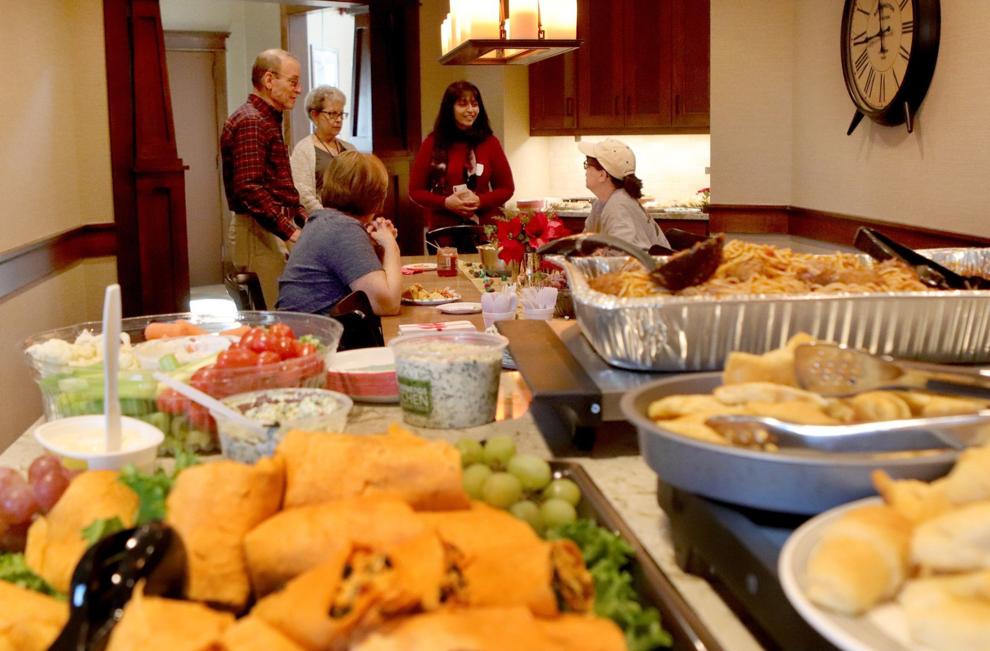 Sue Fischlowitz, of St. Louis, was among about two dozen people gathered in the gymnasium of Daar-Ul-Islam about 12:30 p.m. for the class.
Fischlowitz has volunteered for the day of service since finding about out it through the local chapter of the Sisterhood of Salaam Shalom, a dialogue group for Muslim and Jewish women. The group, whose name uses the Arabic and Hebrew words for "peace," has enriched her life through new friendships, she said.
"This is the way we move forward," said Fischlowitz, a member of Shir Hadash Reconstructionist Community. "The stronger our day-to-day relationships are, the better off we all are in more difficult times."
Ulaa Kuziez, 15, attended the class after learning about the day of service through JAM, a dialogue group for Jewish and Muslim teens.
"It was great to build connections and understanding between each other," she said. "Through all the hardships we're facing right now, this is a way to heal."
And in 2018, immigration and environmentalism are sensitive but important issues, organizers say.
"We try to keep politics out of the Day of Service, but it can't help but have more meaning because of the context," Williams said.
"If we can come together and do so much good work on this day and eat together and serve together, that is a stark contrast to what we see politically, and it's more of what we need in this world."
EDITOR'S NOTE: A previous version of this story listed an incorrect address for the Day of Service's communal breakfast.