ST. LOUIS • Beatrice Burt has a favorite memory of the home she bought for $1.
"The basement was crowded, the upstairs was crowded, the whole side of the street was lined with cars," said Burt, 71, smiling broadly as she recalled hosting a big family reunion when she was a young woman.
Burt said she was thrilled to show off her first home, a one-story brick bungalow in the Walnut Park East neighborhood.
Sold in 1978 by the city, 5506 Gilmore Avenue was move-in ready. But with the help of her father, Burt replaced the kitchen tile, bought new bathroom fixtures, did minor electrical work and decorated. In the first five years, Burt estimated she put about $10,000 worth of work into the property.
She lived in the house for 15 years, but after she became ill and then had to take care of her aging parents, she allowed relatives to stay in her home. The house has since been torn down, and a church uses the lot for parking.
Burt, who now lives in Hamilton Heights, said she still considers herself fortunate.
"It was definitely a good house, and I was a single individual so it was ample space," she said.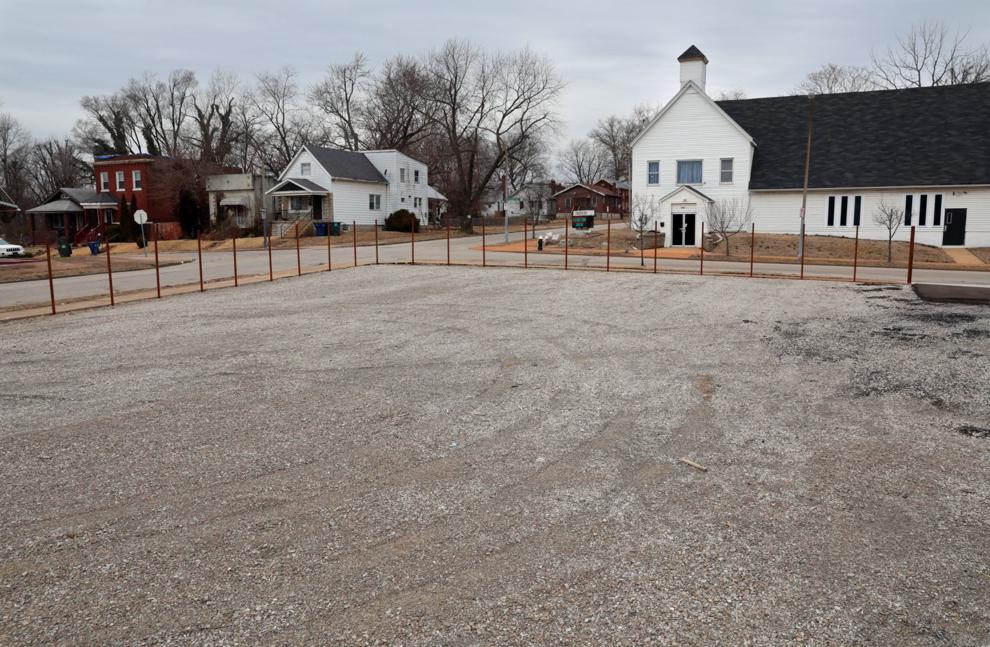 The city of St. Louis recently launched a new program with the goal of matching some of the city's vacant housing with people who would like to become homeowners — just like it did for Burt, more than 40 years ago.
The new Dollar House pilot program is the brainchild of 21st Ward Alderman John Collins-Muhammad, and it's focused on neighborhoods hit hardest by disinvestment.
"People are eager to move back to the city of St. Louis," Collins-Muhammad told the Post-Dispatch. "We have to market our city and market our communities, and make it attractive for people to move back."
Collins-Muhammad's resolution, passed last summer by the Board of Aldermen, directed the St. Louis Development Corp., which oversees the Land Reutilization Authority, to set up the program.
LRA, the city's land bank, currently maintains an inventory of roughly 12,000 vacant properties — lots and buildings. Of that number, 522 houses — or 4 percent of the total — are included in the new Dollar House program. To be eligible, the buildings must be single-family residential structures, less than 1,500 square feet in size, and in the LRA inventory for at least five years.
This building in The Ville neighborhood is among more than 500 being offered for sale in the new Dollar House pilot program. It's been vacant …
Most of the properties are located in north St. Louis, with more than half of the 522 concentrated in four neighborhoods: Walnut Park East, the Greater Ville, Wells-Goodfellow and Walnut Park West. There are a smattering of eligible properties in the south side neighborhoods of Marine Villa, Dutchtown and Gravois Park.
Unlike Burt's home in 1978, these structures aren't move-in ready. Many will require substantial repairs.
Previous attempts
Urban homesteading efforts in the St. Louis area date to the early 1970s, and were modeled on similar efforts in Baltimore, Philadelphia and Wilmington, Del.
Vacant properties then as now were sold at cheap prices, typically $1, to entice people into homeownership and rehabilitation of the homes.
Larger national programs came after the Department of Housing and Urban Development transferred ownership of its foreclosed properties to local governments through approved homesteading programs.
St. Louis joined HUD's national demonstration program in 1977, and the following year, the city began looking for people interested in 49 vacant homes. Because of overwhelming response, the city used a lottery to pick prospective homeowners. Burt was one of the lucky 49.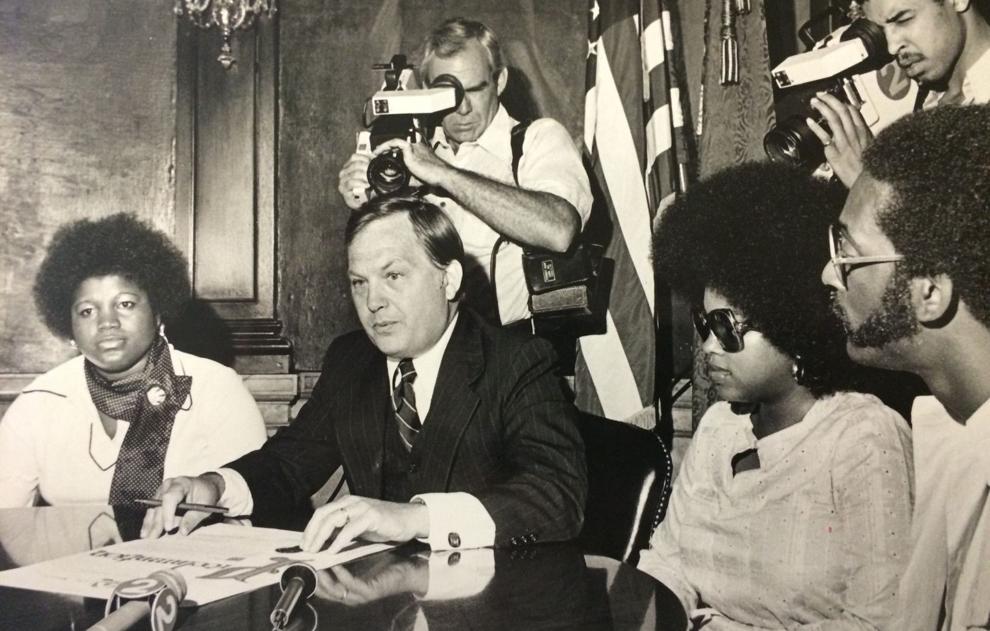 As an alderman, Vincent C. Schoemehl was an advocate of urban homesteading, and as mayor, from 1981 to 1993, he oversaw a dollar-house program. Schoemehl calls homesteading programs a tool to highlight vacancy and affordable housing issues but not a solution.
"The dollar sale catches a lot of people's attention but we're not going to move a lot of real estate that way until we deal with some of these underlying financial issues," Schoemehl told the Post-Dispatch, referring to north city's broken mortgage market.
"The fundamental challenge here is to re-establish a free functioning market in some of the neighborhoods in the city, and that takes a lot of different pieces," Schoemehl said.
Program requirements
The new Dollar House program mirrors the current process for buying LRA property, which requires potential buyers to fill out an application, provide several forms of identification and prove they have the financial wherewithal to renovate the property.
Other requirements include using licensed providers to work on electrical, plumbing or HVAC systems, and bringing the exterior of the structure into code compliance within four months of closing on the property.
Buyers will have 18 months to bring the interior into compliance and obtain an occupancy permit. The new owners are required to live in the home for at least three years, a provision meant to prevent speculators from buying and flipping the properties.
If owners don't fulfill their obligations, their property will return to LRA.
The $1 referenced in the title of the Dollar House pilot program doesn't include the $25 application fee paid at the time an offer on the property is made. That's in addition to $83 in processing and recording fees, a $70 homeowners' counseling class and $250 title insurance.
After an application is approved, the buyer will be provided a code for a discount on the homeowners' counseling class, according to the program's webpage. All applications must be approved by the LRA Commission at its meeting on the last Wednesday of every month.
High Hopes
Despite the challenges, an initial rollout for the program was met with broad interest.
Margaret Misher, 24, has lived in the St. Louis area all her life. She attended a recent public meeting on the Dollar House program at Harris-Stowe State University with her father, a convenience store owner in Collins-Muhammad's ward.
Misher said she appreciates what Collins-Muhammad is trying to do to bring housing opportunities to the city's black community. She hopes the program will help restore the city to how she remembers it.
"Being younger, I remember we could go outside and play in the front (yard) and now it's like you don't even want to play in the backyard anymore," Misher told the Post-Dispatch in a phone interview after the meeting.
The city hopes to get a lot of bang for its buck.
"We're hoping that the program will be successful enough to put these properties both back on the tax record, which brings in revenue to the city, and also provides adequate housing for people," said development corporation spokesman John Parker.
The program also could help to address St. Louis' vacancy problem, Parker said.
Schoemehl is hopeful, too, but he's seen the programs work and not work before. He knows it won't work on its own.
"These things have been tried for decades and the problem is while it attracts attention, it doesn't address the underlying problem of the housing not necessarily being affordable."