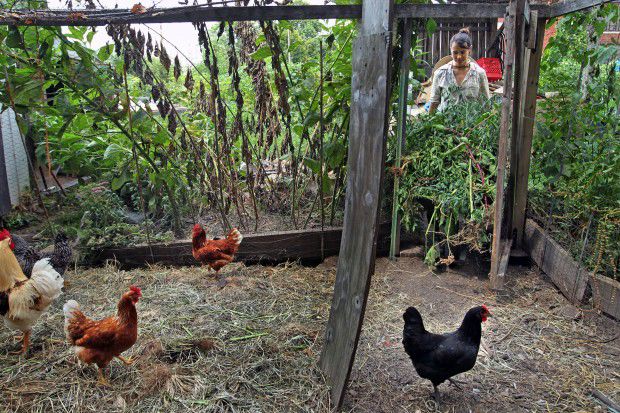 Emus, sheep and goats are still off limits for aspiring urban farmers in the city of St. Louis. But a bill signed Wednesday allows more chickens to come home to roost on city lots, depending on the size of the property.
City residents may now have up to eight chickens. Previous ordinances allowed a maximum of four animals to a city lot — including dogs, cats, chickens and rabbits.
Mayor Lyda Krewson signed the measure on Wednesday. Supporters of the bill introduced by Alderwoman Cara Spencer argued that the change would better accommodate growing interest in local food and pointed out that many city residents already exceeded the four-animal limit.
A similar effort to expand allowable chicken ownership failed to pass the city's Board of Aldermen last year. Beyond seeking a bump in permissible poultry, that bill would have allowed residents to own sheep, goats, and larger birds, such as emus and ostriches.
After that bill's defeat, the St. Louis Food Policy Coalition conducted a city-wide survey to assess attitudes toward urban agriculture issues. Melissa Vatterott, the coalition's director and the food and farm coordinator for the Missouri Coalition for the Environment, said that while residents expressed moderate support for allowing larger animals on city lots, they were dropped from this year's bill since the city may have had difficulty regulating them.
"It's not the right time," said Vatterott, who helped draft the bill after researching other cities' backyard chicken policies. "We want to make sure that the departments that would be impacted by these animals have the resources."
This year's chicken-focused legislation enjoyed robust support among city aldermen, passing the chamber in a 22-3 vote.
Even so, as the measure was discussed in committee earlier this month, various aldermen expressed some hesitation about "opening the door" to chickens and voiced a desire to "keep it as neighbor-friendly as possible."
"Farm mentality is a whole lot different than pet mentality," Alderwoman Dionne Flowers noted. "That's something we may need to look at down the line."
Now, in addition to four other pets, there is a eight-chicken limit per parcel, with the new policy specifying that residents may keep one bird "for every 4 square feet of indoor enclosure space and every 10 square feet of outdoor enclosure area provided."
To keep more than eight chickens, property owners must satisfy certain conditions such as having at least 20,000 square feet of contiguous land.
Roosters are still not allowed within the city.
The bill originally applied to rabbits as well as chickens, but rabbits were eventually struck from the legislation amid concerns about the species proliferating beyond residents' control.