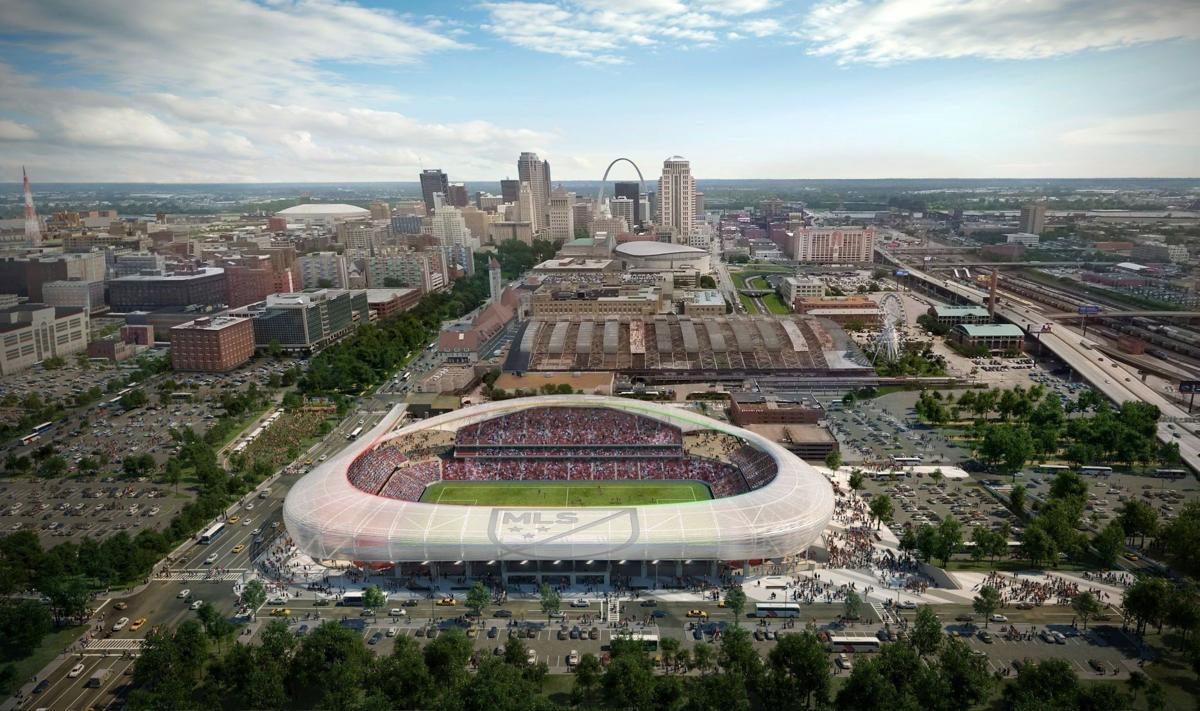 A St. Louis Major League Soccer franchise would support workforce development and youth sports programs under an agreement between the city and prospective owners.
The ownership group, SC STL, announced the formalized agreement Tuesday two weeks before city voters will decide whether a proposed soccer stadium should get $60 million in public financing. It was one of the requirements put on the ownership group by the Board of Aldermen when they voted to approve a financing agreement in February.
SC STL is pledging $5 million over 20 years to fund youth soccer programs in the area through the St. Louis nonprofit Scott Gallagher Soccer Club, and additional support by providing equipment for youth soccer programs. The money given to the Scott Gallagher nonprofit would be distributed to other youth organizations, including the Boys & Girls Club and the Demetrious Johnson Charitable Foundation.
"We want St. Louis to be recognized for its youth sports programs, and this will help make us a national player," said Johnson, a St. Louis native and former professional football player.
Other groups in the partnership include the MOKAN Construction Contractors Assistance Center; Urban League of Metropolitan St. Louis; St. Patrick Center; United Way of Greater St. Louis; St. Louis Agency on Training and Employment; and the St. Louis Sports Commission.
The agreement calls for SC STL to partner with specific workforce development organizations but leaves the details of those agreements to be settled between SC STL and each of them individually. SC STL investor Dave Peacock said the goal is to "create a pipeline" for city residents into jobs related to stadium construction and operations.
The agreement would be governed by a five-person committee representing the owners, the city's director of human services, the Land Clearance for Redevelopment Authority, the St. Louis Downtown Neighborhood Association, and one member to be appointed jointly by SC STL and the city. The committee would produce an annual report detailing yearly activities, and SC STL would pay the cost of preparing the report.
Although the Cardinals and Blues support similar charitable causes in the city, Mayor Francis Slay said the agreement would be the first of its kind with a St. Louis sports team. Slay, who leaves office this year, said such community benefits agreements should be included in future city financing partnerships beyond sports.
"I'm expecting this will become a stand-in example for future agreements," Slay said at a news conference at the Boys & Girls Club of Greater St. Louis.
SC STL also would give away 100 tickets per home game to city youth organizations, and St. Louis Public Schools, and the city would have a number of opportunities to host amateur sporting events and community activities at the stadium. SC STL also said the stadium would be built with "sustainable construction materials" under the guidelines of the Leadership in Energy and Environmental Design certification program.
The total stadium project cost is estimated between $150 million and $200 million. It would be built on state-owned land just west of Union Station downtown.
Supporters of the proposal, labeled Proposition 2 on the April 4 ballot, also needs Proposition 1 to pass. Proposition 1 is a half-cent sales tax increase for MetroLink expansion.
Sales tax increases trigger a corresponding increase in the city's business use tax on large out-of-town purchases by city businesses. That new source of revenue would be dedicated to funding the stadium.
Major League Soccer is in the process of expanding to 28 teams. St. Louis is considered among the favorites .