ST. LOUIS • A St. Louis photographer is commemorating the 60th year of the nation's interstate highways with a photo project that gives people a visual tour of some of the city's historic neighborhoods and the highways that divide them.
"This story is not unique to St. Louis. Neighborhoods in many American cities declined after the interstates blew through on their way to somewhere else," DeFilippo writes on his project's webpage. The project can be found at mdphoto.myportfolio.com.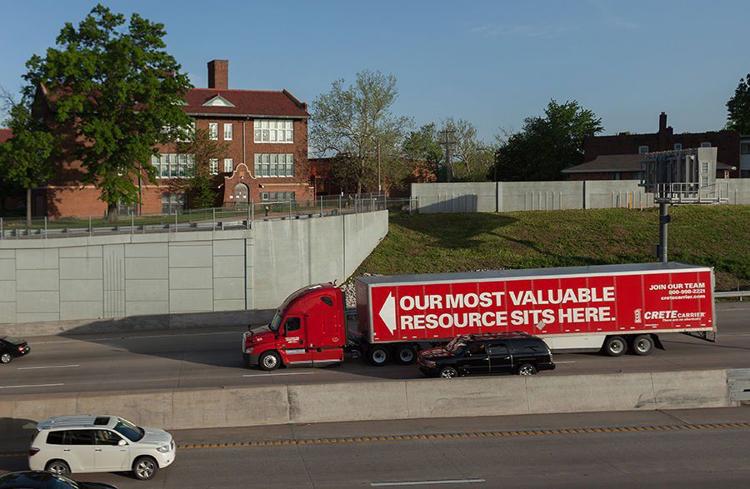 He rattled off highway numbers like a seasoned transportation enthusiast, but the New Jersey native who has called St. Louis his home since 1979 said he wanted only to showcase the city he loves.
"It's a nice town, but I've described St. Louis like a city with pockets of wonder," DeFilippo said. But in his opinion, the "concrete scars," or highways, mar sections of the city's decades-old neighborhoods.
"Everyone's out in their cars right now. They're not on the street," he said.
DeFilippo said the project started as a fun way to document the city and insisted he couldn't say how much importance his project may carry. However, there is a sense when looking at a photo of a shirtless man sitting in a chair under an overpass with debris scattered around, that the pictures also make a profound statement about big issues: urban sprawl, poverty and segregation.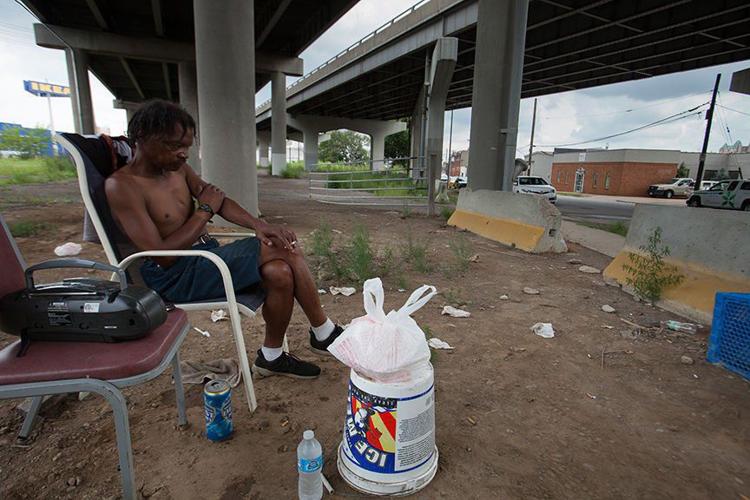 A number of cities in the past 20 years have completed parks that cover highways in an effort to revitalize communities, most notably Boston's expensive highway project known as the Big Dig. St. Louis has also joined the ranks of other cities aiming to beautify and reconnect neighborhoods by expanding the park at the Gateway Arch to cover a portion of Interstate 44.
"These pictures ... are a hard look at the town," DeFilippo said. "You won't see them in marketing brochures, and they won't greet you at the airport."
In one photo, I-55/44 is blocking the view of one of the city's oldest churches, St. Mary of Victories, south of downtown.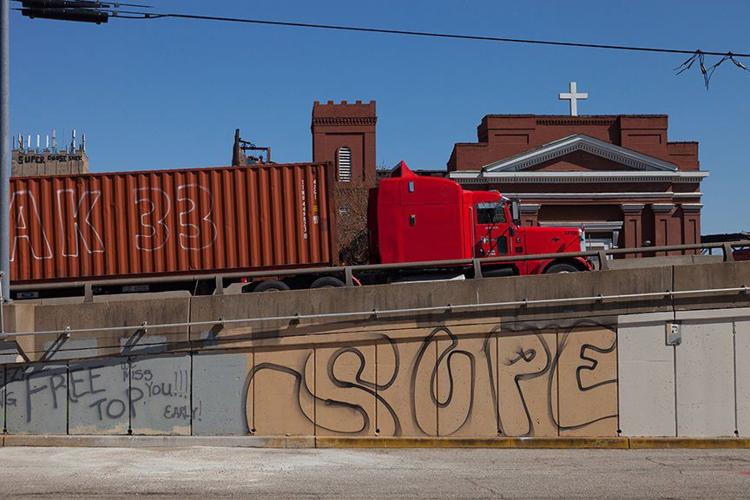 "It was really powerful how trucks just rolled by that church," he said.
One of his favorite photos shows a mobile home traveling along a highway in front of an abandoned building in the Near North Riverfront neighborhood.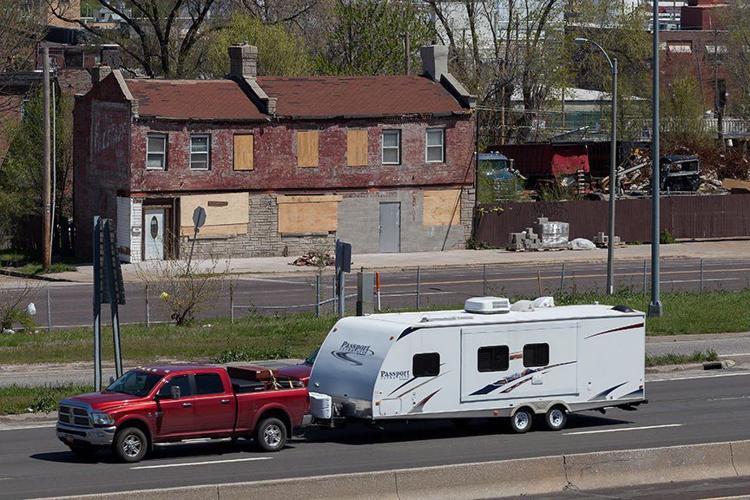 "Every story has a beginning, middle and end," he said. "We're in the middle. What the end will be, I don't know."
DeFilippo said he accepts that he cannot change the trajectory of the impact highways have on St. Louis communities, which he believes interrupt the little gems he sees. To remedy that, he joked, "I say the Serenity Prayer and then I take pictures."