ST. LOUIS — A personal injury lawsuit against the city involving a young girl who was allegedly smashed by a 200-pound racquetball door that was left off its hinges at Tilles Park was settled Tuesday.
In a short hearing on the matter, St. Louis Circuit Court Judge Michael Mullen approved the $385,000 settlement. That total included $128,333 in attorney fees to the Zevan Davidson Roman law firm. About $208,000 was set aside in an annuity and a trust for the girl, now 7. The remainder went to pay medical and other costs.
Under state law, there is a $430,000 cap on damages per person in personal injury lawsuits against public entities like the city of St. Louis, but there are exceptions.
The girl, who was not named in the lawsuit because she's a minor, was in a medically induced coma in 2016 for about one month following the incident and may suffer long-term harm, an attorney said.
"They need to take more responsibility and actually do their work orders in a more timely manner," Tammy Poirrier, the girl's step-grandmother, said in an interview after the hearing about the city's parks division.
Or if the city doesn't have time to fix broken equipment, remove it, she said.
In sworn testimony, former Parks Commissioner Daniel Skillman recalled getting a message from a resident near Tilles Park in the North Hampton neighborhood about a week before the girl was hit by the door. The door apparently fell while she was playing unsupervised with other children.
The caller was worried that the door could hurt someone.
"In his opinion, he said it was dangerous," Skillman testified.
Skillman added that he'd reported the racquetball door to park facility maintenance after he received the message and the repair wasn't made in time.
Still, the city of St. Louis denied allegations of any wrongdoing. By settling the matter, the city "intends merely to avoid further litigation and buy its peace," according to court records.
Asked after the hearing on Tuesday if the girl had been hit by the racquetball door, Assistant City Counselor Abby Duncan declined to comment and referred questions to City Counselor Julian Bush.
"The City doesn't deny that the little girl was injured by the door," Bush said by email. "It is fair to infer from the settlement that the City believed that there was a substantial possibility that a jury would find that the City was at fault."
Only three city parks have racquetball courts. At Francis Park, in the St. Louis Hills neighborhood, a hinge on a door similar to the one in question at Tilles Park was found to be broken.
With budget cuts over the past 20 years, and the transfer of about 30 park rangers to the police department, there are fewer park employees than there are parks to maintain. Hayes said they are doing the best they can with a general fund budget of $9 million, a full-time staff of 100 and a shortage of seasonal workers who get paid $13.31 an hour to mow grass.
On Tuesday, he reiterated that the city relies on employees and the public to alert them to park concerns because there is so much ground to cover.
"We are on top of anything that could be a safety hazard, but we want to know about anything that is a safety concern," he said.
Asked about the workload for repairs, he said parks could always use more help.
A quick review on Monday of Sherman Park on North Kingshighway Boulevard signaled there are still struggles, particularly with trash. Though the grass was being mowed, there were numerous empty beer bottles and other items strewn throughout the park.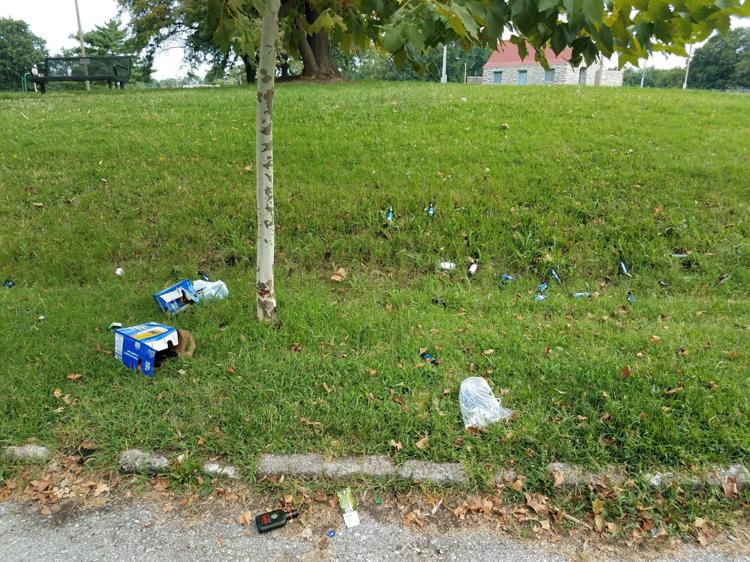 A group from the Girl Scouts of Eastern Missouri was helping pick up the litter Monday morning. They were working with Brightside St. Louis, a city department and nonprofit that has been around since 1982 to help recycling efforts and remove graffiti and trash.
Brightside provides tools, trash bags and large trash containers for groups that wish to clean up public spaces in the city.
"If you want to make your neighborhood better, we are here to help support your efforts," said Mary Lou Green, executive director of Brightside St. Louis, which can be reached at 314-772-4646.