When Latasha Williams looks in the mirror these days, she sees past the scars and gauze.
"I'm beautiful," she says with a nod. "I still look the same."
For the Vashon High School freshman who lost an eye in a shooting in September and had to attend her murdered uncle's funeral just last week, Latasha's pain vanished at least for a few hours Saturday night at her first homecoming dance. In spite of senseless street violence that has marred her first two months of high school, Latasha's visions reach far beyond Vashon and St. Louis.
"I just feel like I'm here for a reason," Latasha says.
The soft-spoken, petite 14-year-old could hardly look at her reflection in the days after gunfire sailed through the walls of a College Hill corner store — the MV Market, at 4300 North 20th Street. Latasha was shot while at the shop buying Hot Fries potato chips and Top Pops taffy pops with reward money for high marks on her first progress report. One bullet struck her right forearm. Another entered her right nostril, piercing her left eye.
Surgeons removed fragments of her eye Sept. 20 and inserted a temporary prosthetic to allow the muscles to heal, her mother said. She'll need another surgery to get a permanent implant.
Police have yet to solve her case, and Latasha's mother says she is growing weary of leaving voicemails with detectives. Latasha's uncle, James "Drew" Lane, was outside the shop when Latasha was shot. About three weeks later, Lane was killed in what police said was a drug-related shooting in the heart of downtown St. Louis. Lane and another man, Jonathan Saddler, 24, were fatally shot at the end of a rolling attack between two vehicles that ended at Fourth and Market streets, a few blocks away and a few hours before the start of a Cardinals playoff game.
That crime remains unsolved, too.
The target of the shooting that wounded Latasha is still a mystery to her and her mother. Latasha said she didn't blame her uncle for what happened. She remembers seeing men standing just inside the front door of the market, and wonders if the gunfire was meant for them.
"That was my favorite uncle," Latasha said. "I still wake up sometimes and I cry."
It's not the first time Latasha, the oldest of seven siblings, has lost a relative to violence. Her father, Marvin Williams, was 21 when he was fatally shot in St. Louis in March 2005. Latasha was only 5 and doesn't remember him. Her uncle was the one who helped raised her after her father died.
"I still text him every night to tell him I miss him and love him," Latasha said. "I tell him to tell my dad I say 'Hey.' "
Latasha was shot at the end of her fifth week at Vashon. She felt well enough for school last Monday but was sent home early because she was lacking paperwork from her doctors. For now, she is barred from team sports and cheerleading, which was one of her passions while at Yeatman-Liddell Middle School on the north side.
Latasha missed the next day of school to attend her uncle's funeral. During the service, on Tuesday, she said memories from childhood filled her head, especially the nights Lane entertained the family by singing and dancing along to the radio.
"It was a dream," she said of the funeral. "I didn't want to believe it was true."
Wednesday and Thursday were Latasha's first full days back at Vashon. They were everything she had hoped for: welcome-back hugs from friends; back-to-back algebra classes (which she loves); beef tacos at the cafeteria (her favorite); and the college prep course she says will be "an easy A."
"I love going to school," she says.
Some of her friends have been wearing decorative eye patches to school to show their support. Friends have been sending photos of themselves wearing eye patches to a Facebook page, "Sight Beyond Eyes," which her mother, Donnitta Turner, set up to raise money for Latasha's surgeries.
Latasha has Ivy League aspirations, even as she starts at one of the state's lowest-performing schools. Vashon's graduation rate was 55 percent last year. She is mulling a career as a prosecutor to punish criminals such as the ones who shot her and her uncle. Latasha says her goal is to attend Harvard Law School. She'd consider Yale or Princeton, too.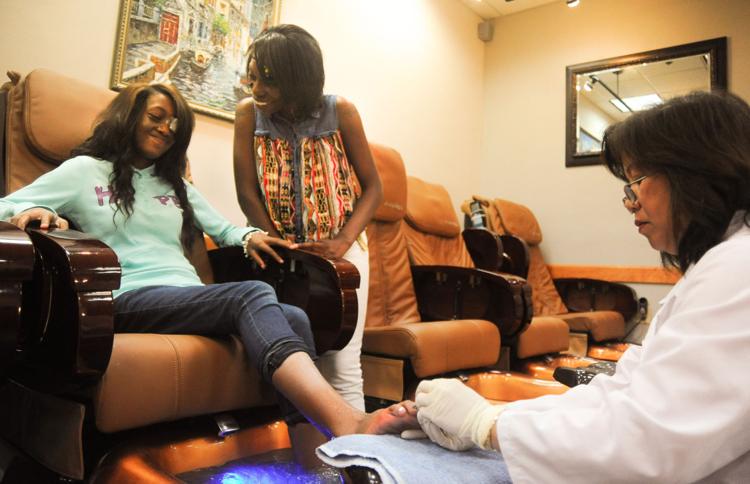 Since news of the shooting broke, help has poured in: The owner of an apartment complex in south St. Louis County is trying to find a house big enough for Turner and her seven children; a lawyer in St. Louis has offered Latasha an internship next summer; after her surgery, Mayor Francis Slay delivered chocolate-covered strawberries, a customized pen and letter opener to her hospital room and invited her to shadow officials within the city courts system. Others have donated clothing, shoes, books and cash.
Latasha says she is learning to accept what happened, and isn't sad or angry about it anymore. She said she still takes just as many "selfies" as she did before the shooting.
"I don't really think about this," she said, brushing her fingers across the left side of her face.
Her grandmother, Denise Williams, said she was surprised by the speed of Latasha's recovery.
"I wasn't expecting her to bounce back like she did," said Williams, 48, of St. Louis. "She is a very strong little girl."
Latasha wore 6-inch-high heels and a sleeveless, black- and cream-colored lace dress to Vashon's homecoming Saturday night. It was an outfit bought for her by a stranger who was touched by her story. Latasha's nails screamed a bright shade of fuchsia after having a manicure and pedicure donated to her.
"Oh my God, like wow!" Turner said as Latasha walked out of her downtown St. Louis apartment Saturday night. "She looks amazing. The boys are going to be looking at her."
Latasha turned down two boys who asked her to be their date to the dance, preferring the company of her friends. As she strutted into Vashon's lobby, through the metal detectors and into the gymnasium Saturday night, her mother stood outside the school, watching through the front windows and wiping tears from her eyes.
"I'm so happy," Turner said. "I wish her dad and uncle were here to see this. She's so grown up."
Latasha said she was a finalist for freshman class homecoming queen. The honor ultimately went to another girl, but Latasha isn't letting it bother her. She has bigger things on her plate: trying out for Vashon's cheerleading team, keeping her grades up, finding a part-time job and getting her learner's permit to drive when she turns 15 on Nov. 7.
She has already begun studying the rules of the road.
"It's going to be a good year," she said.