Jim Turley remembers the Boy Scout oath from when he learned it as a kid.
More impressive, the local man who now is the national chairman of the Boy Scouts of America believes in it.
"The Boy Scouts are one of the best organizations in the world," Turley said, sitting in a meeting room at the organization's headquarters in the Central West End.
"I know I'm biased about this, but it seems that recently, there have been more instances of lack of characters" in the world.
"I think the Boy Scouts develops character, and leadership and commitment," he said.
Born and reared in Clayton, Turley, 62, is the son of Clarence "Turk" Turley and grandson of a founder of the Turley-Martin real estate firm.
He was a Boy Scout for a time as a youth, "but we moved and I never re-upped. Frankly, I was a much better adult volunteer than I ever was a Boy Scout," he said.
After graduating from Clayton High, Turley went off to Rice University to get bachelor's and master's degrees. Then he went to work for Ernst & Young and lived away from St. Louis until he retired in 2013.
"My wife, Lynne, who's from Kirkwood, told me, 'When you retire, we're moving back to St. Louis.' And there wasn't a question mark behind it either," Turley said. He and his wife have one adult son, Jay.
After holding numerous local and national leadership positions, Turley was elected national chairman in late May. He also serves on several corporate boards and directs The Muny's current funding drive.
Making sure that his post-retirement plate will remain loaded, Turley holds the highest rank in the 108-year-old organization at a time when it has been buffeted by furor from various camps.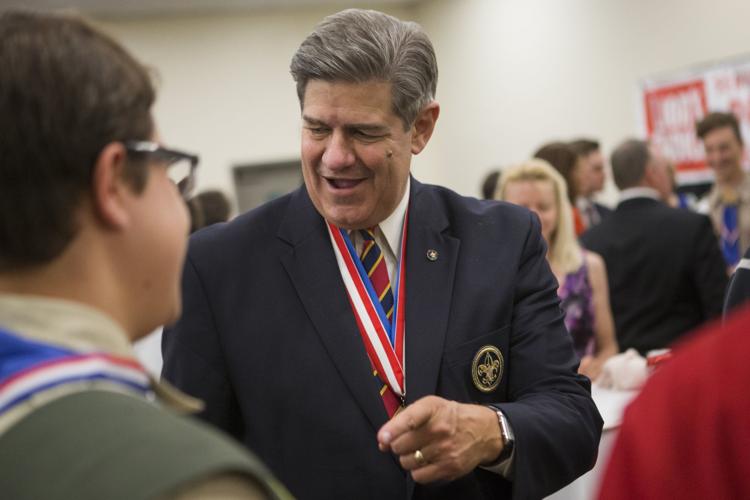 Turley is no stranger to taking reins during rough times. Shortly after becoming chairman and chief executive of Ernst & Young in 2001 came the 9/11 terrorist attacks, the Enron scandal, the collapse of the Arthur Andersen accounting firm and then the 2008 recession.
So Turley addressed the Boy Scout issues calmly and in order, as one would expect from a man who joked that he was "a washed-up accountant."
"The subject of gays had been one that had been talked about among board members for a while," said Turley, who was the first board member to speak in favor publicly about admitting gays.
Turley said the change was in the Boy Scouts' best practical interest.
"Let's put aside what's the right thing to do for a moment: Allowing gays was the smart thing to do," he said.
"From my leadership roles at Ernst & Young, I'm convinced that it's about talent — not about color, size, shape, sexual orientation or religion. We want the best to come to our organization, and to stay."
As to allowing girls to sign up for Cub Scout dens and Boy Scout troops — which will be called BSA Scout troops when girls can join in 2019 — the response was even more pointed.
In its official response to the news in October, the Girl Scouts accused the Boy Scouts of adding "accelerant" to its "house fire" of an organization. The response referenced allegations of sexual abuse within the Boy Scouts and accused it of offering subpar programs.
Turley said the reaction, even the biting nature of it, did not come as a surprise.
"We expected it, yes," Turley conceded, then countered.
"We did this because of pressure we were getting from parents," parents who wanted the Boy Scouts to provide programs for their daughters that their sons already were using.
"We think our programs are the best in the world, and it no longer seemed fair to offer it only to boys," he said.
Turley noted that when the girls-allowed policy was announced, "we could have done a better job" explaining the changes.
One misconception had been that dens and troops would be mixed. "They will be single-gender dens and troops," Turley stressed.
The LDS church has been a stalwart participant: the source of about 20 percent of the Boy Scouts' 2.3 million youth members. Church officials never cited specific changes in policy as the cause of the break, but the sides clashed over the inclusion of gay adult leaders.
"We sat down, and we talked with them. And although the troops won't be tied to the church, we hope the vast majority of those youths still use our program," Turley said.
Again the practical accountant, Turley said the discussions and decisions that led to the changes are past.
The Boy Scouts operated under one set of rules for 100 years, Turley said. "Now, these are the rules for the next 100 years."
"The strategic issues are behind us," he said. "Everyone has spoken, and listened — and a lot of us prayed over these issues. Now, it's time for performance."