SHANNON COUNTY, MO. • An "iconic" lodge, cabins and high-end amenities will anchor a new state park on the site of the former Camp Zoe a year from now.
On Thursday, as the public got its first close-up look at the future park, it was a bustling construction site.
The Post-Dispatch reported Sunday on the state's plans for a $52 million state park on the land — long a summer camp destination for St. Louis children and later famous for music festivals accompanied by an open-air drug market. Reporters, elected officials and a few members of the public were shown around the grounds for the first time Thursday as construction firms work to prepare the property.
About 50 people came out to tour the new park and get some complimentary barbecue afterward. They started at Current River State Park— just down the road from the as-yet-unnamed future park — where four easels held depictions of the state's new "iconic" lodge in the shade.
"I'm tickled the county is getting something new," said Judy Stewart, 62, of Eminence, Mo. Stewart is an owner of Riverside Motel and Cabins along the Jacks Fork River. She and her friend Eleanor Maggard, 72, of Salem, Mo., came out to see the park's plans.
"Everybody's getting some business out of the construction," said Maggard, a co-owner of Akers Ferry Canoe Rental. "A lot of people don't realize that this is an economically deprived area."
Shannon County, about three hours southwest of St. Louis, is among the most impoverished counties in the state. Almost 32 percent of the population lived in poverty in 2013, according to an estimate from the U.S. Census Bureau. By comparison, 11 percent of St. Louis County residents lived in poverty at that time.
"What we've got is a significant investment in your county," Bill Bryan, the state's park director, told the crowd. "We're talking about spending $52 million to make this park complete by this time next year."
Bryan said that the state is planning to market the property as a year-round destination — not only for campers, but for businesses interested in retreats and conferences.
Though he didn't have specific numbers on how many people the park would employ, spokeswoman Steph Diedrick used Roaring River State Park in southwest Missouri as a comparison: it has 12 full-time state employees, 13 seasonal state employees and 41 concession employees. Bryan said the park will also contract maintenance and landscape crews.
Camp Zoe was a summer camp from 1929 into the 1980s. From 2004 until 2010, the property was home to Grateful Dead-inspired music festivals. Property owner Jimmy Tebeau, lead singer of a Grateful Dead tribute band called The Schwag, hosted the festivals — accompanied, authorities say, by scores of drug dealers allowed to peddle their wares openly.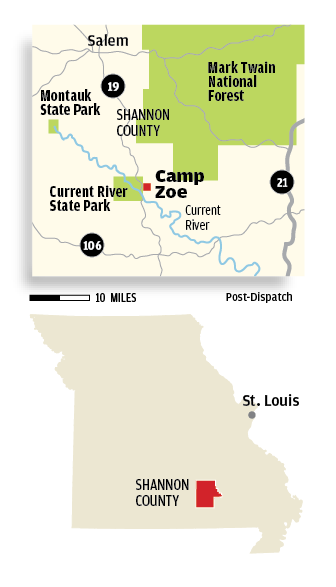 The Drug Enforcement Administration and the Missouri Highway Patrol raided the land on Halloween weekend 2010. Federal prosecutors accused Tebeau of maintaining a drug-involved property.
Tebeau was eventually sentenced to 30 months in prison. The federal government seized the property, which the state purchased at auction in 2013.On Thursday, as the press bus bounced down the gravel entrance to the lodge construction site, Bryan pointed out all that visitors would be able to see by next year.
The park will offer a range of higher-end amenities, including the lodge, cabins and showers. There will be electric and water hookups for RVs, as well as primitive space set aside for those looking for rustic options, according to state plans.
At the construction site, residents crowded around a muddy pond and the foundation of the lodge. Bryan said that the final product would be far different: an expansive dining area will brush up against the pond and will be parallel to the nearby Echo Bluff and Sinking Creek.
Cabins began to take shape nearby where days before they were only drawings, Bryan said. Roads have been graded, and dirt shifted. Most of the structures that were on the property before — except for the horse stable and old lodge — had been demolished. A Civil War-era cemetery remains at the site.
The changes were a lot to take in for some visitors. Bob Midyett, 61, said he was the caretaker of Camp Zoe when it was raided in 2010. He said it was unfair that the land was seized in the first place, and was displeased by what it will morph into.
"I think it's a shame," Midyett said, recalling the days of music festivals when the land was relatively undeveloped. "It might be beautiful someday, but it'll never be natural."
Other people had different concerns. State Reps. Jeff Pogue and Steve Cookson, Republicans representing nearby areas, attended the event and said they will continue to ask questions about the $52 million price tag, and whether the government now owns too much land here.
On the outskirts of Salem, in neighboring Dent County, tie-dye shirts and towels hung on clothes lines outside of Laura's Corner. The store also sells sea shell jewelry and dream catchers. Linda Stevens, 59, helps run the shop and said that most local residents don't shop there.
"We've lost a good half of our business," Stevens said of the effects since Camp Zoe was raided. "We do still have a good business, but nothing like we had with Camp Zoe."
Stevens wished things had gone differently. She said the raid and following events were handled poorly, but acknowledged that drug use on the property had gotten out of control.
"It shouldn't have been going on," she said of the drug use, emphasizing that not everyone who visited used drugs.. "It was supposed to have been a campground and stuff and it should've been for families, not dopeheads."
She doesn't know how the area will change when the park opens. She hopes more people will stop by the corner store.