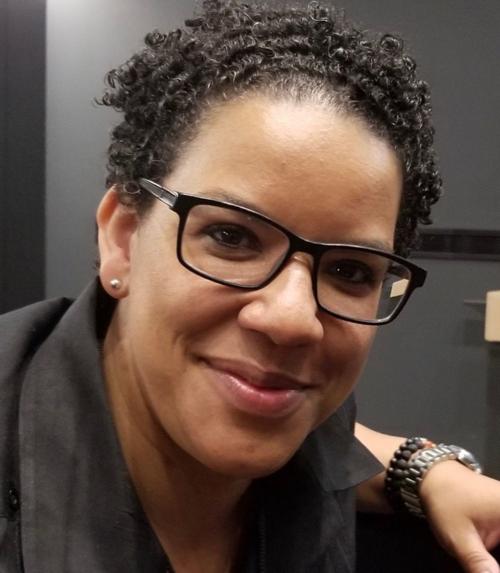 During her career as a trauma surgeon, Dr. Laurie Punch has seen and treated many, many gunshot wounds. Some people she couldn't save, but she remembers in particular one phone call she made to a mother to tell her that her son would survive his wound.
"'Did you get all the bullets out?'" Punch recalls the mother asking her. Punch spoke before a packed auditorium at a health care educational event at the St. Louis College of Pharmacy on Thursday. "Why is that her question? Why is that what she has to know right now? Because that mama knows that that hate has no place in her child. Bullets don't just go through skin and muscle and bone, they cut right through families. They crack open communities."
Punch, now an associate professor of surgery at Washington University, is passionate about treating the wounds that are left by bullets, both physical and psychological. Her passion has led her to advocate locally with Stop the Bleed, a national program dedicated to educating the public about how to take care of a gunshot victim in the crucial moments before professional help arrives. Punch founded the local branch along with Washington University surgery resident Dr. Erin Andrade and Jane Hayes, a medical student.
"(Stop the Bleed) started in 2015 after the Sandy Hook shooting," Punch said in an interview. "It came together basically through the outreach of emergency medical personnel, military personnel, law enforcement, government … everybody collaborated to make this movement teaching the public to stop the bleeding and recognizing that the first five, 10, 15 minutes it takes professional help to arrive is enough time to bleed to death."
Nationally, nearly twice as many American children are killed by gunfire than by cancer, according to a study published in the American Journal of Medicine. Shooting deaths disproportionately impact black children, primarily black boys.
"I've seen a lot of life and death," Punch said, "and there doesn't seem to be any death that comes with the speed and the cruelty of the death caused by a bullet … bullets take our worst moments, our deepest thoughts, and make them into a permanent reality."
Within St. Louis, 44 firearm homicides have been reported so far this year, according to statistics from the St. Louis Police Department. From January through April 2019, there were 693 instances of aggravated assault involving a firearm, according to police figures. Punch said the advocacy group intends to meet with the most vulnerable residents in their own communities to give them the tools and education they need.
"I realized the St. Louis community had a feeling of disconnect and distrust of the medical community," Punch, who has worked in trauma units in Baltimore and St. Louis, said. "How can you care for the community if they don't see you, if they don't feel you? It's important to find a way to connect."
Stop the Bleed has taught classes to neighborhood groups, public schools, Scout troops, health organizations and at events across the St. Louis area. The program also distributes low-cost emergency kits that include gauze, tourniquets and gloves.
During the hourlong class, Punch and other volunteers teach participants how to handle the stress of administering emergency care to someone with a puncture wound.
Make sure that you're safe. Get emergency help on the way. Then, apply pressure to the wound or create a tourniquet — anything that stops the loss of blood.
"I think the biggest thing is to get people out of panic mode or disconnected observer mode," Punch said. "People freak out and think they can't help and they freeze, or people are so desensitized; they see so much scary stuff or they're told they can't do anything to help."
The local branch of Stop the Bleed is intertwined with Power4STL, a nonprofit network of health professionals dedicated to preventing injury and helping people heal from the trauma. The nonprofit has a new youth mentoring program that kicks off in June and includes a partnership with city and county juvenile detention centers, Punch said.
On Thursday, Punch and the other volunteers will celebrate National Stop the Bleed Day at their center, 5874 Delmar Boulevard, with free walk-in classes all day, giveaways and activities for children from 9 a.m. to 7 p.m. Punch hopes as many members of the public attend as possible.
"One hour of your life could save a life," she said. "The class is easy. Dying is not."
---
EDITOR'S NOTE: The name of Washington University surgery resident Dr. Erin Andrade was misspelled in an earlier version of this story, and her position incorrectly reported.