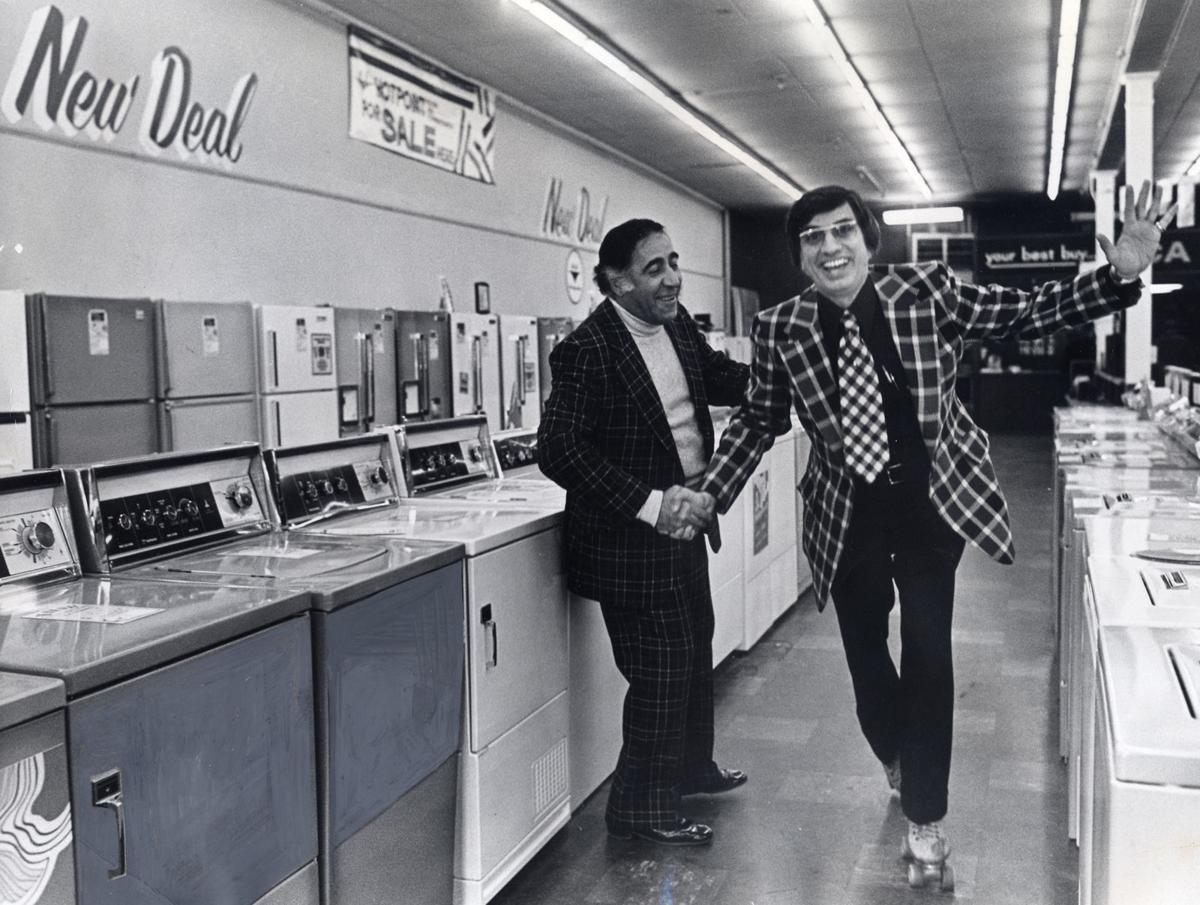 Steve Mizerany, the zany appliance dealer who roller-skated through his store and squealed pitches over the radio, died Friday (April 15, 2011) of pneumonia at St. Luke's Hospital in Chesterfield. He was 87 and lived much of his life in south St. Louis County.
Mr. Mizerany's trademark slogan was describing the store, called the New Deal, "at 4719 Gravois, next to the Bevo Mill." He'd vary the line during radio ad libs, often saying "the Bevo Mill is next to us."
His partner was Joe Farhatt, a childhood friend from the Lafayette Park neighborhood south of downtown. Mr. Mizerany graduated from McKinley High School and went to work with his brothers at a family store, Mizerany Brothers Appliance at 3849 South Broadway.
In 1972, he left that store and co-founded the Mizerany-Farhatt New Deal Appliance Co. at the famous Gravois address. He had done television commercials for Mizerany Brothers, once accidentally starting a fire in a local television studio during a stunt.
But it was for the New Deal that he found his voice. He took to TV and radio with enthusiastic slapstick, delivered in his distinctive voice. He'd appear in plaids and stripes that were outlandish even for the 1970s.
His radio ads often consisted of banter with station personalities, including Jack Buck. During one of the last Apollo moon shots, Mr. Mizerany described over the radio how the astronauts were circling the moon. "Well, we're not there," he said, "We're at 4719 Gravois ..."
He, Farhatt and their sales people were "the decent boys." He'd implore his listeners: "Don't be confused!"
On the TV ads, Mr. Mizerany often roller-skated while pitching Hotpoint and Zenith appliances. He'd also wear skates while doing business, rolling up to customers and introducing himself.
Mr. Mizerany left the partnership in 1989. Farhatt operated it a few more years and died in 1997.
Afterward, Mr. Mizerany briefly did radio spots for the Warehouse of Waterbeds, a business run by two nieces. The slogan? "If you ain't sleeping on water, you otter."
Mr. Mizerany lived for the last six years in Bethesda Meadow nursing home in Ellisville. He had been a patient at St. Luke's for about a week before his death.
He married Sue Grant, of St. Louis, in 1947. They were divorced in 1973.
Services are pending through Kutis Funeral Home Affton.
Among the survivors are three daughters, Cathy Mizerany of Arnold, Stephanie Dorris of House Springs and Veronica Miller of Wildwood; two sons, Steve Mizerany Jr. of Manchester and Vincent Mizerany of Maryland Heights; and four grandchildren.
Be the first to know
Get local news delivered to your inbox!