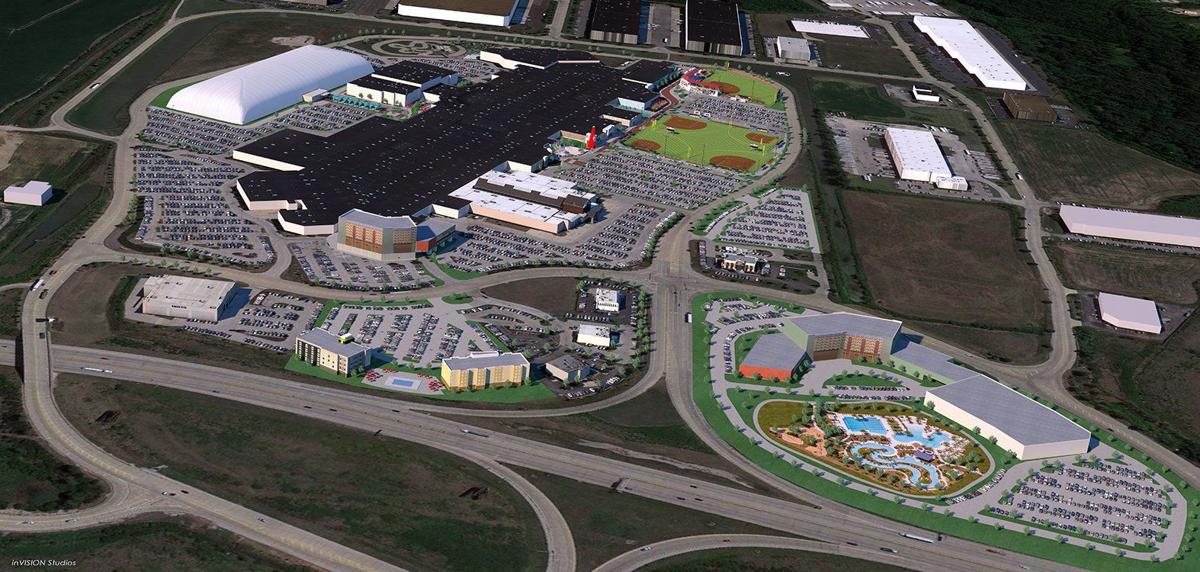 HAZELWOOD — A state board wants more information before it agrees to finance $5.6 million of a proposed $71 million youth sports and entertainment complex at the site of St. Louis Outlet Mall.
Hazelwood officials, who are considering issuing almost $14.3 million in bonds to help finance the POWERplex youth sports project, pitched the plan to the Missouri Development Finance Board during its meeting Tuesday in St. Louis. They faced sometimes pointed questions from board members and couldn't explain what one $3.2 million piece of financing actually was.
"I wouldn't use the word 'skeptical,'" Hazelwood City Manager Matt Zimmerman said of the MDFB's reception after the meeting. "I would use the word 'curious.'"
Tuesday's presentation to the board that controls state loan and tax credit programs was just an initial pitch and a vote was not on the agenda. But the discussion indicated that the POWERplex project — long pushed by former newscaster and area philanthropy leader Dan Buck — still has holes in its financing package 45 days after the developers were supposed to close on the transaction.
Redeveloping the mall has faced a major obstacle from $37 million in outstanding bonds issued by a Transportation Development District, or TDD. As vacancies at the mall rose, the district struggled to service that debt. Hazelwood and Buck's team were able to negotiate a $10.5 million buyout of the bondholders, with the money coming from new bonds backed by a Community Improvement District, or CID, established on the site in Hazelwood.
But Buck told the Post-Dispatch on Tuesday that the new CID bonds' buyers, identified in MDFB materials as New York-based Rosemawr Management, asked that a CID also be established covering the project's footprint in nearby Bridgeton, where some of the complex would be located. Bridgeton has also agreed to allow Buck's company, Big Sports Properties, to use some of its baseball fields for tournaments.
"That put a six-week time wrench in there to get through the political process of establishing a new CID," Buck said.
Bridgeton is scheduled to vote on the CID's creation at its city council meeting Wednesday night.
Buck and Hazelwood city officials also said they're still waiting on a property appraisal in order for Buck to close on his private financing, which he hopes can happen in four to six weeks. Buck said Tuesday that financing would be from a consortium of lenders led by Midland States Bank.
The financing package submitted to the MDFB indicated costs for the project have increased to $71.1 million from the $64 million included as part of terms approved by Hazelwood in June. Buck said some of that is due to new plans for a higher roof in the volleyball and basketball area so it's eligible to host national tournaments.
The financing piece pitched to the MDFB on Tuesday sought bonds that Hazelwood would repay with proceeds from its economic development sales tax. Zimmerman said financial advisers to the city predict debt service over 15 years of about $500,000 annually, so there's "plenty" of revenue from the sales tax to pay off the bonds. The city's economic development sales tax generated about $1.7 million in 2018, down from $2.1 million in 2014.
MDFB board members also said they were concerned that about one-third of the CID bonds would be backed by special taxes from Cabela's, the outdoor goods retailer that is the last remaining major tenant in the outlet mall. Cabela's lease expires at the end of 2022. Bass Pro Shops acquired Cabela's in 2017, and it operates a Bass Pro store about seven miles away in St. Charles.
Other board members asked whether there were truly enough ballfields and basketball courts to attract national tournaments.
"The majority of plans look like local use," MDFB member Cliff Holekamp said.
Buck said Tuesday that many of the project's initial tournaments would be for volleyball.
"Volleyball demand is extremely high," he told the Post-Dispatch. "A 26-court volleyball venue would make it the largest permanent volleyball space in America."
Another board member asked about the inclusion of almost $8 million in Property Assessed Clean Energy financing, or PACE, as part of the financing package. The program helps finance energy efficiency upgrades but can put a lien on the property ahead of other lenders.
"Us bankers don't like PACE financing," said board member Brad Gregory, chief executive of Bank of Bolivar.
Buck said his lenders are comfortable with PACE financing.
Since then, he has received a $6 million commitment in hotel tax funds for the project from the St. Louis Convention and Visitors Commission and announced other investors and potential tenants.
"If this was easy it would have been done by now," Buck said.