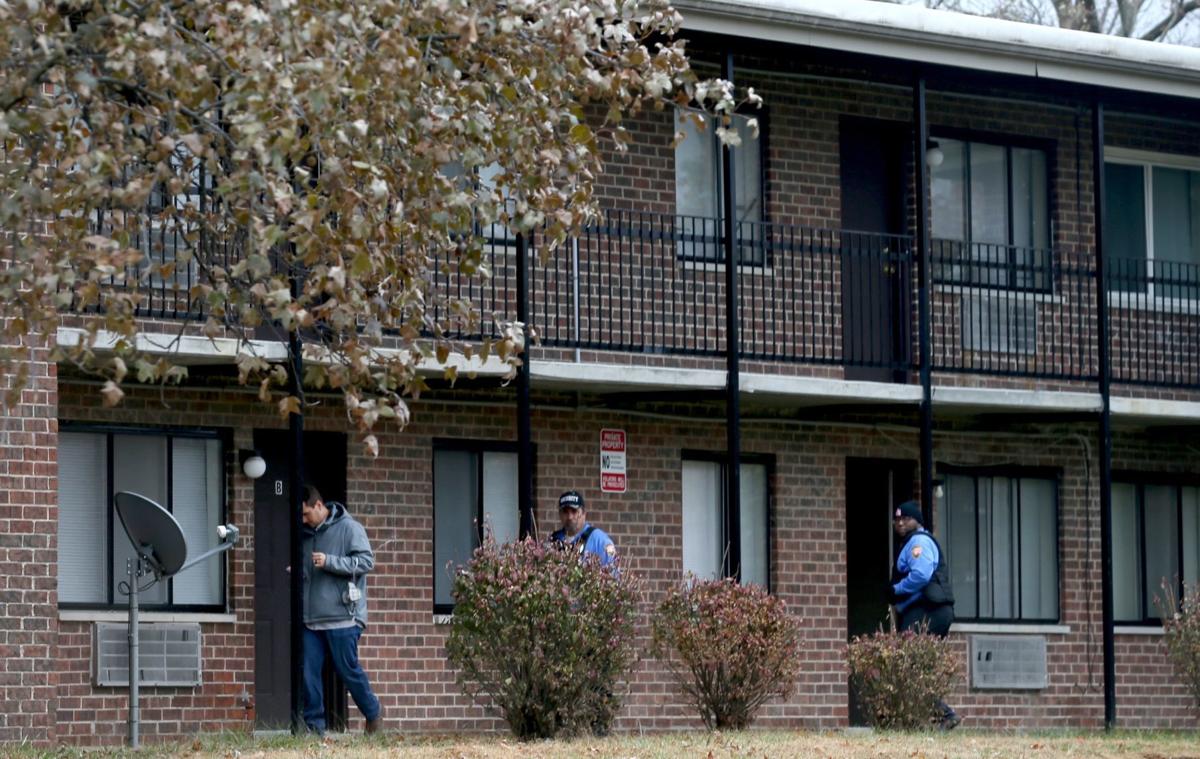 BEL-RIDGE — This is where T.E.H. Realty purchased the first of 12 large apartment complexes in the St. Louis region. And five years later, Springwood Apartments is one of the first of the properties headed to auction.
Colliers International recently listed Springwood as a "Significant Value-Add Opportunity" that will have an opening online bid of $350,000 on June 8.
Observers expect the 172-unit spread near Natural Bridge and Interstate 170 to go for more than that. Though the struggles at Springwood have been well documented — it's been in court-ordered receivership for months, following numerous complaints and citations for substandard living conditions — they say there's always an active market for Class C assets.
It was a market that T.E.H. Realty dove into across the Midwest. But after becoming one of the largest providers of low-income housing in the St. Louis area, the firm became mired in foreclosure, receivership and bankruptcy cases. And to many tenants and local officials, T.E.H. Realty became synonymous with slumlord.
Complicating matters of oversight, each T.E.H. Realty apartment complex is set up as a different limited liability company, often in a different municipality, like here in tiny Bel-Ridge. And each LLC has a different group of investors in Israel, managers have said.
Springwood Apartments is S.M.-T.E.H. Realty 1 LLC, which on Friday looked like a ghost town.
"I can't even see the light of day without coming outside," said Ajai Wess, 25, whose apartment windows were covered with plywood.
After somebody broke the windows in January, she said the latest management company told her that replacements were going to be special ordered. The windows haven't arrived to her unit, nor to many others in the 9000 block of Torchlamp Lane.
The rent for the one-bedroom unit, which she said she stopped paying in February because of the lack of repairs, is $495 a month.
"I've been trying to save to move," said Wess, who does quality assistance at a warehouse.
Zelia Caldwell, 47, lives above her. She said none of the power outlets across the rear wall work, including in the kitchen.
"I've got to take what I can get right now," said Caldwell, who works part time at a Brentwood Dunkin' . "I am not going to be out there homeless — for real."
Both Wess and Caldwell hadn't heard of the possibility of new ownership, nor did they care. There's been so much turnover in the front office that they said yet another new face wouldn't make a difference.
The latest management firm is an affiliate of San Diego-based Trigild, the court-appointed receiver. The property has been better secured under Trigild, including the eviction of squatters, but a wide-scale turnaround hasn't happened. Residents said the complex hasn't been open to new tenants.
A Trigild management representative in California didn't respond to a request for comment.
Colliers also lists a June auction for another recent T.E.H. Realty property — River Trail Apartments, 849 Rivertrail Court, in north St. Louis — as well as one in Kansas City.
This spring, in the Eastern District of Missouri, T.E.H. Realty filed for bankruptcy protection for what is Crown Manor Apartments in unincorporated north St. Louis County and Bridgeport Crossing Apartments in Bridgeton.
Fannie Mae, a federal government-sponsored enterprise that secures loans, argued in court records that both cases should be dismissed because of alleged "lack of funds necessary to reorganize, lack of management and a refusal to perform necessary repairs."
On May 5, Chief U.S. Bankruptcy Judge Kathy A. Surratt-States agreed to dismiss the case involving Crown Manor. She noted in her order that there "is an absence of any reasonable likelihood of reorganization of the Debtor, and there is a continuing loss to or diminution of the estate and the dismissal of this case is in the best interest of creditors."
The bankruptcy case continues involving Bridgeport Crossing, the 300-unit complex where living conditions there helped motivate U.S. Sen. Josh Hawley, R-Missouri, to push for the creation of a national slumlord database.
"Fannie Mae obviously wants to proceed with its foreclosure; however, as the Court knows, a distressed sale will not produce the highest and best price for the Property, and will certainly not result in proceeds sufficient to satisfy all of the Debtor's obligations," a T.E.H. Realty attorney argued in court records this month.
Among the list of creditors with the largest unsecured claims mentioned in the Bridgeport Crossing case:
• Fannie Mae, owed $9 million.
• Metropolitan St. Louis Sewer District, $160,000.
• The Chase Law Firm, which T.E.H. Reality has leaned on heavily for rent collection and eviction cases, $5,000.
A handful of eviction cases at the property filed earlier this year have either been dismissed or put on hold because of the coronavirus pandemic.
According to a January property condition report commissioned by Fannie Mae, Bridgeport Crossing needed $2 million in repairs mainly to fix rotten floor joists, foundation leaks and sanitation piping leaks.
Still, there seems to be opportunity at Bridgeport.
On Friday, T.E.H. Realty filed a motion in the bankruptcy case to sell Bridgeport Crossing. According to court records, ZM Holdings of Chesterfield has agreed to pay $10 million for the property.
The same day, Sidney Wilkes, 24, walked her small dog, Coco, unaware of the dealings. She just knew the grass was getting tall and that it takes a long time to have things repaired.
"We are going to wait things out and see," said Wilkes, who has lived at Bridgeport Crossing four years. "I wouldn't mind staying, but the uncertainty does make you a little nervous."
Be the first to know
Get local news delivered to your inbox!