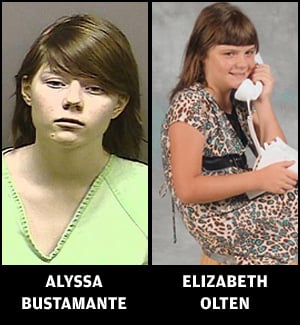 JEFFERSON CITY • A Missouri teenager who confessed to murdering a young neighbor girl was described as a thrill killer by prosecutors and a mentally disturbed child by her defense attorneys as a judge heard arguments Tuesday on whether she should be sentenced to life in prison or something less.
The small courtroom in Jefferson City descended into chaos as Prosecutor Mark Richardson was making an impassioned, final request for a lifelong sentence for Alyssa Bustamante, 18, who pleaded guilty of murdering Elizabeth Olten, 9, in October 2009.
Bustamante's grandmother, tears flowing from her eyes, stormed out of the courtroom, followed by her grandfather. That prompted Bustamante — who had been staring blankly downward as Richardson recounted her crime — to begin silently crying for the first time in court proceedings that have spanned more than two years.
Then, as Cole County Circuit Judge Pat Joyce announced that she would disclose her sentence today, Elizabeth's grandmother cried out from her wheelchair.
"I think Alyssa should get out of jail the same day Elizabeth gets out of the grave!" declared the grandmother, later identified as Sandy Corn.
The disorder capped what was an emotional two-day sentencing hearing highlighted by repeated references to words Bustamante — then age 15 — had written in her diary on the night she strangled, slit the throat and repeatedly stabbed Elizabeth. Bustamante wrote that it was an "ahmazing" and "pretty enjoyable" experience, ending the entry by saying: "I gotta go to church now...lol."
Richardson said, "The motive has to be the most senseless, reprehensible that could be in humankind, and that is to take a life for a thrill."
The prosecutor urged the judge to impose the maximum for second-degree murder — life in prison with the possibility of parole — and an additional 71 years in prison for armed criminal action, which he said would have matched the remaining life expectancy of Elizabeth. Bustamante's attorney, Donald Catlett, countered that the sentences should run concurrently and that the judge should take into consideration a pre-sentencing report prepared by the state Division of Probation and Parole that apparently suggests something less than a life sentence. The judge said the recommendation must remain confidential.
Catlett cited the testimony Tuesday of mental health professionals who described Bustamante as a "psychologically damaged" and 'severely emotionally disturbed" child. They recounted her family's history with drug abuse, mental disorders and suicide attempts, noting her father was in prison and her mother had abandoned her — though she was in the courtroom Tuesday for the first time.
Various mental health professionals testified over the course of the two-day hearing that Bustamante suffers from a major depression disorder and displays the features of a borderline personality disorder. Some also said she shows early signs of a bipolar disorder.