ST. CHARLES COUNTY • The house on Glen Brook Court has five bedrooms, four bathrooms, great curb appeal and sits in the Wentzville School District.
As the real estate listing says, it is "the perfect home in a wonderful neighborhood."
But the owners say they have had enough. New neighbors have moved in, and the family living in the house with the "For Sale" sign in the front yard wants out, leaving behind 11 years of happiness.
"This is a mess," said Jana Chamblee, who lives with her husband, Don, and their three children. "This is the biggest mess I've had in my life."
Chamblee and others on the block point to a house behind them, where Maritha Hunter-Butler has lived since May 9. She moved in with her three sons, a female partner and their four dogs. The neighbors say the dogs bark at all hours of the night, visitors constantly come and go and Hunter-Butler has made threatening remarks.
Hunter-Butler said the neighbors are trumping up charges against her because she is black and in an interracial lesbian relationship.
Neighbors fighting in St. Charles County
Maritha Hunter-Butler, who is black, said she had an "inkling" that she might have a problem when she moved into a St. Charles county neighborhood in May. But she said she had no idea she would be visited by the police "more than twenty times" in the past three months. Hunter-Butler and her neighbors immediately were at odds over her four dogs. The heated arguments have escalated, and Hunter-Butler was charged this month with assault for allegedly punching one neighbor. Hunter-Butler is now asking for help from activists who see this as a race issue. The police were called once again by neighbor Jim Scudder on Sunday, Aug. 23, 2015, after the activists went to his home to ask him why he was harassing Hunter-Butler.
She points to an anonymous report made to police four days after Hunter-Butler and her family moved in. The caller reported several black male subjects "walking down the street with dogs and a couple of them are snapping pics of homes. Caller (advises) that this is an all-white neighborhood and they do not belong."
After a police check, a notation was put into the report: "If caller calls back, (advise) them that a black family lives in the neighborhood."
Hunter-Butler said the move to St. Charles County from north St. Louis was to provide a dream home for her boys, 15, 18 and 21. But in the three months she has lived on the cul-de-sac of Brook Manor Court, the relationship with her new neighbors has continued to sour.
"They have made our lives hell," Hunter-Butler said of her neighbors. They say it is Hunter-Butler who has driven a wedge that is only getting wider, and point to a recent decision by county prosecutors as proof.
Two weeks ago, Hunter-Butler was charged with assault for allegedly punching a neighbor in the face — something she vehemently denies.
The Manors at Glen Brook subdivision sits off Highway N in an unincorporated part of western St. Charles County. The 80 homes are bound by a set of restrictions set up in 2003 as the subdivision was being built, aimed to keep the neighborhood quiet and uniform in appearance.
Among the first residents to move in were the Chamblees and their next-door neighbors, Rebecca and Jim Scudder. It's been a great neighborhood to build friendships and rear children, they and others who live here say. But now the Chamblees and the Scudders are embroiled in a neighborhood dispute that shows no signs of ending.
"I hope to wake up one day and find out this was all a joke," Hunter-Butler said.
She said the barrage of calls and visits from animal control and police left her with no choice but to install six cameras on the perimeter of her house, including some trained on her backyard neighbors. Fifteen times, officers have responded to the Hunter-Butler house, based on police records. The calls were for reports of suspicious subjects, a dispute over property lines, peace disturbances, harassment and trespassing.
Sunday marked a 16th police visit after Hunter-Butler's oldest son, Christopher Winston, invited a Ferguson protester to the house to put together a video outlining what Hunter-Butler says is the ongoing racial tension in the neighborhood.
The backyard neighbors, meanwhile, also have installed cameras, saying Hunter-Butler has threatened them. And Jana Chamblee said that Winston tried to set off an explosive device in her backyard — something he says is not true.
"I'm scared to let my children in the backyard," she said.
After Hunter-Butler moved in, the Chamblees planted seven trees to create a barrier between the two backyards. Hunter-Butler responded by putting up a fence. On May 11, two days after Hunter-Butler and her family moved in, animal control received a call from Rebecca Scudder stating that Hunter-Butler's dogs were in a makeshift shelter that was too small and that they had been without food and water for up to 12 hours. Animal control reported the animals seemed well cared for.
Hunter-Butler told the animal control officer that a group of boys came into her backyard on May 10 and squirted the dogs with a water gun. In response, animal control called Rebecca Scudder, who asked her son about the incident. "I advised Scudder to make sure that her son knows that doing that will only aggravate the dogs," officer Sharon Lehman wrote in a report.
The relationship between Hunter-Butler and her backyard neighbors continued to erode. At one point, 14 petitions for orders of protection were filed from both sides of the fence. A judge last month dismissed all applications "for failure to state a cause of action."
But the neighbors say they scored a victory when Hunter-Butler was charged this month with assault for allegedly punching Rebecca Scudder in the face on July 1.
According to Scudder, she walked to her back property line about 7:30 p.m. and confronted Hunter-Butler about her barking dogs.
"At that time words were exchanged between the two, and Maritha ended up hitting Rebecca in the face," the police report states.
Officer Jacob Mendez said that when he arrived, Scudder had a "bloody nose, a severely swollen lip, and a bruise to the bridge of her nose." He said Scudder was "very fearful of her neighbor because she was a 'convicted felon.'"
In 2005, Hunter-Butler was charged in a murder-for-hire scheme. She tried to hire a cousin to kill her ex-husband, Abdul Butler. She was upset that he was behind in child support. Court records show that she offered a share of her ex-husband's life insurance and a car as payment for the killing. The cousin went to police and the ex-husband was unharmed. Hunter-Butler was sentenced to six years for attempted murder, serving about half that time.
"I've made mistakes in the past," Hunter-Butler said. "But I'm not a bad person."
Regarding the alleged assault, Hunter-Butler told police she was not home when her neighbor claims the incident occurred.
"However when I asked her where she was she could not provide a response," the officer said. Hunter-Butler also refused to supply surveillance footage from her camera that might have captured the incident.
"Maritha advised that she wanted to press charges against Rebecca for filing a false police report and that she felt that she was being harassed by the people in the neighborhood." No charges were filed against Scudder, who said she would not speak on the record about the dispute.
Hunter-Butler said rumors also are swirling in the neighborhood about how she acquired her house, especially because she and her domestic partner, Melanie Anthony, filed for Chapter 7 bankruptcy this year. She said the house she lived in on North Newstead Avenue in St. Louis burned. It was owned by her mother, she said, who gave the insurance money to Hunter-Butler to buy the new home.
Chamblee stressed that the tension between neighbors and Hunter-Butler has nothing to do with her race or her sexual orientation.
"It's so far from that," Chamblee said. It's about a neighbor who refuses to be considerate, she said.
"This has torn us apart," she said from her front porch, tears falling on her shirt.
Neighbor John Czajka has stayed out of the fray, but is ready for it to end. He says the issue could possibly be resolved if the trustees of the homeowners association would enforce the bylaws, including restricting the number of dogs to two and barring outside structures for them.
Trustees could not be reached for comment, but neighbors said enforcement of subdivision rules has been lax, and starting to impose them on Hunter-Butler would bolster her argument that she is being treated unfairly. Hunter-Butler says her animals are therapy dogs for her special-needs children.
Hunter-Butler said the misdemeanor charge will ultimately show who is telling the truth. Hunter-Butler's arraignment is set for Sept. 21. Her attorney, Venus Harry, plans to depose the neighbors. James Le Noir, head of the St. Charles County NAACP, is urging the state office of his organization to launch an investigation into the assault charge.
Last week, Hunter-Butler and her family met with a private investigator. She said her neighbors deserve the same kind of scrutiny they have given her. Jana Chamblee said she will likely take her house off the market until the neighborhood dispute blows over.
However, there are no signs that the fences are mending.
About 10 p.m. Aug. 17, Jim Scudder went onto his back deck and asked Hunter-Butler's oldest son, Christopher Winston, to get the dogs to shut up. That led to a shouting match, which included Scudder and Hunter-Butler. Jana Chamblee came out on her deck and began video and audio recording. Police were called and took statements but no charges or tickets were issued.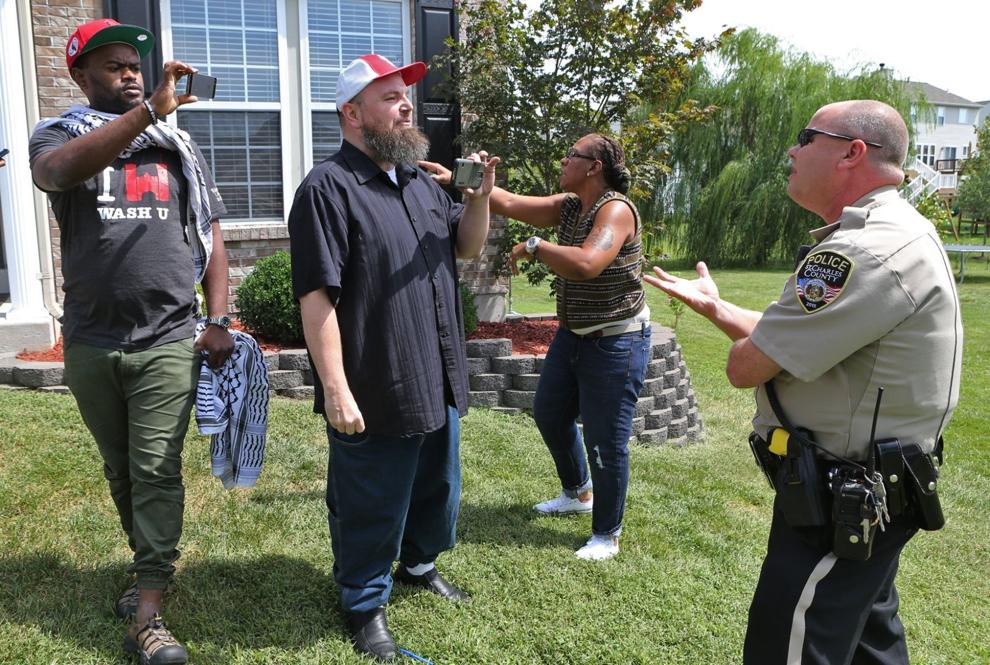 A similar scene played out on Sunday after Winston invited Ferguson protester Umar Lee to the subdivision to put together a video about racial tension in the neighborhood. He later posted the videos online urging other activists to organize a march at The Manors at Glen Brook this week.
As Lee and another man went door-to-door, including a stop at the Scudder home, the police were called. Accusations flew.
As in previous backyard arguments, both sides will point to recordings proving their neighbor is at fault.