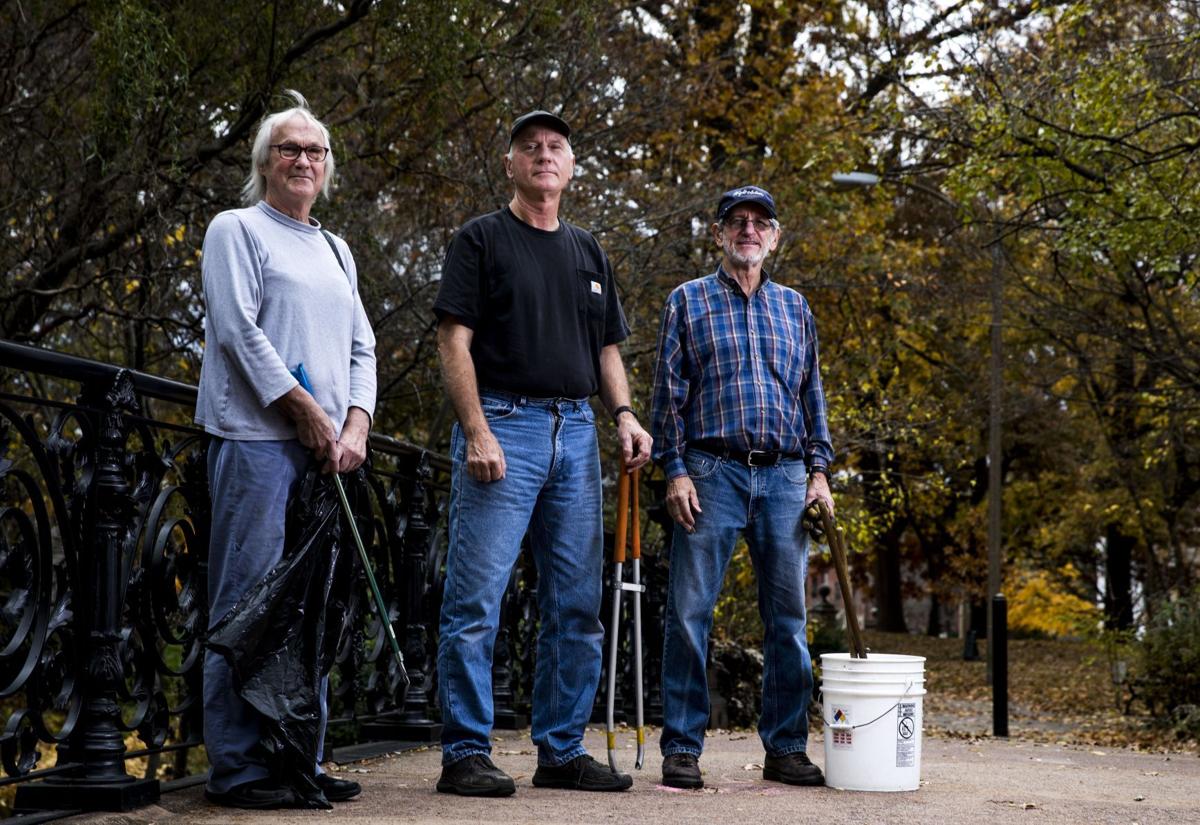 ST. LOUIS — The Lafayette Square neighborhood is home to some of the most historic and picturesque houses in the city, as well as a park that buzzes with families, schoolchildren and wedding photographers on the weekend.
But longtime resident Carolyn McAvoy says the neighborhood hasn't retained its charm without lots of help.
"People think this such a nice, neat place," she said. "But it isn't — all by itself."
"A lot of the beautiful things about this neighborhood are dependent on volunteers. People who see that something needs to be done and fill the need," McAvoy said.
Among them are three, Mike Boyd, Michelle Heus and Ron Taylor, who take on one of the dirtiest jobs — cleaning up trash in the park, alleys and streets.
McAvoy said another resident, Gwen Williams, spotted the Post-Dispatch's call to nominate those who make life in the area better, and thought about the clean-up crew.
"These guys have been doing this for years," McAvoy said.
Taylor moved to the Square in 1979. He started regularly picking up trash in 2014 with his hands during walks, but the volume became too much. He now has a pooper scooper, which comes in handy when he comes across dog waste, and a five-gallon bucket.
He did it almost every day for a year or two, then slowed to about 300 days a year. He estimates he's picked up a total of 8,500 pounds of trash.
Heus, who moved to Lafayette Square in 1998, started on her own street, Hickory, where she once couldn't open her car door because of saplings growing in the sidewalk. She moved outward from there, but now wields a fairly traditional trash grabber and trash bag in alleys, boasting she knows every dumpster in the neighborhood.
She still cleans the neighborhood, even though she moved to Brentwood a month ago in search of a "nice, quiet place."
Boyd moved to the neighborhood in 1974. He said he has always hated litter. He got serious three or four years ago, and now goes out twice a week, armed with what looks like three-foot tongs, bought on Amazon, that let him pick up small pieces of broken windshield glass.
"Yeah, but he does Jefferson," interrupts Taylor, explaining that it can take 45 minutes to clean a single block on that busy thoroughfare.
Boyd said Jefferson has 10 times the volume of trash, plus the added challenge of dodging speeding drivers.
"So between the three of us, we had the neighborhood scrubbed down pretty good," Taylor said.
They compare who has found the best stuff, and the worst.
Boyd's best? A $20 bill. He also found a new couch in the middle of an intersection, as if it had fallen off a truck. He enlisted a passerby to help him lug it to the curb, and a nearby resident then vowed to try to find the owner.
Taylor's worst? "Stuff you don't want to find," is all he will say.
Taylor said he can tell a lot about people by their trash: What you ate, and where you got it. What you drank. Where you stopped for your meal. "You see how many people were in the car by how many piles of junk there are."
Despite the persistent efforts of Heus, Boyd, Taylor and others, Taylor said, "It needs it every day."
They haven't gotten any thanks from the city, and don't expect any, saying there are too many others doing the same thing.
Picking up litter is not their only contribution.
Taylor and Heus used to mow vacant lots and Taylor has surveyed and reported broken or burned out street lights. McAvoy said that Heus has cut up fallen trees and watered new plantings.
"There aren't a whole lot of people like that anymore," said McAvoy. "I think that's what makes a good community."