CLAYTON — He was polite and persistent. Charming. Theatrical. He would usually show up with a small cast of characters to back him, but with a full ensemble when he needed them.
"Hi, all. Michael Burton here. Good to see you guys."
By showing up to speak at 30 St. Louis County Council meetings in 16 months, Burton, 36, of Affton, wove a performance that his audience could not forget. His aim was to stop an effort by McBride Homes and Berra Construction to build 180 homes at the landmark golf and baseball complex in Affton known as Tower Tee.
Each three-minute act was a brick in the wall separating the development from reality. The clerk would call Burton's name from the speakers' list. The sometimes actor, who lives with his parents and works at his mother's balloon business, would jump up from his seat. He'd take a moment to make sure to set his camera on a tripod, then dash on tiptoes to the podium. His followers in the audience would rise to their feet as the bearded man took the mic.
"Thank you all for being here," he would tell council members.
His message was that the development — Arbors at Tower Tee — was not a done deal. Not when McBride had it under contract in October 2017. Not when Tower Tee's owner, Steve Lotz, stunningly backed the housing development in May 2018. Burton broke out in tears after that development, pleading with council members to remember that "children are the future."
It was not a done deal when Tower Tee auctioned off every last flag stick, yardage sign and fiberglass jungle animal in July. Not even when McBride closed on the purchase in February and put up a sign promising that new homes were "coming soon."
It was not a done deal because McBride would ultimately need a zoning change from the council. Burton reminded council members that, when the time came, they could vote no.
"Just show them your heart and your dream will come true," Burton said in an interview on Wednesday.
A joint venture of McBride Homes and J.H. Berra Construction Co. closed in February on Tower Tee, but another buyer has agreed to buy it from them.
McBride withdrew plans for the complex in early 2018 and never resubmitted them to the county planning department. Burton made a run for 5th District County Council seat in 2018 and ended up throwing his weight behind Democrat Lisa Clancy in her effort to defeat incumbent Pat Dolan.
After McBride bought the property in February from the broadcast company Tegna, McBride put up a sign announcing that the housing development was coming.
By this time, the council had cumulatively heard hours of testimony from Burton and his supporters, but nary a word in support of McBride. Councilman Ernie Trakas, R-6th District, routinely praised Burton. Councilman Mark Harder, R-7th District, confirmed he was going to abstain from any vote because he worked for McBride.
And now Clancy was asking McBride to remove the "coming soon" sign, saying the development was "far from a done deal."
John F. Eilermann Jr., chief executive officer of McBride, then gave Burton 30 days to buy Tower Tee if he wanted to save it. The asking price was $4.76 million.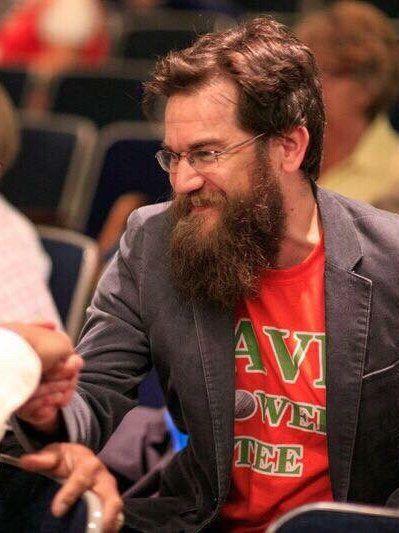 The deadline caught the eye of Steve Walkenbach, a native of Affton who now lives in Arizona, and Mike Shamia, a longtime friend and business partner. They contacted Eilermann and started to negotiate.
"I absolutely respect his persistence and passion," Eilermann said in an interview on Wednesday, when asked about Burton. "I've never seen anything like it."
Eilerman and Shamia credited Walkenbach as the real hero of the story.
Shamia said Walkenbach was "someone with a similar passion for Affton and St. Louis" but "with the ability to step up and the do the right thing."
As for what Burton did to create the atmosphere in which McBride felt the need to sell, Shamia said, "We'll thank him for that."