HILLSDALE • Way before the age of Donald Trump, Dorothy "Mama" Moore started ruling tiny Hillsdale with her own brazen political style. For starters, she doesn't participate in anything she can't control. She distrusts media and never mentions religion.
Yet in April, running unopposed again, Moore easily won a seat on the Hillsdale Board of Trustees. The 85-year-old chairwoman remains one of the longest-serving elected officials in the region.
The one time Moore was beaten since 1975 only intensified her grip on the village, associates said, because the till was emptied during her brief absence.
Strong-willed people often help scrappy places such as Hillsdale — one of 89 municipalities in St. Louis County — exist, amid generations of disinvestment. Survival in this arena is similar to a prickly pear cactus in the desert that has to make every drop of water count.
Moore won't share her tips. She's not talking, especially now with all the rumors floating around about her winning the lottery. Village clerks merely shrug and don't know even basic details of her life.
People who have worked with Moore for a very long time couldn't say where she grew up. They described her with affection, but as the mother you don't say no to — nor ask questions of.
"I am not available for no comment," she told the Post-Dispatch during a brief encounter a few years ago at Village Hall. "I don't have to talk to you. Get out of here, and get out of here now!"
Moore recently declined an interview again, citing "lies" a reporter wrote about the village in the early 1990s, a tumultuous period when she was dethroned for one year. A block from Village Hall, an old sign still bars media from a small corner store where Moore also holds court. Politicians have stopped by there over decades for her blessing — and to listen.
"She has mentored a lot of people out here," said Rita Days, 67, who served multiple terms in the Missouri House and Senate as a Democrat from Bel-Nor. "At one point, if you wanted to get elected to anything in St. Louis County, you came to that little store on the corner and you had a conversation with Dorothy Moore because people trusted her. People knew that she was not to be played with."
Moore's reach used to be stronger when she also ran the Wellston School Board and endorsed Democratic political candidates in her role as Normandy Township committeewoman.
"She has good instincts," former St. Louis County Executive Charlie Dooley, 70, said with a smile. Moore was his mentor who encouraged him to reach beyond mayor of Northwoods.
Today, her only public office is in Hillsdale, a bedroom community nudged between Pine Lawn and Wellston on Kienlen Avenue. About 1,500 people live there. Nearly all of them are black, and many live below the poverty line.
On one edge, there's an enormous scrap yard with four water tower clocks stuck in time. On another, there's an overgrown cemetery where Dred Scott's wife, Harriet, is buried.
The St. Louis County sales tax pool is the highest source of revenue for the $800,000 annual budget. Out of that pot, Moore is paid $150 a month to be chairwoman and, some say, to preserve Hillsdale's identity.
"Without Mama Moore running that village, and I say this with absolute certainty, there would not be a Hillsdale today," said Alan Baker, 75, longtime village attorney and prosecutor. "With her, you are either honest or you get out. Period. No nonsense. No foolishness."
Moore used to tell police officers to pick up children who should have been in school and deliver them to the principal's office. Softer stories circle about her waiting at bus stops with youths and giving away winter coats, air conditioners, Thanksgiving turkeys and Christmas toys.
But Baker assured that Moore operates with her own constitution.
"The constitution that she has might be better than the one that you and I have," he said. "It is certainly more effective."
Trust in the force
Moore has a tough stance on misbehavior and unpaid bills, which some say is reflected in the busy municipal court docket and the Hillsdale Police Department.
Wellston and Pine Lawn became part of the North County Police Cooperative in recent years and say it's been successful at less cost. Hillsdale sticks with its own force, despite high turnover and officers who have had their own tangles with the law.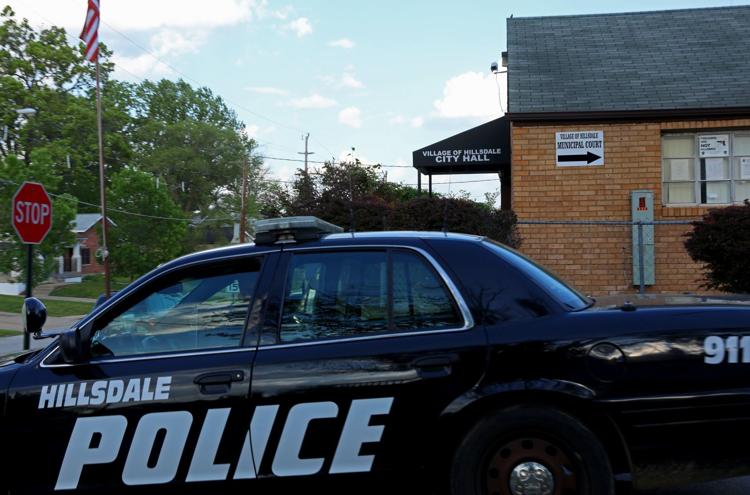 Even minor deviance can upset Moore, who, for years, slept with a police radio by her bed.
One time, Baker recalled, Moore heard an officer announce about 2 a.m. that he was leaving the village to fetch a pizza during an overnight shift. Moore called out the officer by name and screamed: "Wherever you are, you better turn back now and get back here! I am not paying you to leave this sector unprotected!"
Village Hall gets packed for traffic court. Violations heard on a recent night ranged from failure to pay trash fees for a vacant house to speeding.
Anthony Clark, a plumber who bought a rental house a few months prior for about $8,000, said he was ticketed because his handyman sealed a bathtub without a work permit. To him, it seemed like a blatant attempt to raise revenue. A copy of the ticket didn't have an officer's name and signature on it.
"It doesn't help that the mayor has been the mayor since I was a kid over here," said Clark, 38. "She's old. She's always been grumpy. She's like a dictator."
Ernest Longmeyer, 53, got to know Moore through her Summer Youth Program and was later hired by the village in the 1980s. He fell out of grace with her eight years later.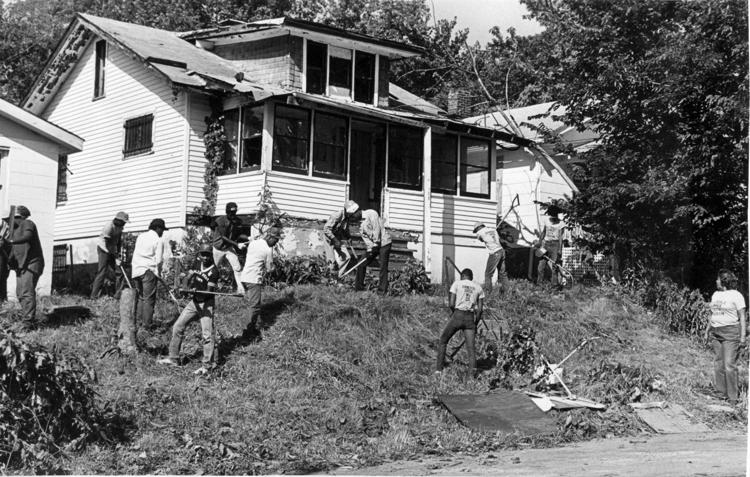 "I had to stand up for myself because I wasn't a kid anymore," he said. "So she let me go. She doesn't like it when people stand up for themselves or speak up."
Yet he stays in Hillsdale, sometimes even votes for Moore.
"We haven't found somebody competent enough to run the city," he said.
Baker, the village attorney and prosecutor, said Moore controlled every aspect of the village and helped keep it intact. He fervently denied she'd ever abused her authority.
"Never, never, never, never," he said, voice rising. "Never, never, never, never, never, never."
What about the clash over Harriet Bond's disabled daughter?
"Might have stretched it," Baker admitted.
The showdown goes on
A dead tree stands in the front yard of Moore's nemesis. It's been painted a rainbow of colors, and a set of wind chimes made of Bud Light cans dangle from a branch. A nearby decorative shovel says show me where the dirt is.
Bond, 80, is as gregarious as Moore is gruff. Originally from Kinloch, the former teacher's aide said she left a Wellston apartment in 1967 to live in a house in Hillsdale. She says she was the first African-American in the village.
For a spell in the 1970s, she was friends with Moore and even served on the Board of Trustees. Bond said she resigned because she refused to "harass" residents to cut their grass and maintain properties, while other houses and yards were abandoned and overgrown. Bond eventually took photographs of the decay and delivered them to the St. Louis County Health Department.
Then one day the Hillsdale streets department took down blue handicap parking signs in front of Bond's house. The signs reserved a space for her disabled daughter, who had cerebral palsy and used a wheelchair.
Livid over the missing signs, Bond locked horns with Moore at Village Hall and on the street. She sued. In 2002, Moore signed a consent decree admitting she'd violated the Americans with Disabilities Act for not maintaining a disabled parking space near Bond's home.
That wasn't the end of it, though.
A few years later, an OATS Transportation bus that took Bond's daughter to treatment was ticketed by Hillsdale police for impeding traffic. The citation was a violation of Bond's rights, according to a Missouri Department of Transportation investigation mentioned in court records.
Bond's daughter, 56, died in 2015. Last week, the infamous parking signs in front of her house were faded. Bond, who has handicap license plates on her 2009 Volkswagen sedan, wants a new set of signs for herself.
When she recently went to Village Hall to inquire, she crossed paths with Moore, who had a handicap tag hanging on the rear-view mirror of her 1990 Buick LeSabre. The car adds to Bond's skepticism of the rumor that Moore won the lottery in 2017.
"They said she won it. Why is she here?" Bond asked. "I'd give the mayor job to whoever the hell wanted it and go live my life peacefully in a decent neighborhood. Let me win that kind of money! Baby, the whole world would know who Harriet Bond was!"
Dorothy wins the lottery
Hillsdale Police Chief Herbert Simmons said he didn't believe the rumor either.
"If Dorothy Moore, the mayor of Hillsdale, won the lottery, Hillsdale would not want for anything ever again," he said.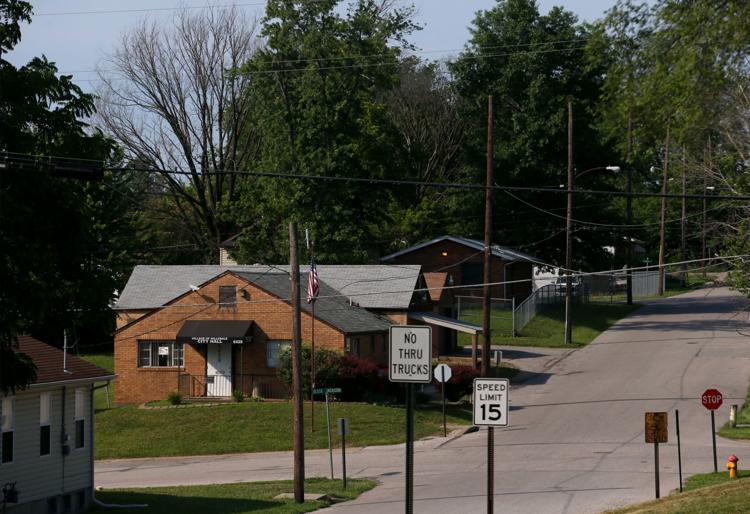 "In the neighborhood where I live, I try to do a lot for children," the winner said. "I go to the school bus stops with them, and if they miss the bus, I'll drive them to school myself. Just different things like that. … There are a lot of kids that need winter coats and other things that I always try to provide. So I would like to do a little more for them with this."
That sounded familiar. What's more, the winning ticket was purchased a few communities over, at Beverly Hills Grocery and Liquor, 6714 Natural Bridge Road. And while lottery officials like to tell fun stories about new millionaires, they said this winner didn't want a news conference or any photographs.
Through an open records request, the Missouri Lottery confirmed that the winner was, indeed, Dorothy Moore, 85, of Hillsdale.
It doesn't appear that Moore has splurged on much of anything. She lives behind the store in a tiny home with surveillance cameras. She still shows up a block away for fast food lunches with employees at Village Hall.
The village treasurer did say that Moore recently spotted the community $5,000 for the purchase of a used police car. Baker said she donated to a women's shelter.
Driving 'Mama' Moore
Only a few people had heard Moore grew up in central Missouri. Other than that, nobody could pinpoint who or what molded her drive for political dominance, out of the limelight.
"I know nothing about her pre-Hillsdale life," said Baker, who has worked with Moore since 1975. "She has never opened up to me about that. It's not that I am not curious."
When she was 8, Moore lived with her large family in a rental home in "the Foot" neighborhood of Jefferson City, according to Census records. The vibrant black community was at the foot of the hill by Lincoln University, which was started by African-American soldiers who wanted a school for freed slaves after the Civil War.
Moore graduated from Lincoln University Laboratory High School in 1950. She ranked No. 8 in a class of 31 students. School records also say Moore planned to do secretarial training at the university after graduation. At that time, her father was listed as a waiter and her mother a housewife.
Other details of Moore's early life are hard to come by. Her son, Reginald Stapleton, 69, of Jefferson City, declined to comment without his mother's permission.
In the early 1960s, an urban renewal project that included the construction of Highway 50 went through her family's neighborhood.
"It basically wiped out the whole black economic center," said Richard Turner, 60, former Jefferson City transit division director whose grandfather ran a service station in the Foot.
It's unclear when Moore moved to St. Louis. Legendary high school basketball coach Floyd Irons said he first met her there in the summer of 1963. He said Moore and her late husband, Elkin, had a neighborhood store near Vashon High School and mentored youths.
"When I get to talking about Dorothy Moore, I become very emotional," said Irons, 70, who described her as his surrogate mother. "I am privy to and have seen the work that she has done that a lot of people don't realize. There are a lot of kids who have come up under her tutelage."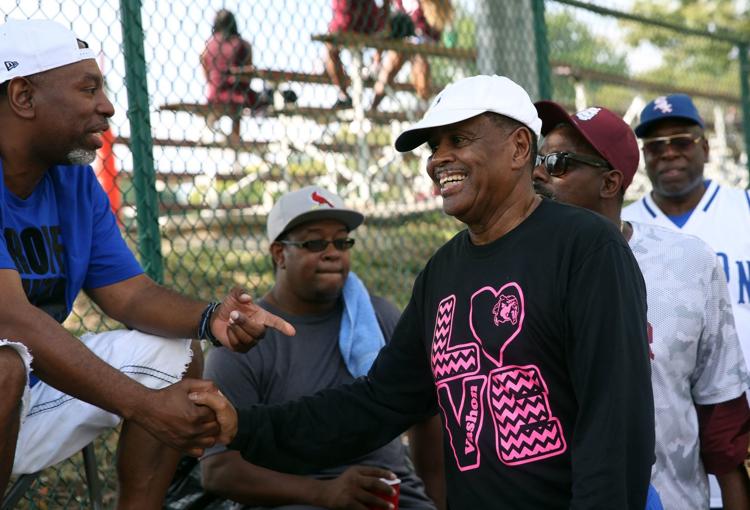 He asked that one anecdote not be taken the wrong way.
"She'll probably beat me up for telling this," Irons said.
Home from his first year of college in Oklahoma, Irons noticed some of his buddies seemed to be doing just fine staying in St. Louis. When Moore found out Irons might drop out, she immediately confronted him. She ruled out an excuse that his mother needed help at home because she'd already called her. Then Moore pulled out a small pistol and demanded that he get on a bus back to Oklahoma, otherwise he was essentially killing himself.
"If I wouldn't get on the bus, she would shoot me because that's exactly where I'd be if I didn't go back to school," Irons recalled of her rationale.
It's unclear when Moore left the city of St. Louis. County election records say she first ran for a seat on the Hillsdale Board of Trustees in 1974 and lost. "Hillsdale leads the way in factional discord," read one headline in the Post-Dispatch at the time. There'd been five different police chiefs in eight months. The board couldn't settle on a budget. Trustees walked out.
Moore won election in 1975 and eventually became chairwoman. She had her own share of raucous meetings and debates. Up for election in 1989, Moore seemed frazzled.
"I'm running on what I've done in the past," she said in one story then. "I'm not making any promises. We don't make enough money to sit around City Hall all day."
She reacted angrily to questions about the apparent inaccessibility of elected officials.
"Maybe if we made $400 or $500 a month like these other places," Moore said. "Sometimes, I wonder if it's worth it, why I run at all."
Others say the job defines her — and Hillsdale.
The ayes have it
Moore, of course, won re-election in April, but something odd happened at the May board meeting down at Village Hall. She was absent. A clerk said Moore hadn't missed more than three monthly board meetings in more than a decade.
In Moore's absence, Trustee Benard Ervin called the meeting to order at 6 p.m. Other than a 10-year-old girl, nobody was in attendance.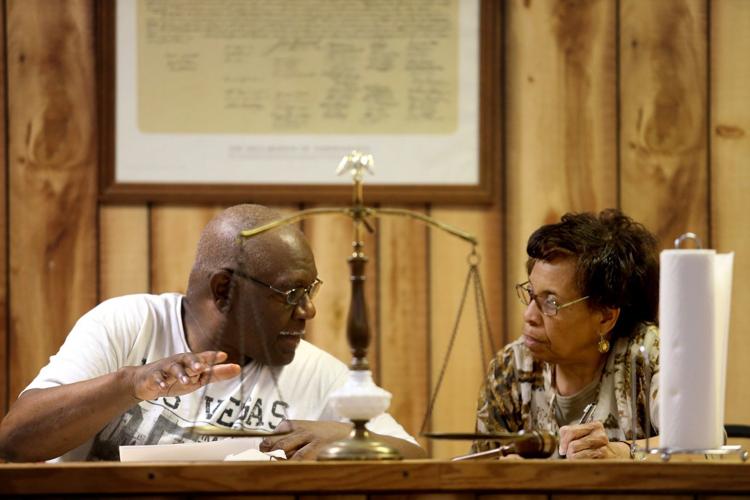 "If you all would bear with me, this is my first time doing this," said Ervin, who was elected about five years ago.
The board approved the agenda and minutes from last month's meeting. Then Police Chief Simmons stepped forward to give the marshal's report. He said that there was a new clerk and that a police officer was in the process of becoming compliant with Missouri's Peace Officers and Standards Training Program.
Though traffic court was packed the night before in the same room, Simmons only mentioned from memory that burglaries had fallen. The practice of noting the number of arrests and tickets in the meeting minutes stopped in recent years, according to a review of village records.
Kesha Whitley, 41, at her first meeting as a new member of the board, was the only trustee who asked Simmons questions. She wanted a report that documented crime stats and to know the deadline for the police officer's certification.
"He has 90 days," Simmons said.
"Starting when?" asked Whitley.
After seven minutes, the whole meeting was over, down from an average of 14 minutes in the past year. During that period, all village votes were unanimous and just a couple votes included matters of substance, such as when the board agreed in December to increase municipal court fees to $30 from $24.50.
Whitley's timing, persistence and leadership experience seemed notable. She is principal at Lucas Crossing Elementary School in the Normandy School District and brought her daughter to the meeting.
"It's always been in the back of my mind to be a part of the solution, if you will, and just learn how I can better serve my community," Whitley said after the meeting. "If that means being on a board that can make some decisions for the good, then that's the direction I want to go."
Whitley gave a nod to Moore and credited her political longevity to being "very consistent."
It's unclear whether Whitley ever sat on a stool at the corner store to listen to Moore's political direction. Whitley became impossible to reach. The store has been closed for several months.