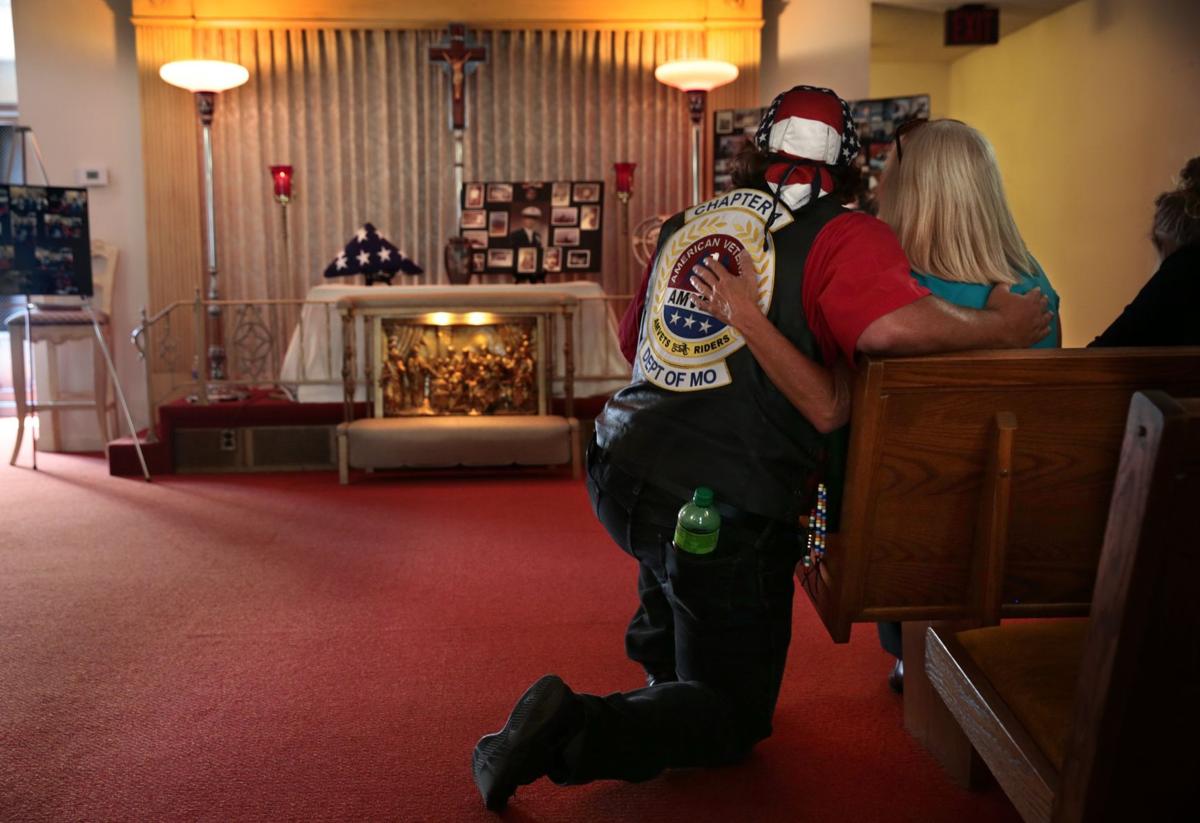 ST. LOUIS • Wherever Calvin Whitaker is — at home, at work and, sometimes, at play — a dead body is likely nearby.
And it's been that way since he was a child, when he often attended funerals for members of the mostly elderly parish his parents belonged to in Dogtown.
"It was an older congregation, so we went to a funeral almost every weekend," Whitaker said.
"My parents always told me to 'Be quiet' and 'Go sit over there,'" said Whitaker, 45, imitating how his parents would shoo him away from the adults mourning a loved one. "So who else is there for a kid to talk to at a funeral home than a funeral director?"
The conversations ultimately led Whitaker to a career in the death business.
Since 1992, he's been called to the aftermath of some of the city's most violent acts, as a contractor who takes bodies to the morgue in situations where the police have been called. That includes suicides, natural deaths, overdoses and homicides. A couple of his more notable transports are the body of Michael Brown, killed in a controversial police shooting in Ferguson, as well as a woman who died of an overdose at the home of August Busch IV.
About a year ago, Whitaker and his wife — fellow funeral director Chris Whitaker, 38 — moved from the tiny south St. Louis County city of Lakeshire, where Calvin Whitaker had dabbled in local politics as mayor.
Their new home on the city's South Side originally served as a doctor's office, but it spent most of its 70-year existence as a funeral home run by Howard and Evelyn Michel. The Whitakers kept the business's name, Michel Funeral Home, restoring the original sign on Southwest Avenue near Hampton Avenue.
There was no running water on the second floor when the Whitakers bought the building. Dresses and suits meant for burials and dating to the 1970s still hung in a basement closet. Water damage in the office left most of the plaster walls need of repair.
But Chris Whitaker knew it was her dream home as soon as she stepped into the embalming room in its basement.
"It was perfect," she said.
They've worked to fix up the home and are open for business. The couple are opening the funeral home to the public for their second annual Halloween party on Oct. 31. Later in the year, they say, Santa will be making an appearance there.
An unusual passion
Chris Whitaker's love for the profession began when she attended her grandmother's funeral as a 13-year-old growing up in De Soto. She said she admired how lifelike her grandmother looked in the casket and thought she could someday master makeup for the deceased. When she was 18, her other grandmother died, and the feeling was still there.
She was working at a funeral home where the father of one of Calvin Whitaker's friends was laid out. He came to pay his final respects when Chris caught his eye. He offered her a job working with him to collect and deliver bodies to the city's morgue.
Three months after they met, they got married — at a funeral home. That was 10 years ago.
Though they were inspired to go into the death business when they were young, the Whitakers have taken a different approach to the career than their mentors.
Photo gallery: "We're not your typical funeral directors"
Sure, there are neatly pressed shirts and black suits in Calvin Whitaker's closet, but they hang alongside equally meticulously maintained Elvis jumpsuits, feather boas and other signature accessories of the King. His shiny black dress shoes sit next to replicas of the iconic rock 'n' roll singer's footwear. His fleet of black limousines and hearses are parked next to shiny motorcycles — one of which can haul a hearse.
Chris Whitaker inspired her husband to impersonate Elvis — her favorite singer. He grew his black, spiky hair long enough to slick back, and let his sideburns grow in. His resemblance to the King is undeniable. People who bump into him regularly at crime scenes but can't recall his name refer to him as "the guy who looks like Elvis," even though he's never in character for that job.
He has performed weddings dressed as Elvis and presided over funerals in full costume upon request. He's even served as a stunt double in an independent film about Elvis for another Elvis impersonator who couldn't ride a motorcycle.
"I'm the motorcycle-riding Elvis," Calvin Whitaker quipped.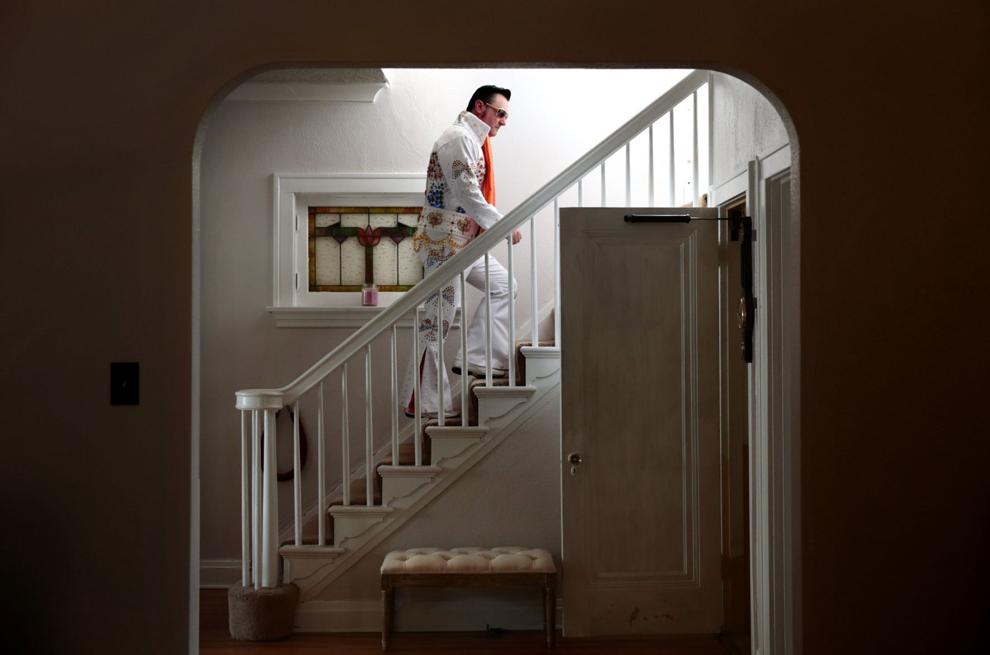 The couple's personal life and approach to their profession tends to sometimes rub the old guard the wrong way.
"We're funeral directors, but we're also people. Undertakers have always been known as a man with a black suit and being dull," Chris Whitaker said. "But I don't understand why you can't be professional, do your job and still go out and have a good time."
The Whitakers' approach to the profession, living in their funeral home, hosting community events and dinners, is actually in keeping with funeral director tradition, historically speaking, said Linda Shearin-Stout, who has been a mortician for 37 years.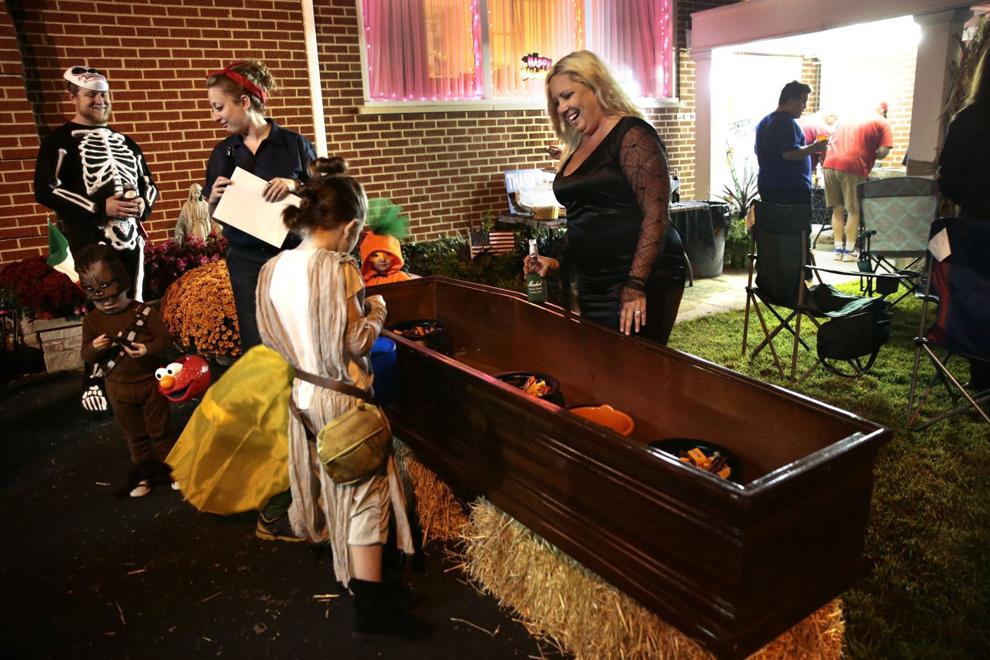 "They're a true funeral home," she said. "But they don't fit the stereotype, the undertaker personality. … They're able to connect with their community and with all social aspects, and that's what sets them apart — not having to put on a façade and being real down-to-earth people that can connect with any family and yet remain professional when need be."
Duty calls
The couple have about 10 employees who help them with their livery service, but duty still calls. Lunch plans for the two were recently interrupted when Calvin Whitaker's cellphone rang. He wrote down an address, looked at his wife and said he had to go. There had been a hanging in someone's basement. He dashed to his closet, donned his black suit coat and tie and drove his black SUV to the scene to transport the body of a woman to the morgue.
Whitaker isn't as busy as when he started working for a contractor for the city's medical examiner's office in the early 1990s. Back then, at the height of the crack cocaine epidemic, the city's homicide rate was more than double what it is now, with a body for almost every day of the year. Now, he mostly sees heroin overdose victims, and his employees handle most calls as he and his wife focus on growing their funeral home business.
For Calvin Whitaker, it's been a lifelong dream to cater to families in need of affordable yet dignified goodbyes. He was inspired to start his own company with low-cost services after working for several larger funeral homes, known for catering to the who's who in St. Louis and big enough to handle multiple clients at the same time in one building.
An average funeral can cost about $10,000. The Whitakers offer their services at less than half that. Their home can accommodate just one funeral at a time. At times, they have performed final arrangements for free.
Their clients have ranged from heroin overdose victims, to a mother and her toddler son killed in a car accident, to homeless veterans and immigrants.
"It seems so depressing in a funeral home; we want it to feel like you're at home," Whitaker said.
The line stretched beyond the doors during a funeral the Whitakers hosted free of charge for a homeless veteran in August. In his final days, Vietnam veteran John Beard had reconnected with his wife, Betty Beard, who could barely speak when explaining how much the Whitakers' efforts meant to her family.
Betty Beard said she appreciated the nontraditional feel of the Whitaker's funeral home. The couple keep framed pictures of themselves, their friends and even their pets, a dog and two cats, on display in sitting rooms where people gather during services. Some clients ask that the Whitakers' animals be allowed to mingle during memorials.
And though the Whitakers live amid their work — often having a body in a casket inside their first-floor chapel or awaiting preparation in the embalming room — there is some separation.
The couple reside on the second floor, where quarters are only for the living.