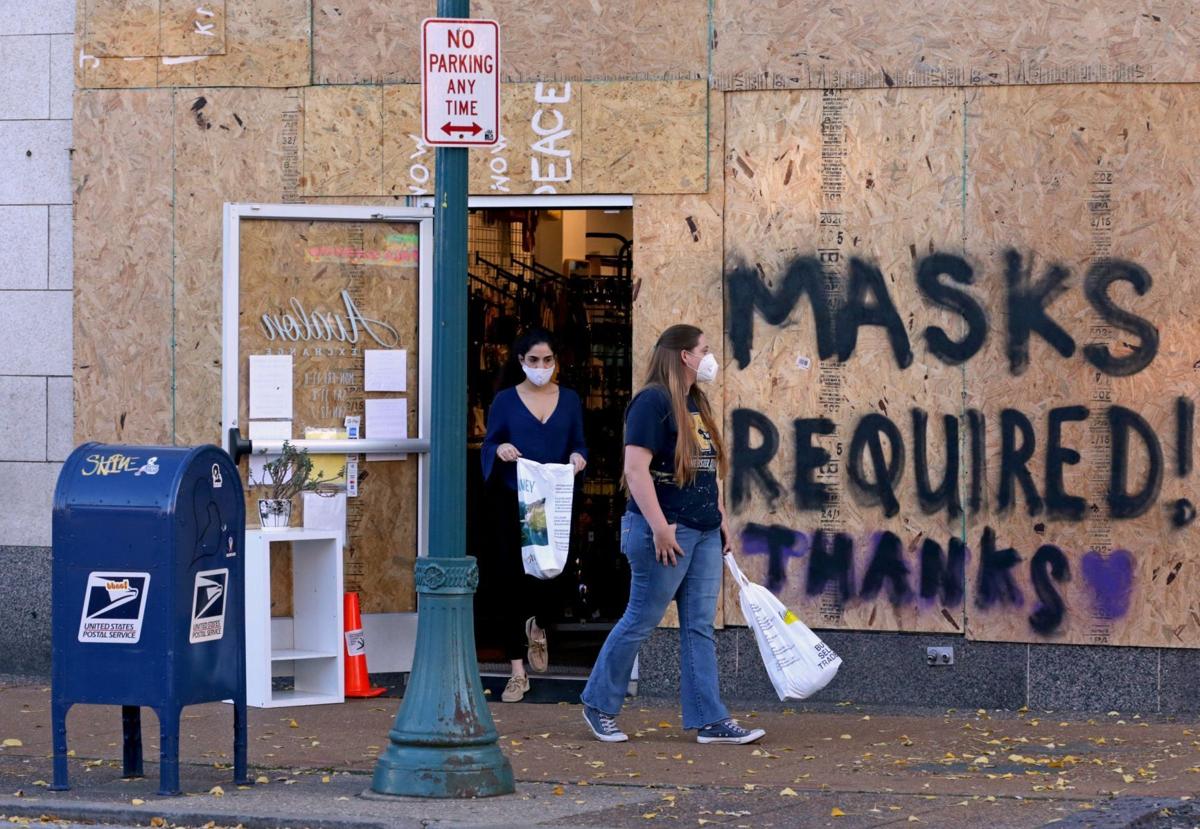 ST. LOUIS — Virus hospitalizations and deaths continued their steep rise in Illinois and Missouri on Wednesday, hitting records again and prompting officials to consider new social restrictions and new sources of aid.
Missouri Gov. Mike Parson announced the state had hired an outside contractor to bring hundreds of health care workers to the state's beleaguered hospitals. A St. Louis health board member said the body would consider a partial shutdown. And at least one area official, previously skeptical of mask mandates, credited his county for slowing the virus' spread.
Illinois health officials reported 9,757 new COVID-19 cases and 238 more deaths, the state's highest one-day tally of fatalities since the start of the pandemic.
"We've surpassed the spring records by the thousands in recent weeks," Gov. J.B. Pritzker said. "This virus is a killer. Let's honor those that it has taken by doing everything that we can to prevent more people from getting sick and dying."
The state has reported a total of 12,639 deaths since March. The previous one-day high was 191, in mid-May.
Illinois Public Health Director Dr. Ngozi Ezike said 5,764 COVID-19 patients were in hospitals, with 1,190 in the intensive care unit and 714 on ventilators.
NOTE: Missouri updated its data dashboard on Sept. 28 to delete duplicate cases. This resulted in a decrease of total cases which caused the daily count to reflect a negative number.
Missouri reported 2,679 new COVID-19 cases and 37 more deaths of people infected with the virus, bringing Missouri's total case count to 305,370 and 4,043 deaths, according to the state's COVID-19 dashboard. Missouri topped 1,000 deaths in mid June, 2,000 by the second week of September, and 3,000 by late October.
COVID-19 vaccinations should begin for Missouri health care workers next week and become more widely available this spring, the director of the Department of Health and Senior Services told the Post-Dispatch. But with the virus taxing the state's hospitals, Parson said late Wednesday that Missouri will use federal stimulus funds for more immediate relief: Texas-based Vizient will provide up to 760 nurses, respiratory therapists and nurse assistants to expand hospital capacity for at least the next 12 weeks.
Dr. Alex Garza, who leads the St. Louis Metropolitan Pandemic Task Force, said at a briefing Wednesday that area hospitals are understaffed and struggling to preserve bed space as they expect another surge of new COVID-19 patients in the weeks ahead.
"The truth is, the front line assumes that you have a rear guard or a rear echelon, and reserve forces. And, of course, we have neither in this war," Garza said. "There is no fallback position. But they will continue to fight."
The average number of people hospitalized for the virus in Missouri has stayed above 2,000 since Nov. 9, according to statewide data. Hospitals in the St. Louis region make up about half of that — the task force said the seven-day average number of total patients in area hospitals hit 925 on Wednesday, a new record.
He said it's concerning that COVID-19 patients now make up more than 20% of available hospital beds in the area and more than 30% of bed space in intensive care.
Still, Garza's long-standing pleas urging state and area officials to order mask mandates has had some effect: Franklin County Commissioner Tim Brinker posted a video Wednesday appearing to credit the county's two-week-old mask mandate for reducing COVID-19 cases.
Brinker had previously said mask mandates didn't work and that people needed to use common sense. But on Wednesday he said the county's 14-day case average has dropped "significantly" to 64 per day as of Wednesday from 84 per day on Nov. 20, when the mandate began. He said the 10-day rolling average also has decreased to 574 from 825. The mandate is set to expire Dec. 20.
"The numbers are real and perhaps tell a story," Brinker said.
He said the county's hospitals are overwhelmed and would likely have to stop elective procedures if positive cases go up. He urged Franklin County residents to cover their noses and mouths, practice social distancing and "use your God-given right to take personal responsibility and make the tough first-world choices for the greater good."
The latest reported deaths in the Metro East include two people in Madison County — a woman in her 80s and a woman in her 90s. Four deaths were reported in St. Clair County: two men, one in his 60s and the other in his 70s; and two women, one in her 70s and the other in her 90s. The state reported one death in Monroe County — a woman in her 80s.
On Wednesday, the Jefferson County Health Department reported five more deaths, bringing the county's total to 108. They were a man in his 40s, a woman in her 70s, a woman in her 80s and two men in their 80s.
In St. Louis, a health advisory panel has scheduled a special meeting Thursday to discuss rising coronavirus case counts in the city and whether it should recommend further restrictions.
Dr. Will Ross, chairman of the Joint Board on Health and Hospitals, noted the city's positivity rate has exceeded 17% and the seven-day average of new cases has been rising, and said the board will discuss a "Safer at Home" policy similar to St. Louis County's.
"Obviously," said Ross said, "we need to do something."
Kurt Erickson, Robert Patrick and Mark Schlinkmann of the Post-Dispatch contributed to this report.
A morning in DePaul Hospital's intensive care unit as doctors and nurses scramble to save lives.