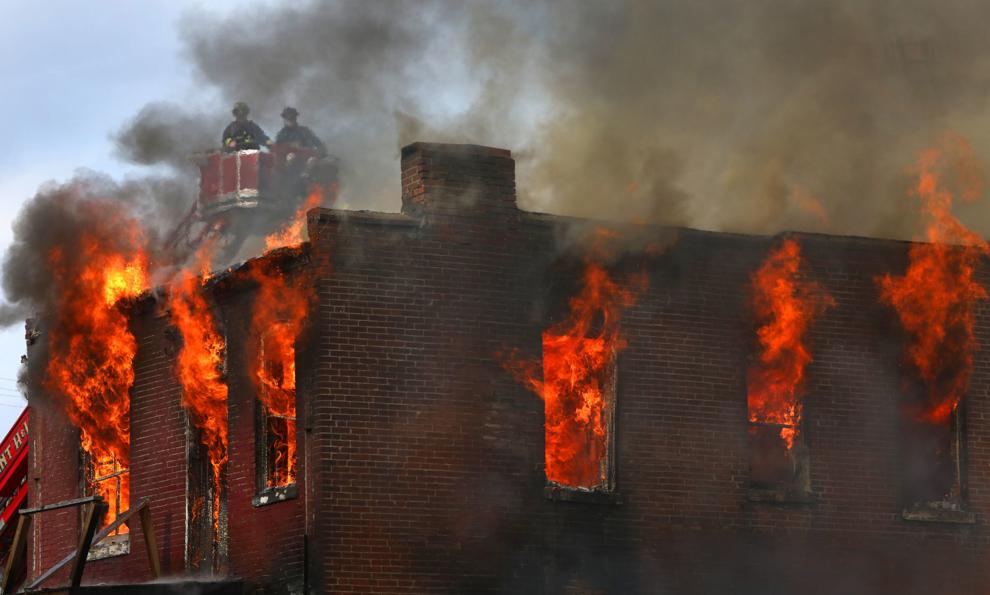 ST. LOUIS • They don't contribute much, if anything, to the tax base. They don't house businesses, at least not legal ones. They're nobody's home — except the homeless, who come and go.
But just by standing there, the city's empty and broken buildings leach untold amounts of money from taxpayers.
Pick virtually any address among the estimated 7,000 to 12,000 vacant structures in St. Louis, and chances are police officers or firefighters have been there — in some cases, multiple times.
Fire and police officials say it's hard to know exactly how much the buildings where no one lives or works are costing taxpayers. But they can point to some statistics.
They know, for example, that vacant buildings account for more than 40 percent of the fires they have to fight each year.
The cost depends on how many companies respond, when the buildings catch fire and the complexity of the subsequent investigation, Fire Chief Dennis Jenkerson told the Post-Dispatch.
"Does fighting fires in vacant buildings keep us good at what we do? Yes," he said. "But if we had fewer of them, we could concentrate on fire safety and prevention work in the community rather than our tactics."
Police officers, too, could perform more community outreach if they didn't have to spend time on structures that serve as a nexus for criminal activity.
A Post-Dispatch analysis of St. Louis police data shows that about a third of all calls for service within the past year were within 150 feet of a property identified as vacant by the city.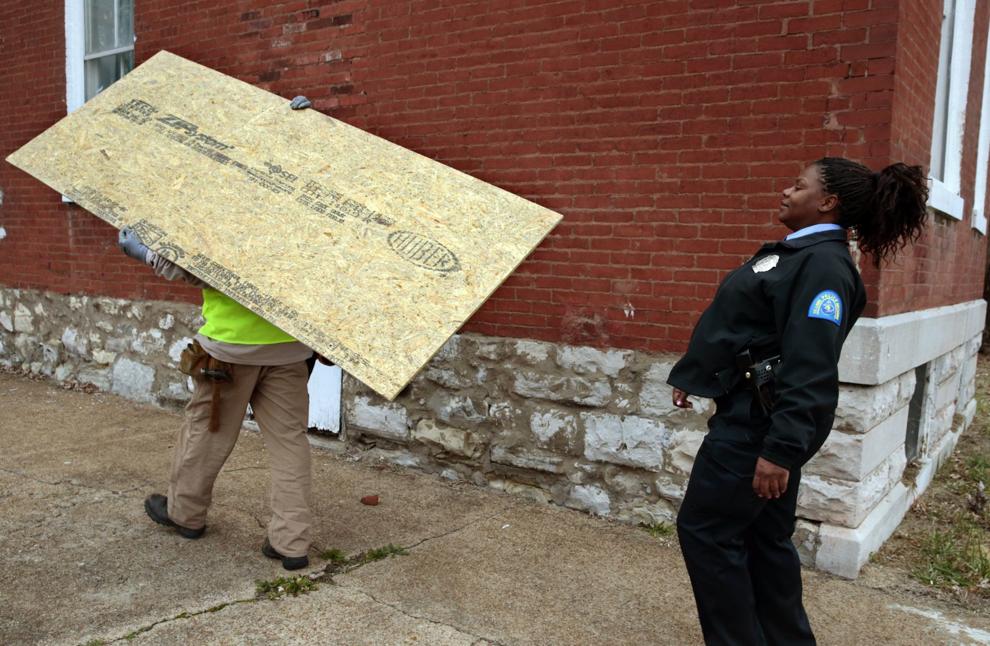 Police response to those calls can require the presence of ambulances, animal control or more police units. Some calls take hours and involve multiple officers combing through evidence of crimes that can include dogfighting, drug activity and homicide. Officers often have to remove squatters — people who turn unsafe structures into refuges from the street.
In addition to responding to calls for service, the police department also devotes six police officers — one for each district — and Sgt. John McLaughlin to the Problem Properties Unit, which coordinates with other city divisions to deal with buildings — some vacant — where criminal activity is chronic.
It's not the most coveted of assignments for officers, but it's among the most important, McLaughlin says, because it affects quality of life for an immeasurable number of residents.
"One building could affect a whole block," he said.
Hidden hazards
Given the risks, some people question why firefighters bother with blazes in vacant buildings — especially those already beyond repair. "Why don't you just let them burn?" Jenkerson says he's often asked when he is out and about in public.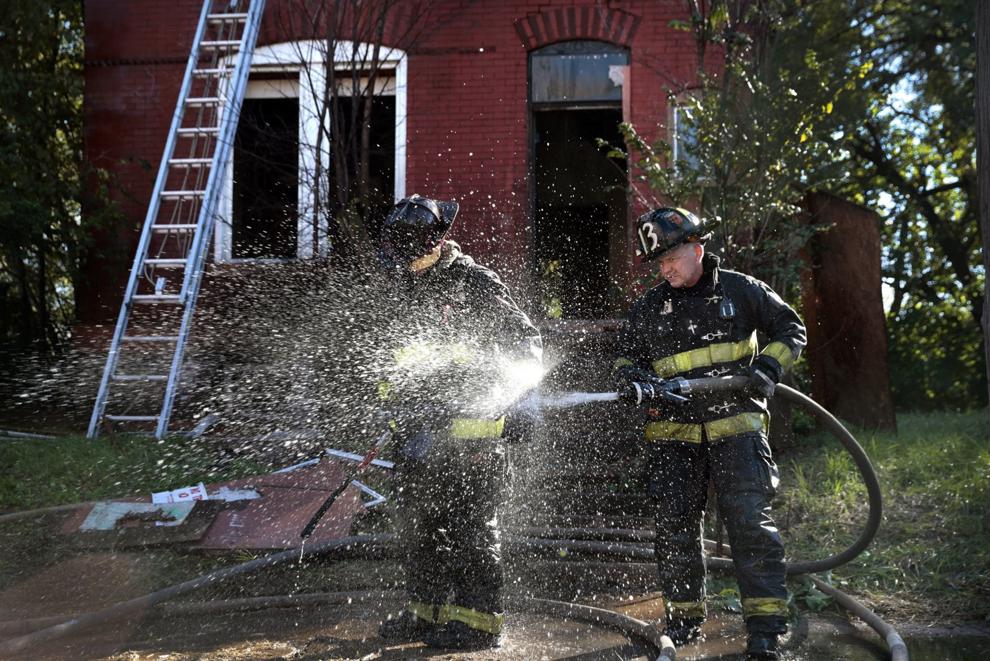 "We can't just look at a building and say 100 percent that is a vacant, we have to assume it's occupied," Jenkerson said. "Think about it, there's no electric going to the building, no gas, and yet it's fully involved with fire belching out of every window, every doorway when we get there in the middle of the day.
"And I don't believe in rats playing with matches."
Firefighters also have to prevent flames from damaging surrounding, occupied structures, Jenkerson said.
But going into buildings that appear vacant is more hazardous for firefighters. Already unstable structures become even more unreliable as flames lick their trusses and swallow their I-beams. And sometimes, they've been stripped of bricks, woodwork and even floor vent covers as was the case along Minerva. Fire investigators discovered their comrade fell about 2 to 3 feet, hurting his ankle, because a floor vent was missing a cover, Jenkerson said.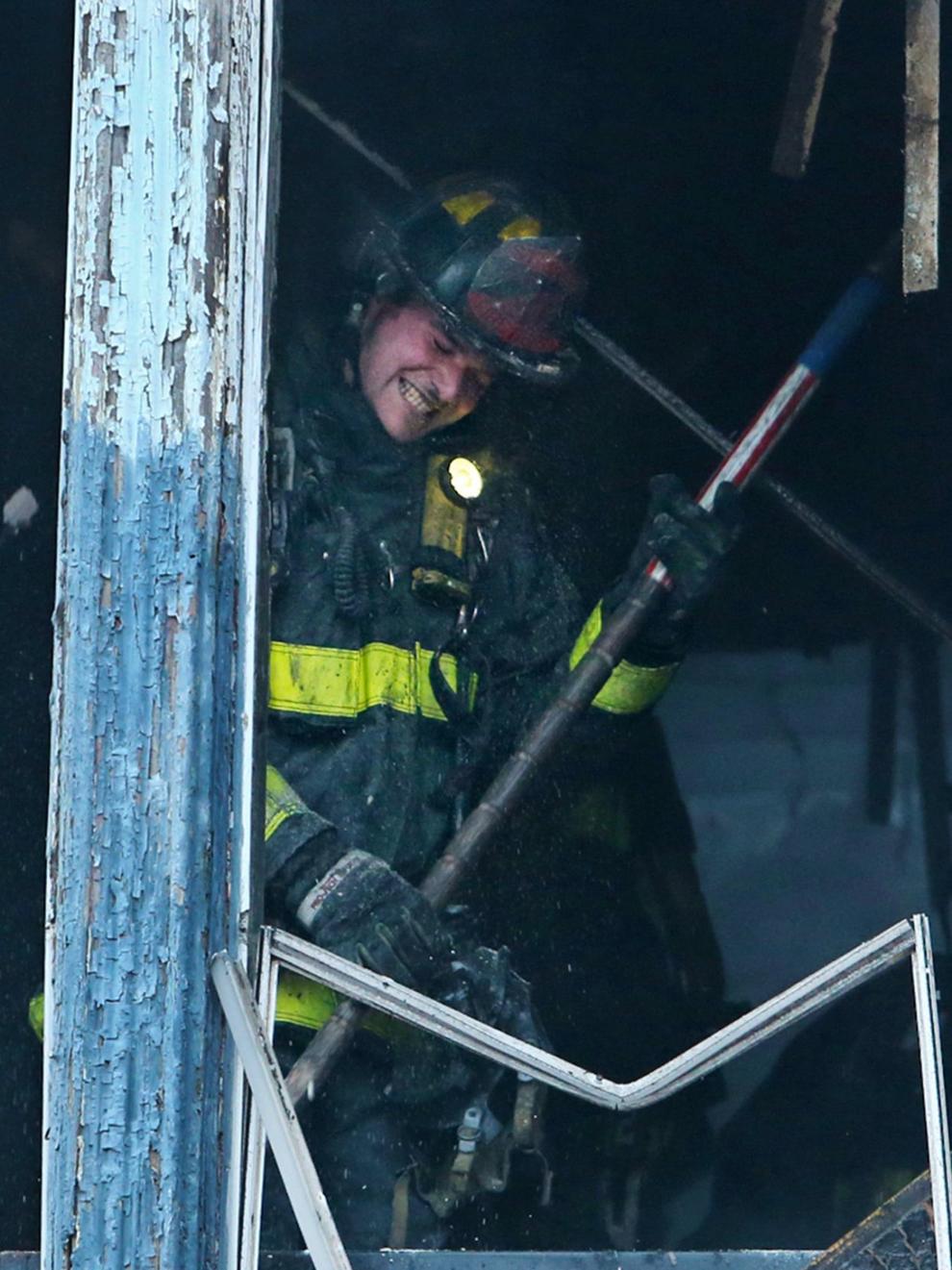 Determining the cause of a fire in a vacant or abandoned building is also a greater challenge, Chief Investigator Capt. Adam Owens said.
"Fire destroys evidence and makes it hard to investigate, plus you have firefighters pouring thousands of gallons of water on it and it possibly collapsing," he said. "So the evidence, if we find it, is greatly altered."
Owens' unit did not determine the cause of the fire on Minerva, not uncommon for vacant building fires that are a risk just to investigate, he said.
"I'm not going to send an investigator into an unstable structure," he said. "And if I know a fire was intentionally set, we still have no idea who did it or why. The conviction rate on arson is one of the lowest of any crime."
But sometimes, circumstantial evidence starts to add up.
In 2015, Owens started noticing fires in vacant buildings in the Benton Park neighborhood were happening within days of each other. Ultimately, investigators were able to pin between 35 and 37 fires on a juvenile. He was never charged but did get the mental health help he needed, Owens said.
Other investigations take longer.
About four years ago, Owens grew suspicious as he began getting calls from insurance companies that were seeking reports on fires at vacant buildings. After some digging, Owens discovered people were taking out renter's insurance policies online just weeks before the vacant buildings burned. At the scenes of vacant building fires, firefighters said they noticed people who claimed to be renters. The "renters" were there to meet with insurance representatives and claim gift cards or checks to help with expenses. If anyone pressed for identification or other information, the "renters" would disappear empty-handed, Owens said.
So far, Owens says there have been more than 25 fires in vacant buildings during the past four years that fit the M.O. — one as recently as June. Federal investigators are now on the case, so Owens did not want to say much more. But he confirmed that all the fires were in a "pretty tight geographical area in north St. Louis."
"I'm doing what I can to get it to stop here, but short of someone coming in and clearing all of the vacant buildings out ...," he said, pausing to talk about the balance of preserving history and keeping people safe.
"They can't burn if they're not there."
'Compliance, not closure'
Vacant buildings are interwoven into the fabric of crime in St. Louis. They've been the scenes of some of the city's most notorious crimes — many still unsolved. And there's rarely a day that goes by without a city police officer visiting at least one vacant building on a call for service, clearing it before it's boarded up or at least thinking it could be hiding evidence officers need to solve a case.
'You wouldn't believe some of the awful things that have happened.'
"Criminals use these places to hide their guns and drugs," says McLaughlin, the sergeant assigned to the Problem Properties Unit.
In addition to McLaughlin, others who lead the unit are Matt Moak of the City Counselor's Office, Building Commissioner Frank Oswald and Building Inspection Manager Ed Ware.
"This isn't terribly sexy work," Oswald says. "But prevention is the key to stabilizing neighborhoods."
The unit swings into action after a specific address generates repeated calls for police service, or if an officer or inspector or any other member of the team sees an open vacant building. And when they do lock on to a property, that means added scrutiny, warning letters and often fines for the property owner.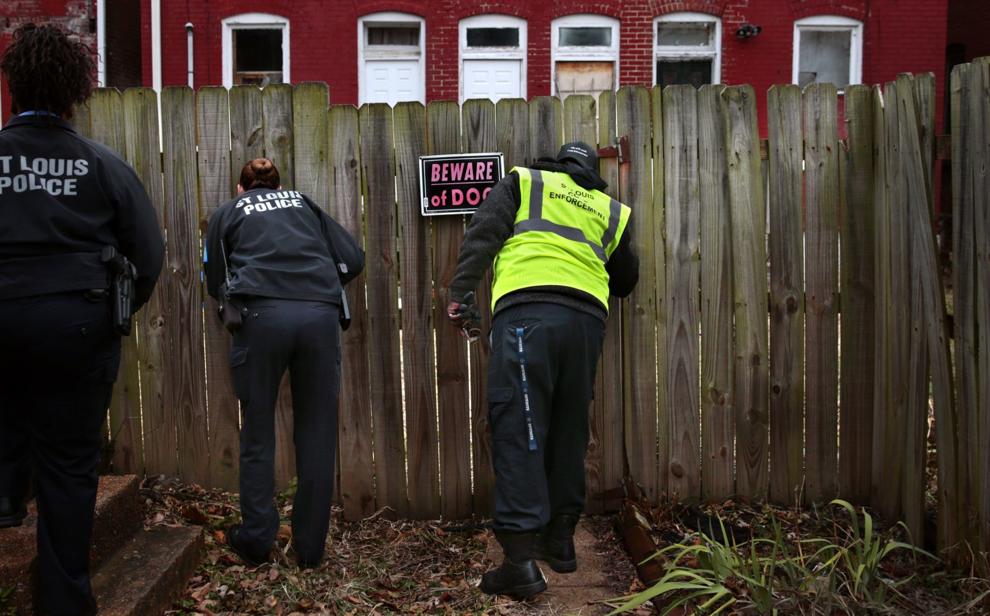 If it looks like the building is vacant and untended, the Building Division will send out a crew to secure it if the owner refuses to do so. If a hazardous building looks like it is illegally occupied, and the owner refuses to cooperate with demands to remove vagrants, the city can condemn it for occupancy. At that point, the city becomes the victim of any crime that may occur there, McLaughlin explained.
Trespassing is the most common complaint.
"In order to charge someone with trespassing, we need to have an owner who is willing to prosecute," McLaughlin said. "When that's the city, it makes our job easier."
Sometimes, building owners tell officers that they are allowing vagrants to live in the crumbling structures just to keep an eye on them, McLaughlin said. The Building Division then works to find code violations to condemn the property and require owners to apply for occupancy permits before anyone can live there again.
"We strive for compliance, not closure," Moak said.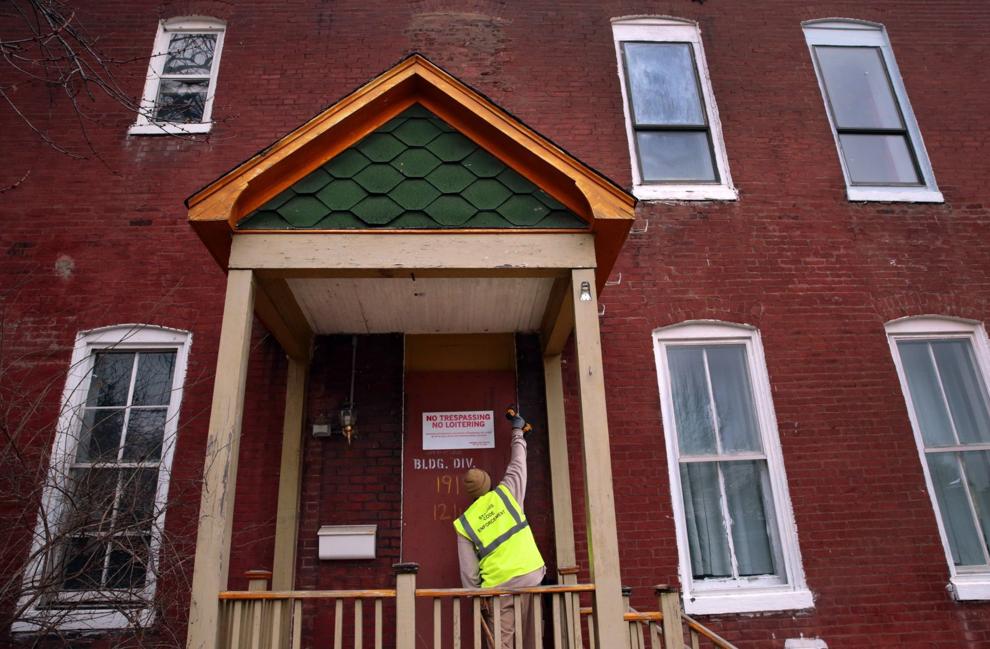 In the past four years, city crews have boarded up properties more than 5,700 times. But nearly a third of the time, city records show, the crews were dispatched to a building that had been previously secured. In a few cases, they've boarded up the same property as many as seven times, city officials say.
The city spends on average $800,000 a year to board up buildings, but recoups only a fraction of that amount from private property owners. In the past four years, the city's billed private owners for a total of about 450 board-ups, collecting an average of about $150 each time, Oswald said.
'We don't have to have complex interventions to have a really big impact on crime.'
Other cities have tried another approach to board-ups: banning them.
In 2011, Philadelphia city leaders passed what's known there as the "Windows and Doors" ordinance, which required every vacant building to have working doors and windows. The city also partnered with the Philadelphia Horticultural Society to beautify vacant lots.
City leaders hoped the efforts would boost property values and protect the housing stock from the elements that can easily pass through porous plywood. But criminologists discovered significant drops in crimes involving guns also followed when buildings and lots at least appeared to be cared for and not forgotten in Philadelphia.
Now, other cities are following suit.
The stepped-up pace of demolitions will address just a fraction of crumbling housing stock, and that will mean board-up crews will still have plenty to do.
'I ain't going in there'
Crews — typically two people to a truck — often have police officers assigned to the Problem Properties Unit search inside buildings before they board them up so no one gets trapped.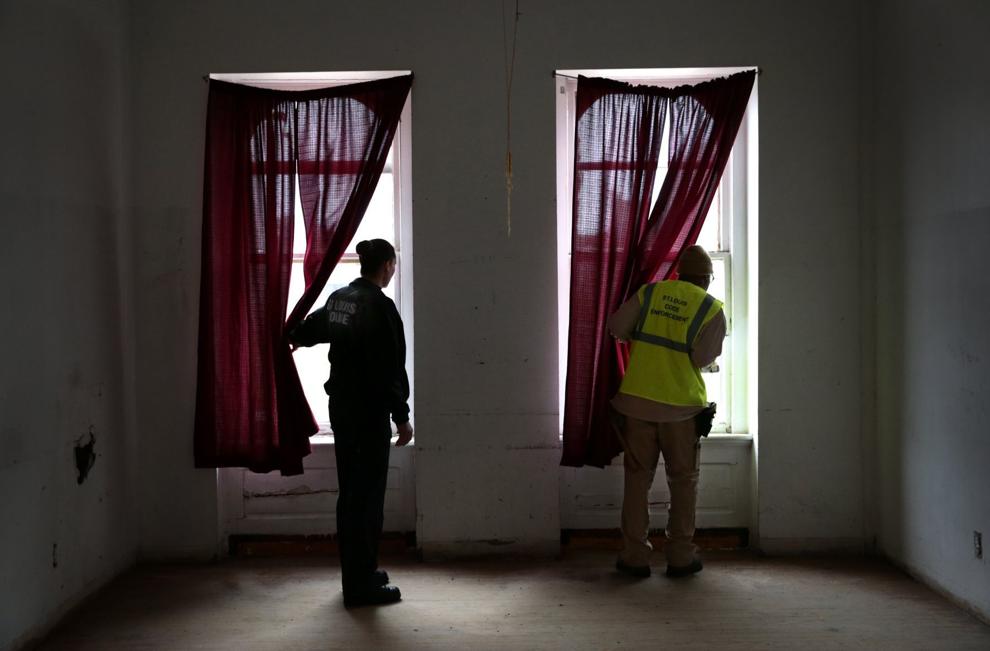 This month, a crew was dispatched to secure an empty two-story in the 1900 block of Oregon Avenue. Its door swayed open in the wind. Myron Douglas, who was in charge of the crew, waited for police officers Erin Hein and Shamantha Edwards to conduct the search.
"I ain't going in there," Douglas said. "That's why we got the police here."
"Come on out! St. Louis police! We're here to board it up," Edwards shouted as she and Hein made their way through the building, dodging piles of insulation, garbage bags and other filth. There was no answer. Interior walls were down to the studs, making searches of closets and bathrooms easy. Edwards came out of the building, holding a "no trespassing" sign put there by the same board-up crew during an earlier visit.
Two other buildings the crew visited that day couldn't be sealed shut. Officers spotted signs of life at a four-unit apartment building in the 3200 block of Michigan Avenue. A light was on in one of the units and the electric meter was running, even though the building was supposed to be vacant.
"Copper Gone" was spray painted on the doors to the building's basement. A "Beware of Dog" sign dangled on a locked gate to the backyard. An SUV sat behind the structure with license plate tags dating to 2007.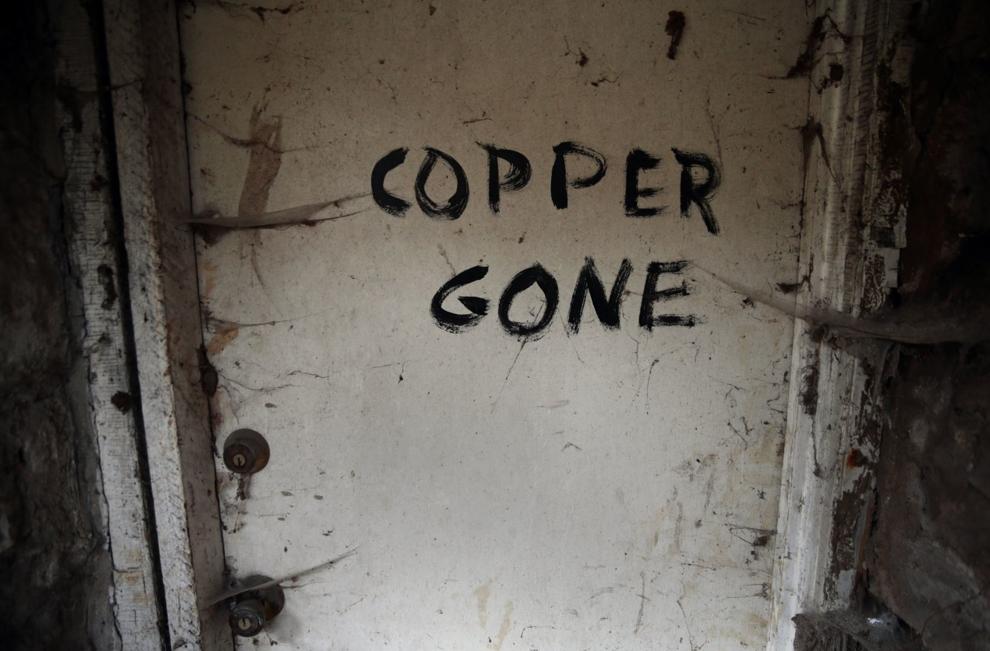 "I'll have to go back and research this one some more," Hein said.
At their final stop, a former business in the 1700 block of Chouteau Avenue, the front door was already secured and bricks had replaced many of the windows on the lower level.
Hein shined her flashlight in a second-story window, where she could see part of the roof had collapsed through the ceiling. A pile of broken bricks and rebar were all that remained of the back half of the structure. Hein took notes as nearby business owners gave her an earful about previous attempts to motivate the owners to clean and fix the property, and she vowed to contact them.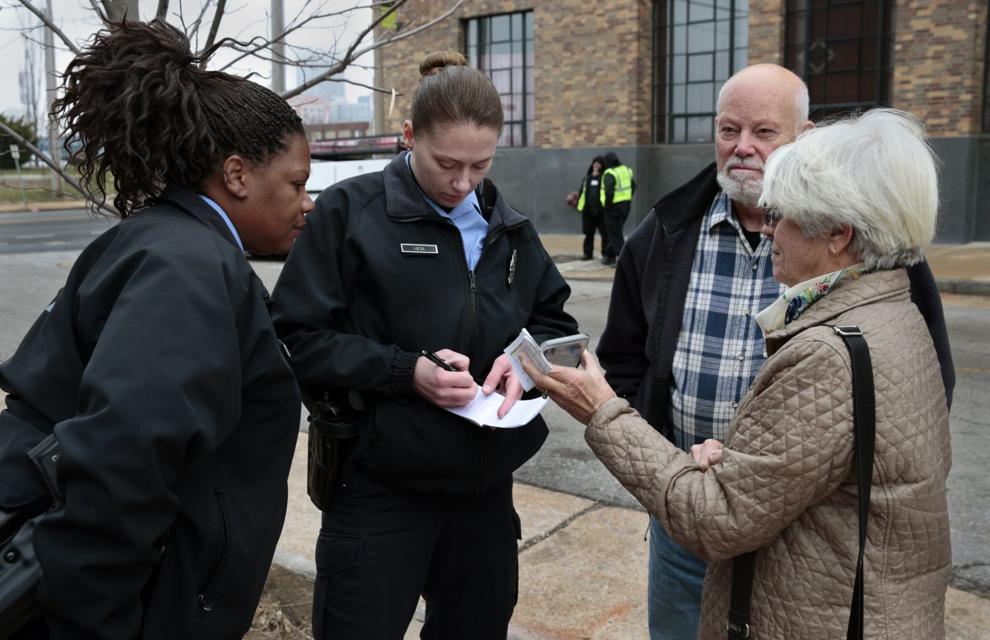 Behind open doors
Combined, Hein and Edwards have about 20 years of experience working with the Problem Properties Unit. They have seen syringes, mattresses and human waste in vacant buildings. And when they do find someone, they try to connect them with social services.
"We're not just going to take these people to jail," Hein said.
McLaughlin has stories from his years in the unit, too. He recalled a time when officers had to stop a group of people who were painting walls and patching roofs on vacant buildings they didn't own and renting them out even though they didn't have utilities.
A series looking at the consequences of decades of disinvestment in St. Louis. See all related stories at stltoday.com/tippingpoint
"It worked for some people, paying a couple hundred bucks to have somewhere to sleep when they don't qualify to rent a legit apartment because of a criminal record or whatever," McLaughlin said.
He also recalled going inside the old St. Mary's Infirmary building on Papin Street to investigate complaints that a large homeless population was living inside.
"I turned on my flashlight and the next thing you know I've got about 40 eyes staring at me," McLaughlin said. "I was surrounded."
Not long after McLaughlin's visit, a woman was raped inside the building, he said.
A vacant lot is all that remains.
Janelle O'Dea and Josh Renaud of the Post-Dispatch contributed to this report.