ST. LOUIS  •  The stench hits you before you see anything: the sharp sourness of rotting food, the musk of discarded cardboard and drywall left out after a rain. Round the corner into the alley behind James and Arlene Price's home in the Greater Ville neighborhood, and you'll find piles of garbage and construction materials stacked and scattered next to the dumpsters.
"It's unbearable. ... It's open season for dumping," said James Price, 85. He used to be the block captain. Now, there's too little interest or too few permanent property owners to warrant a block unit.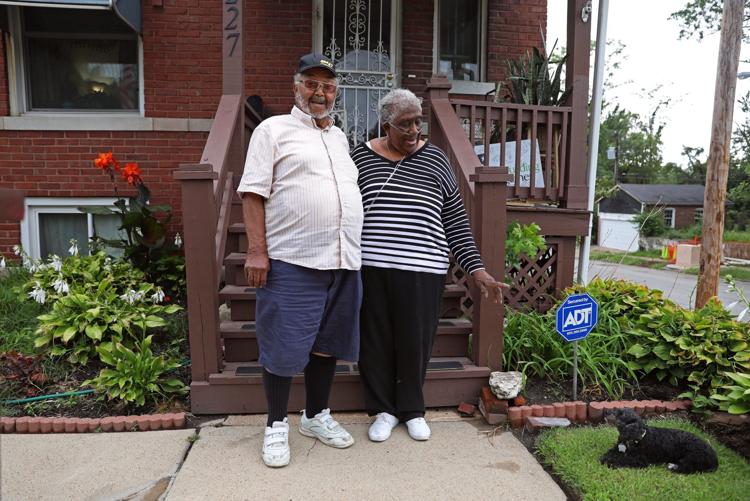 But multiple neighbors still point to James Price as the man to talk to about the trash problem. Despite his age and his walker, he remains their advocate in a less official capacity, doing whatever he can to instigate cleanup efforts, hound city officials and get his neighbors to care about the garbage left to fester behind their homes. Old habits die hard.
Over the 50 years the Prices have lived in their house on North Taylor Avenue, they watched the city's trash problem grow worse. Time and again, they saw garbage pile up in their north St. Louis neighborhood. Trash pickup, especially bulk pickup, can be hit or miss, the Prices said. The couple feel like they're calling the city constantly, and when they do, they're often passed around to different people or agencies.
"One (department) shifts me to the other," James Price said.
Arlene Price, 83, sucks in oxygen from her tank and pulls out her family's trash bill. The city began charging $11 a month for garbage pickup in 2010 after facing a $46 million budget shortfall. While the fee increased to $14 in 2017, the service hasn't improved, she said.
One of the Prices' neighbors, Don Davis, said the trash piles in the alley behind his house have at times risen higher than the dumpsters, making it difficult to navigate through even on his motorcycle.
"You know what that brings? Rats. We have a big rat problem. And come the end of this summer, they're going to find their way into the house," he said.
The city empties the dumpsters somewhat consistently, he said, but illegally dumped waste concentrates behind a vacant, city-owned building, often blocking passage through the alley. A nearby house is under renovation, and the materials from that process tend to wind up stacked behind Davis' well-kept home. His children aren't allowed to play outside of his small, fenced yard, for fear of stepping on nails or broken glass, or getting too close to the inevitable, unsanitary trash pile behind their house.
More often than not, Davis has to clean the alley just to be able to leave his home.
"I don't have a choice. It does get frustrating. But there isn't very much you can do about it," he said.
Addressing the problem
With 55 trash routes to run a day, the city struggles to pick up the waste residents are legally discarding, much less the refuse from outside actors who come to the city specifically to dump their waste.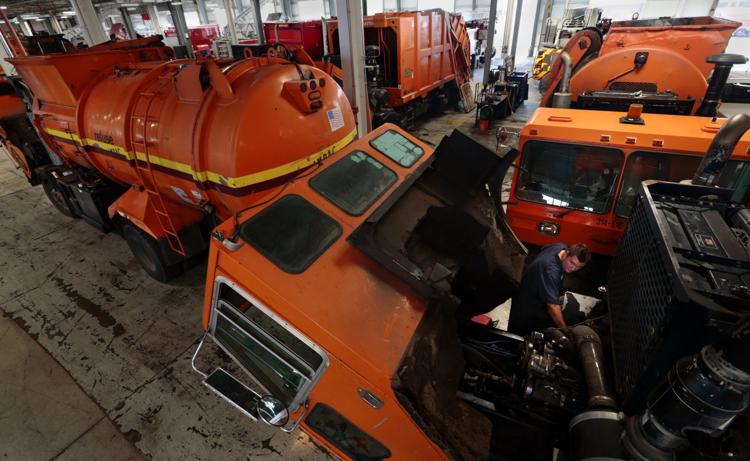 "If we're in the hole every day, in the red as far as what you can cover with your manpower to those routes because of some of our truck situations, you're always inevitably, mathematically, going to have an issue covering those," said Streets Director Jamie Wilson, who oversees the refuse division and has been called on at recent town halls and committee hearings organized by city aldermen to investigate the issue. "It ends up being, 'I can pick this up, but that means I miss that.'"
Basic math points to the problem. The city has 55 trash routes a day, but is running 40 to 45 trucks daily.
City residents are invited to call the Citizens' Service Bureau to report those problems, but that doesn't always yield results. Some call their alderman, hoping that will spur action. A new "trash task force" in the police department, led by Sgt. Joseph Calabro, also welcomes direct calls. There's a $100 reward for reporting a dumper if the complaint leads to an arrest.
Illegal dumping has been an acute problem in St. Louis for decades, and Krewson isn't the first mayor to attempt a fix.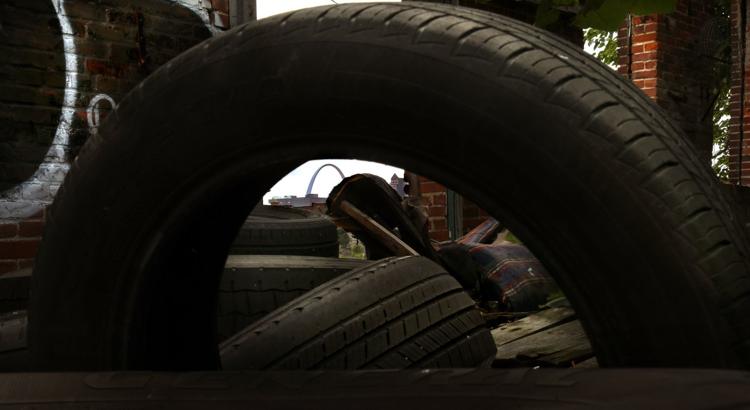 In February 2003, former Mayor Francis Slay announced his own "Clean Up St. Louis" initiative. He tasked several full-time police officers with going after those who dump trash illegally, joining seven officers who did the work part time, for a task force similar to the one Calabro oversees. With some funding from the Missouri Department of Natural Resources, he also installed surveillance cameras to catch illegal dumpers .
Flash back to a chilly March morning in 1996 when Slay's predecessor, Mayor Freeman Bosley Jr., was handing out fliers announcing a $100 reward for residents who report anyone dumping garbage.
"We're going to bust you and punish you. We're not going to stand for it anymore," Bosley told the Post-Dispatch at the time.
His campaign to crack down on the city's trash problem included organized cleanups of known dump sites and four designated police officers to spearhead the effort.
While the initiatives by all three mayors have caught some dumpers in the act — Calabro's task force and footage from the new surveillance cameras have led to 18 guilty pleas and more than 120 summonses for dumping so far this year — the city has failed to invest in even basic maintenance required for reliable trash service.
Last year, the Board of Aldermen voted to raise the fees residents pay for garbage collection by $3 a month to buy cameras and trash trucks. But some aldermen balked, questioning how the money collected from the existing fee had been spent.
The revenue had flowed into the city's general revenue fund, where it could be spent on a myriad of other priorities, forcing city officials to acknowledge that they'd dropped the ball by not paying to replace or maintain garbage trucks.
At the time, 1st Ward Alderman Sharon Tyus, who voted against the increase, compared the worsening situation to parents taking their children to Disneyland but failing to buy them food.
"It was not placed into a special fund or enterprise account to pay for trash services including the cost to replace the rolling stock," Tyus said. "Why isn't and hasn't the entire $14 payment been put into an account for trash? Then we could buy so many more trucks and hire additional staff."
Recently, money just from the increased fees has allowed the city to purchase 16 new trucks, with 15 more coming by the end of the year, all part of a plan to reduce the average age of the fleet and replace dying trucks over a decade. A fleet of 65 to 70 working trucks would be ideal, Wilson said, to cover the city's 55 routes.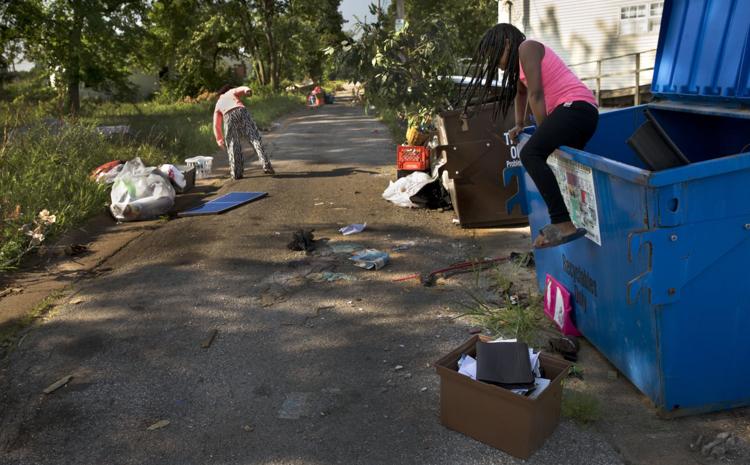 Nick Yung, the city's longtime refuse commissioner, retired this month after more than 40 years overseeing trash operations. The streets department is advertising for his replacement, and the city's garbage problem will soon be the responsibility of someone of Wilson's choosing.
Who to call?
In the meantime, residents faced with overflowing dumpsters or trashed alleys often find themselves with two options: reporting complaints to the Citizens' Service Bureau and hoping for assistance, or taking on cleanup themselves.
Rauchel Anderson says her calls to the city have been mostly fruitless.
"They say they're going to do something, but it doesn't happen," she said.
Anderson, 26, lives in the Penrose neighborhood in a house that she inherited from her father. Like him, she's often forced to clean up the alley off of Calvin Avenue when the dumpsters overflow or the rancid smell becomes too much to bear.
"It's just disgusting. I see people pulling up here and dumping trash that don't even live around here," she said.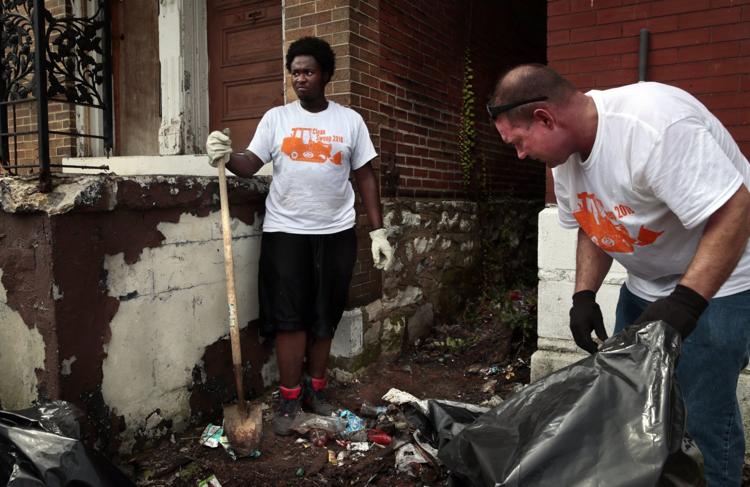 More than 23,000, or 19 percent, of complaints about excess trash, overflowing dumpsters or illegal dumping come from 10 of city's 79 neighborhoods. In order of most complaints to least, adjusted for population, they are College Hill, Fairground, Hyde Park, Walnut Park East, Academy, Vandeventer, Walnut Park West, Hamilton Heights, Fountain Park and Lewis Place.
All of those neighborhoods are in north St. Louis, but the data also show a problem that's citywide. When the complaint numbers are not adjusted by population, neighborhoods such as Dutchtown, Tower Grove South and Gravois Park fall in the top 10.
The bureau has taken more than 123,000 complaints regarding excess trash, overflowing dumpsters or illegal dumping from January 2009 through July this year.
The trash complaints only show what is reported, and may not reflect the full picture of where problems are happening. Some neighborhoods may have residents who are more vocal about those issues, or have aldermen who encourage residents to call the bureau more often.
But some of those aldermen have grown frustrated after hearing from constituents whose complaints have been closed without any tangible resolution.
Dotti McDowell, a neighborhood development executive who oversees the Citizens' Service Bureau and the city's neighborhood stabilization team, said there's been such an increase in call volume this summer that the bureau has needed "all hands on deck" to take calls and direct complaints to the departments that can help. Residents can also make complaints on Twitter.
The Post-Dispatch found that in the previous five full years of data, trash-related complaints increased by 20 percent. The growth has forced the bureau to hire three new operators who are now in training, McDowell said.
"There's just a constant breakdown of communication here. And that's an accountability issue," said Alderman Sarah Martin, 11th Ward.
A personnel problem
The city's trash collection problems extend far beyond equipment. From 2000-2015, there were 82 full-time refuse workers. After budget cuts, that number has dropped to 67 employees, said Rick Frank, the city's personnel director.
"That's a 20 percent decrease. We have not had a 20 percent decrease in the amount of trash pickup," Frank said. "So you're seeing natural implications of a tremendous reduction in the number of full-time positions."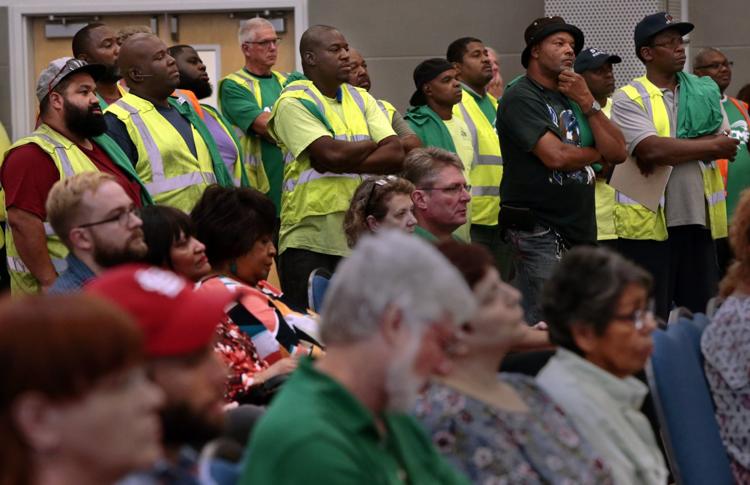 At one point, Frank said he had to authorize emergency work because only 39 employees showed up one day. Some were out on worker's compensation, others on family medical leave, but bottom line: there weren't enough drivers to cover more than 50 routes, he said.
"The city's cut too deep, in terms of the number of positions it's authorized," Frank said. "It's not just equipment. It's staffing issues."
Those who have remained are "completely demoralized," said Eric Wisner, one of the city's refuse collectors.
As they wait for new trucks, the refuse division has made three shift changes since the spring, asking trash collectors to start earlier, or work later or come in on weekends. That means missing time with family, children's sporting events, and even holidays, refuse workers told the Post-Dispatch.
For residents in some north St. Louis neighborhoods, wait times to get an issue resolved through the Citizens' Service Bureau can be three tim…
Sometimes, the city has to turn to overtime. Refuse workers engage in a daily balancing act between picking up trash on scheduled routes and going back to cover routes that have been missed, Wilson said.
"It's a scheduling nightmare," he said.
"We want to be treated with civility and respect and paid what we're worth," Wisner said. "You can obviously see right now, we're doing everything we can just to make sure everyone gets a single collection."
It's been a struggle to make up for a long-term lack in investment, Wilson said, but the equipment on order will ease some of the burden.
"That's kind of what helps us sleep at night, honestly," he said.
Looking ahead
North St. Louis has been fighting the trash battle alone for decades, Tyus said. As a longtime alderman, she says she is frustrated that serious movement to address the issue only kicked into gear when it extended to other, whiter areas of the city.
"It is amazing to me that this trash problem, which I have complained about since 1993, is now a story because it affects south St. Louis. But has not been a story when it just affected north St. Louis," she said.
Alderman Brandon Bosley, who represents the 3rd Ward — the ward with the highest number of trash-related complaints to the Citizens' Service Bureau — says he wants to capitalize on the recent momentum at City Hall by exploring harsher punishments for dumpers. The existing maximum $500 fine clearly isn't a deterrent, he says, if it costs so much more to dump garbage properly.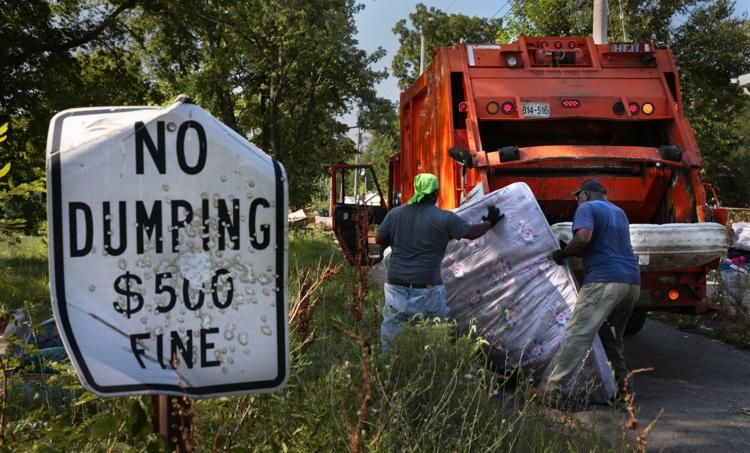 Bosley said he hopes to introduce legislation in coming weeks to toughen punishment for dumping in St. Louis by raising fines and increasing the amount of community service hours violators must perform if caught.
The goal is to have to do so much community service, you'll never want to do this again," said Bosley, who wants to see offenders cleaning up the city for a minimum of 100 hours.
Cleaning up the community should be a top priority if St. Louis wants to attract new residents and improve the quality of life for those who already call it home, he said.
"I think to a degree, it's a mental thing. People throw trash because they see trash," Bosley said. "These neighborhoods don't look like a place you'd want to lay your hat. We can't have the city look like a dump if we want people to live here."
---
---
Illegal dumping in St. Louis, on St. Louis
Illegal dumping in St. Louis, on St. Louis
Illegal dumping in St. Louis, on St. Louis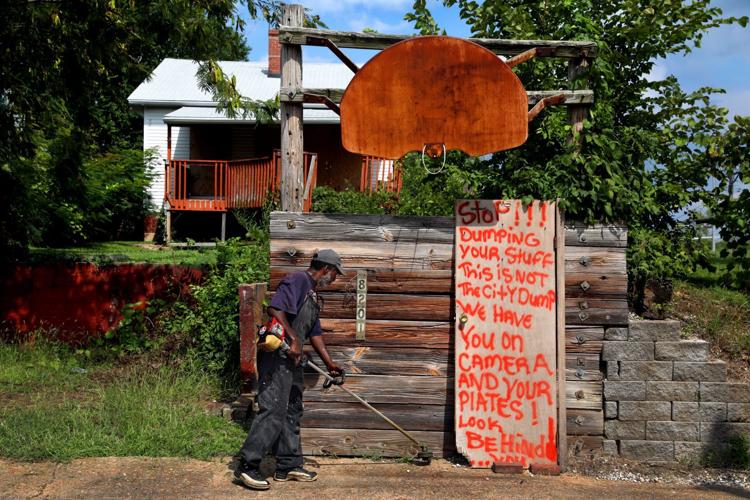 Illegal dumping in St. Louis, on St. Louis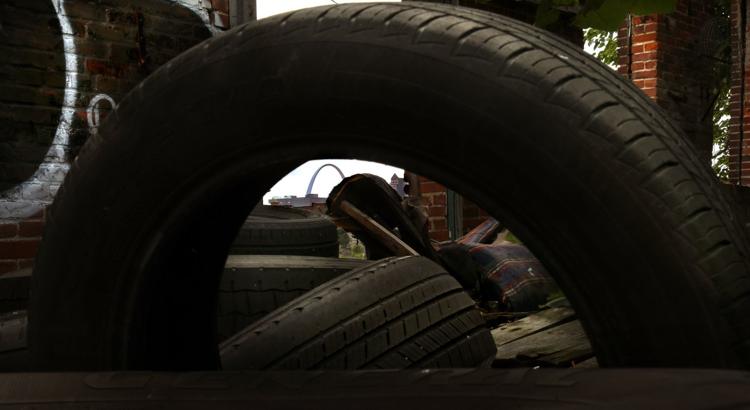 Illegal dumping in St. Louis, on St. Louis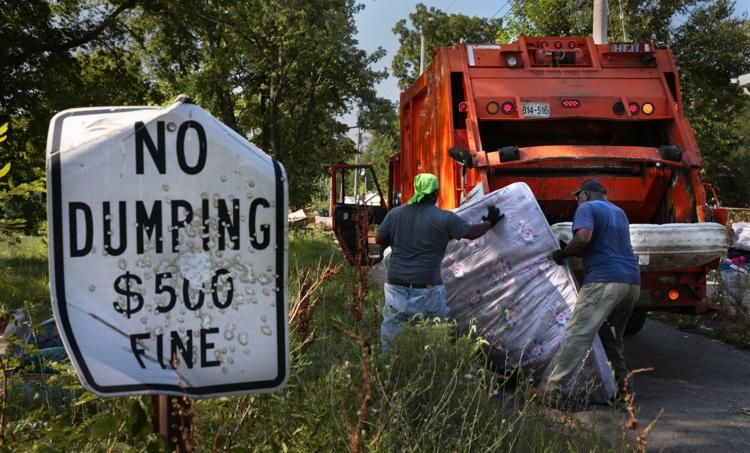 Meeting on trash, fireworks, brings out city residents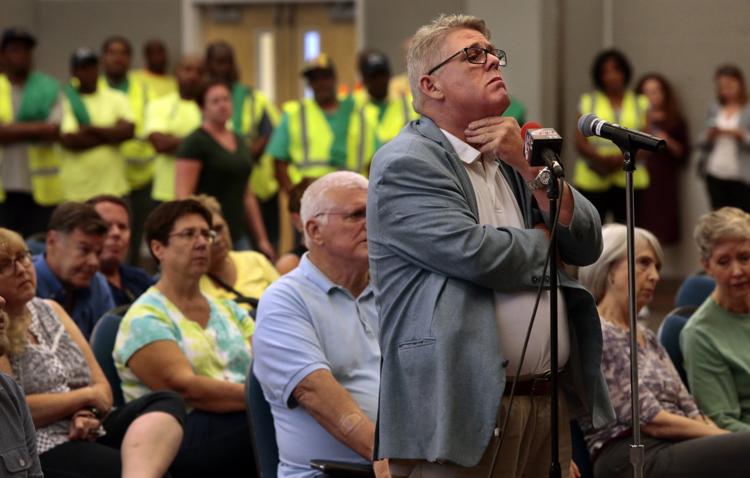 Repairs keep many aging trash trucks off the streets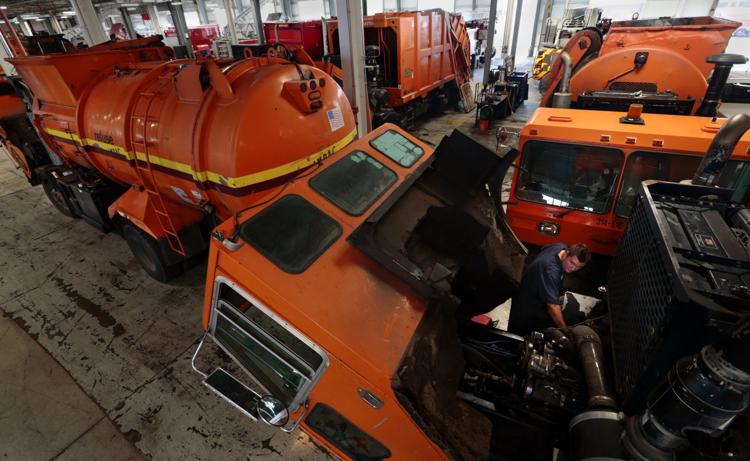 Repairs keep many aging trash trucks off the streets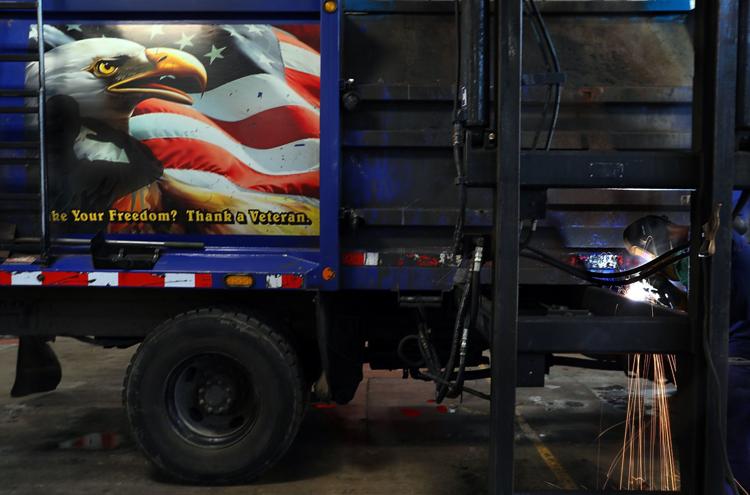 Clean Sweep tackles Jeff Vanderlou, five vacant houses demolished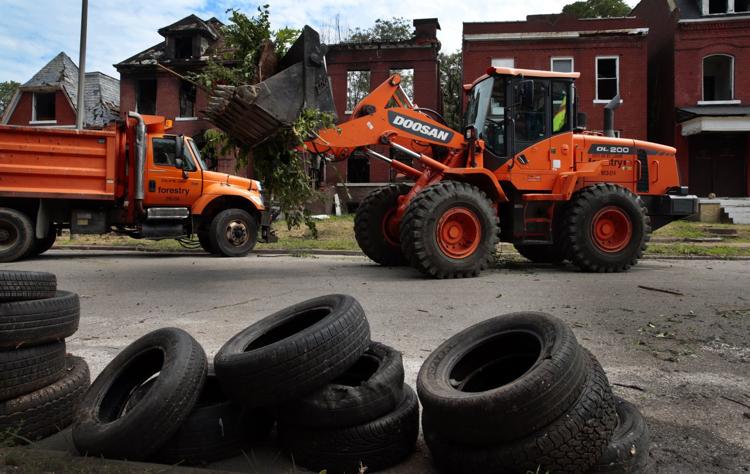 Clean Sweep tackles Jeff Vanderlou, five vacant houses demolished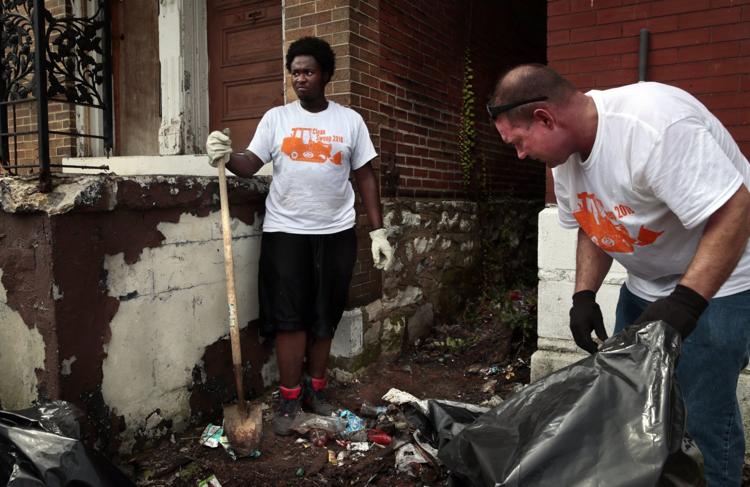 Illegal dumping in St. Louis, on St. Louis
Illegal dumping in St. Louis, on St. Louis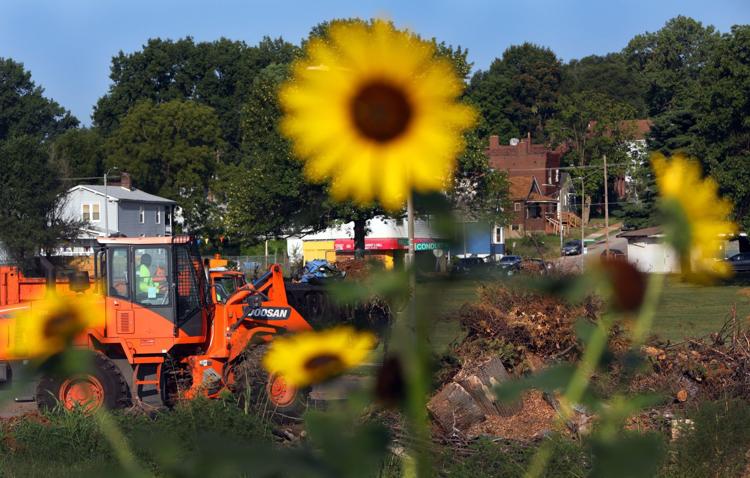 Alderman calls for more O'Fallon Park rangers, park cleanup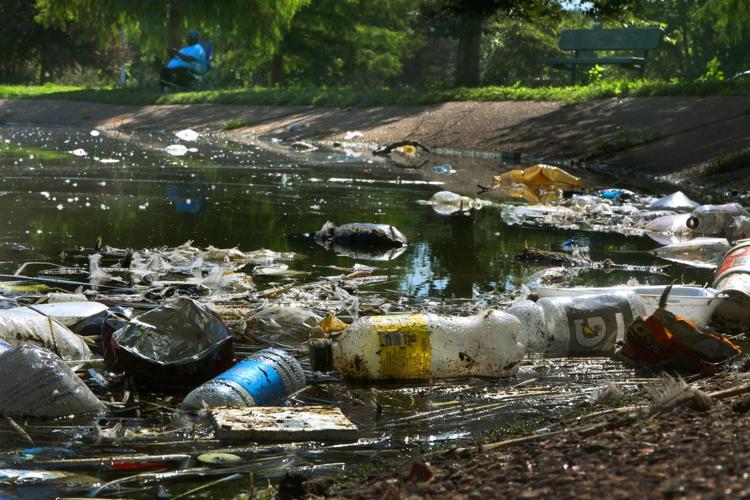 Trash Task Force officers take on dumpers with fines and community service
Illegal dumping in St. Louis, on St. Louis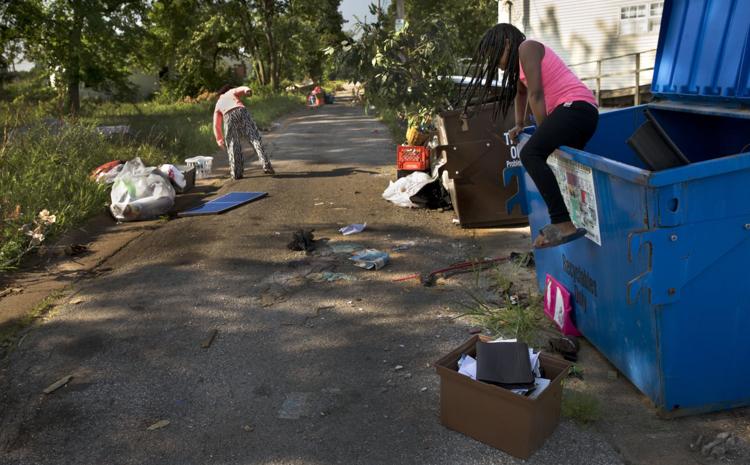 Illegal dumping in St. Louis, on St. Louis