BRENTWOOD — This small suburb of 8,000 people is taking on an $80 million infrastructure project meant to finally tame the portion of Deer Creek known for swamping Manchester Road during heavy rain.
Over the last year or so, Brentwood has quietly been buying up real estate, mostly light industrial buildings, to the south of Manchester and along Breckenridge Industrial Court on the east and Mary Avenue on the west. It's spent some $17 million to acquire 26 properties and two easements thus far, with some sales scheduled to close this week.
On Wednesday, the city will mark the ceremonial beginning of property demolitions meant to convert roughly 14 acres into green space that can absorb the creek known for shutting down Manchester Road during flash floods. Plans also call for some small flood protection levees within the industrial area south of Manchester.
City officials hope getting that stretch of Manchester out of the flood plain will spur future development, envisioning mixed-use projects along the corridor in its long-range plan. Today, the stretch is mostly low-density strip malls and fast-food and industrial buildings closer to the creek, and the 100-year flood plain designation from the Federal Emergency Management Agency stymies investment there.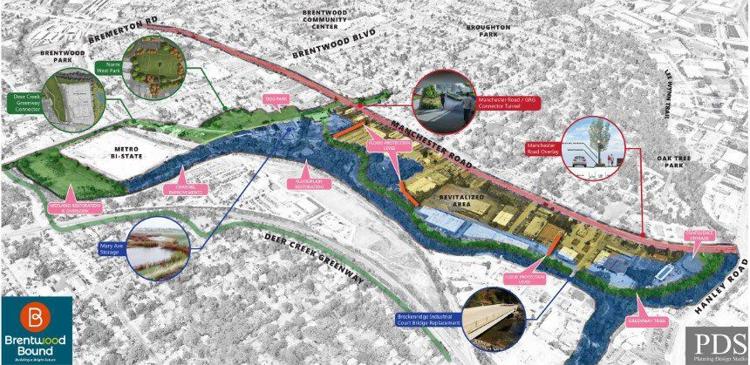 "Flooding's the huge impediment to doing anything down there," said Brentwood Mayor David Dimmitt. "We looked at what Rock Hill was doing on Manchester and we see obviously what Maplewood has done to the east of us. We're stuck in the middle. There's really one reason why (Manchester) looks the way it does. It's because it's in a flood plain."
Over the years, Brentwood tried to get its neighbors involved in fixing the flooding issue along Manchester, but Dimmitt said because it would mainly benefit Brentwood, "it wasn't getting their attention."
"To the extent that we can keep this in-house, it makes it a lot simpler," he said.
Home to some of the region's busiest shopping centers on its northern border along Highway 40 (Interstate 64), Brentwood is in a better position than most St. Louis County suburbs to finance such a large, regionally significant project. Much of its revenue comes from people who live elsewhere and come to the city to shop.
In April, Brentwood voters passed a new half-cent economic development sales tax, raising its overall rate to 9.613%, though its busiest shopping centers tack their own 1% sales taxes on top of that.
The new tax, estimated to raise about $3.2 million per year, was pitched specifically to finance the flood fixes along Manchester. Last month, Brentwood approved issuing debt instruments, known as certificates of participation, that will fund about $40.7 million worth of the project. Debt service payments are expected to be about $2.8 million per year and be paid off in 2043.
But even before the new sales tax passed, Brentwood was already flush enough with sales tax revenue to issue $43 million in debt during 2018 to get started buying property and designing the project. It expects to pay off those obligations at the same time as the 2019 debt.
FEMA has already indicated to the city that the addition of the green space should result in the property fronting Manchester Road being removed from the 100-year flood designation, Dimmitt said. The city made sure the agency would approve a change in designation before it started spending money, he said.
"I think that we have more than reasonable assurance," he said.
As part of the project, the city is working with the Great Rivers Greenway trail network on plans to connect its Rogers Parkway with the regional trail network's Deer Creek Greenway. Plans call for a tunnel below Manchester at its intersection with Mary Avenue. Great Rivers Greenway has pledged $3 million to the project, according to city debt documents.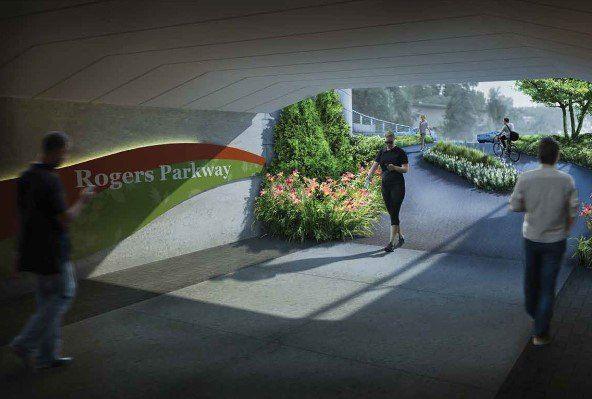 The city still has about six properties and 14 easements it needs to acquire for the project, Dimmitt said. It has had to commence eminent domain proceedings on some properties in order to reach agreements with owners, but he said "the vast majority of them have been great to work with."
"We've been very fair with everyone," he said.
The Brentwood project should last through 2022. The city has set up a redevelopment corporation as part of the process, and it could use that in the future to guide development along Manchester, including potentially offering property tax abatement. But for now, the focus is on getting the area out of the flood plain to improve traffic flow and prepare the area for investment.
"This is a huge infrastructure project that we are doing on our own," Dimmitt said. "Finally, you're going to see something being done here."
Daily updates on the latest news in the St. Louis business community.