In an effort to curtail the number of deaths in St. Charles County related to heroin and opioid use, the county ambulance district has created a program to help addicts gain immediate access to rehabilitation programs.
Meanwhile, the parents of a young woman who died of a heroin overdose in O'Fallon, Mo., last year are planning their own crusade nearly 100 miles southwest of there in St. James to save others from a tragic fate that officials say is becoming increasingly common.
Ambulance district data show calls concerning overdoses from heroin and opioids — a group of drugs that includes highly addictive prescription painkillers like oxycodone — have increased steadily since 2008, and ratcheted up noticeably after 2013. Calls increased from about 300 in 2014 to a record of about 425 last year.
There were also 195 heroin-related possession and distribution charges there in 2016, up from 168 the year before, according to data from the St. Charles County Prosecutor's Office. The office established C.R.U.S.H. in 2015, a resource group dedicated to educating teens and youth about drugs.
Deaths from heroin and opioid overdoses have also spiked in recent years. Incomplete data from the district show about 53 fatal overdoses in 2015, up from about 41 the year before.
In other parts of the region, officials report that similar overdoses killed more than 250 people in St. Louis and more than 150 people in St. Louis County last year.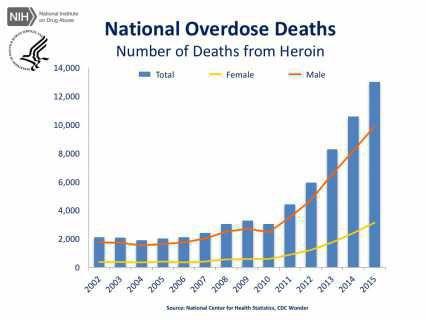 "It's hard to say why the number is increasing," said Kyle Gaines, community relations director for the ambulance district. But he notes that heroin is popular, available and affordable, and that the street drug is often being mixed with other opioids.
The district is responding to the crisis by forming the Substance Use Recovery Response Team, a collaboration with area health care providers such as St. Charles Preferred Family Health and Bridgeway Behavioral Health, to bring treatment information to overdose patients on the scene.
"Very frequently, these individuals were not being linked with any kind of treatment," Gaines said of people revived by a paramedic after overdosing.
The program will require a paramedic to give a person treatment information and ask to follow up with them in one or two days, the amount of time it generally takes a person to relapse after overdosing, he said.
"We've been a reactive industry," Gaines said of emergency services. "We come and help them … but health care, in our country, is changing on all levels."
The program began this month with help from health care partners that promised to accept patients referred by the district regardless of someone's ability to pay, Gaines said.
"We don't want to lose any member of our community," he said.
'The monster that was heroin'
Veronica Davis, 20, is counted among the grim toll the heroin crisis has claimed. She died in O'Fallon, Mo., of a drug overdose days before Christmas last year. To her best friend, the easygoing young woman with a bright smile who loved her family, enjoyed softball and was a straight-A student could make anything fun.
But the bond formed as children began to fray when the two friends, of St. James, Mo., began using heroin.
"It was horrible, looking back on it," Lindsay Carr-Orr said. "We put our friendship aside because of the drug."
Carr-Orr, 20, said she first started using heroin at age 15 after her sister introduced her to the drug. Davis started smoking marijuana about the same age, then began popping prescription pain pills. By her senior year of high school she was using heroin.
When the friends couldn't get the drug through Carr-Orr's sister or peers at school, they traveled to St. Louis to find $5 heroin "beads" that might keep them high for several hours, Carr-Orr said.
Over the course of her daughter's three-year addiction, Davis' mother, Gail Daniel, estimates her daughter overdosed on heroin at least six times, periodically recovering for weeks or months. By last October, Davis was using again, but expressed to family and friends a desire to stop.
"She said she wanted to be strong for me," Carr-Orr said of Davis, who talked about getting sober, too. "She said, 'It's not always going to be this way.'"
The first time she quit cold turkey in a "violent and gut wrenching" withdrawal, Gail said, and later with hospital treatment.
But her mother and stepfather, Craig Daniel, aren't convinced that doctors truly aided her at all. They prescribed drugs such as Trazodone that made their daughter feel lethargic and depressed, or rehab programs, which they say often connected her with other addicts who helped her relapse.
"It's a moneymaker for everybody," Daniel said of the revenue they believe dealers, hospitals and prosecutors earn because of addicts. Treatment and legal fees could cost thousands of dollars, some say.
For weeks, Davis' family believed heroin caused her death. But a toxicology report revealed Davis died of fentanyl. That synthetic painkiller is considered 30-50 times more powerful than heroin and 100 times more powerful than morphine, according to the Drug Enforcement Agency. It is impossible to distinguish it from heroin by the naked eye, experts say.
Relatives said Davis' addiction seemed to worsen when she moved from St. James to St. Charles County after high school.
"I knew she was using heroin, but not to the degree she was using it," Gail Daniel said. "It was Thanksgiving Day of that year. We went to her father's family for Thanksgiving. When she walked in, I knew she was wasted and my heart dropped."
That holiday, Gail said, her daughter showed her the scars and sores on her arms.
"She said, 'Mommy, I'm a heroin addict. I don't know how it happened,'" Gail said.
Each photo on a dresser or hanging on the wall of Davis' room, each stuffed animal and article of clothing holds a story about her as a child, about her infectious laugh, or a vacation spent with family and friends.
"We had a very open and raw relationship. (The drug is) not what defined my daughter. It was the monster that was heroin," she added later.
In light of Davis' death, her mother and stepfather are gathering a panel of experts, including officials from the Phelps County Sheriff's Department, ambulance district, local funeral home and a Christian rehab center called Teen Challenge to bring drug awareness to college and high school students in the area at events beginning in May.
"Veronica, you have helped me perfect a love inside me — the Agape," Gail wrote in a birthday card addressed to her child on her 18th birthday. "Thank you for being my lovely daughter."