Tornadoes in the St. Louis area left a wide swath of destruction that stretched from St. Charles County to the Metro East, causing at least seven deaths and several injuries.
Six of the fatalities happened at a partially collapsed Amazon warehouse on Gateway Commerce Center in Edwardsville, which was damaged Friday night as violent weather rolled through the region.
An 84-year-old woman also died in St. Charles County when her Defiance home was blown off its foundation. 
In Pemiscot County in the Missouri Bootheel, a young child was killed at home and at least nine people were transported to hospitals, The Associated Press reported.
Among those who died at the Amazon warehouse was Clayton Lynn Cope, a 29-year-old maintenance worker. His mother, Carla Cope told the Post-Dispatch that she was on the phone with Clayton right before the building was hit and urged him to get to shelter. As soon as she realized the storm had hit the warehouse and there was a debris field, she left their Brighton home for Edwardsville at about 9:30 p.m. and waited for news. She learned her son had died at about 4:30 a.m. Saturday, about eight hours after a tornado hit the building.
Carla Cope said her son loved his job, fishing and his dog — a coonhound named Draco.
The identities of other victims were not immediately available. 
Edwardsville Fire Chief James Whiteford, at a press conference Saturday evening, said 45 people made it out of the Amazon building safely. One worker was critically wounded and had to be airlifted to a hospital for treatment, Whiteford said. 
Officials had set up a reunification area in nearby Pontoon Beach for families who had not yet made contact with loved ones. Residents who need to contact first responders to help locating loved ones were asked to call 618-656-2131.
The deaths and injuries came after a wall about the length of a football field collapsed as well as the roof above it. Amazon began operations in Edwardsville in 2016; the delivery station hit by the storm — one of three Amazon facilities in Edwardsville — opened in 2020. Whiteford said the building's walls were approximately 11 inches thick and 40 feet high. 
Employees killed in the collapse were located in two separate areas of the rubble, he said.
By Saturday evening, first responders had shifted from an emergency response to a recovery effort. While they would continue to go through the rubble during daylight hours over the next three days, Whiteford said he doesn't know whether any other victims will be found inside. 
"The warehouse doesn't have a specific count of how many employees were in the building at the time that the storm hit, so we're unable to determine how many may be missing still," he said.
"We don't expect anyone to be surviving at this point," he said.
Officials said they could not speak to Amazon's policy regarding emergency preparedness and did not have specifics about whether employees were moved to any other location in response to the tornado warning.
Whiteford said part of the reason they did not have specific count of employees in the building was because there was a shift change in process at the time the tornado hit, and because the warehouse employed several part-time workers.
"They have vans that come in and they drop off the vans and then people get in their cars and leave," he said. "As the shift change was going on, the number of people was varying."
A representative of the company was not present at the press conference, and it was unclear what steps the company had taken in response to the tornado warnings and in the aftermath.
Earlier Saturday, however, company CEO Andy Jassy said on Twitter the company was "heartbroken over the loss of our team members." 
There were no other reports of fatalities in Illinois as a result of the overnight storms, Illinois Gov. J. B. Pritzker said.
Pritzker, who joined Edwardsville and Madison County officials at the Saturday press conference, lauded the first response and recovery efforts. He also extended his sympathies to people who lost loved ones.
"I really am tremendously grateful to our state and local teams who are on the ground here through the night, working to save lives," he said.
"Everyone assumes that they'll be safe at work. Families say goodbye in a routine fashion when their loved ones go off to their jobs. We don't think that they'll never come home. It's devastating. And I cannot imagine the pain that you are feeling at this moment."
"This is a tragic day in Illinois history," Pritzker said.
Edwardsville Mayor Art Risavy asked residents to pray for the victims and their families, in Edwardsville and across other parts of the Midwest affected by the tornadoes.
"We're all suffering a great loss tonight," Risavy said.
"The most important thing you can do is pray for the victims and their families."
Madison County will ask for a disaster declaration from state and federal officials, Whiteford said.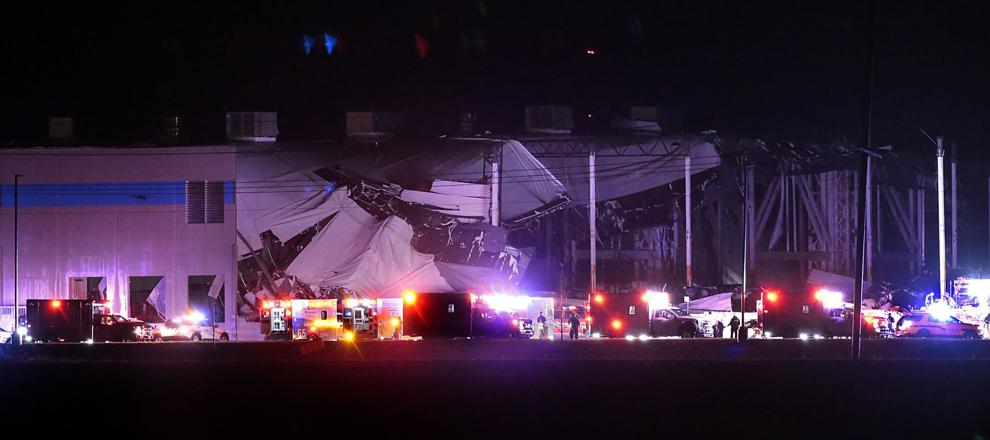 An EF3 tornado wiped out much of an Amazon distribution facility, killing 6, as a wave of violent weather rolled through the St. Louis metropo…
On Saturday morning, cranes were seen pulling sections of ceiling and wall away from the collapsed portion of the warehouse. Tow trucks removed dozens of damaged vehicles. Some cars had been crushed.  
An employee who works at a second Amazon facility, across the highway, said the section of the building that collapsed appeared to be a parking garage.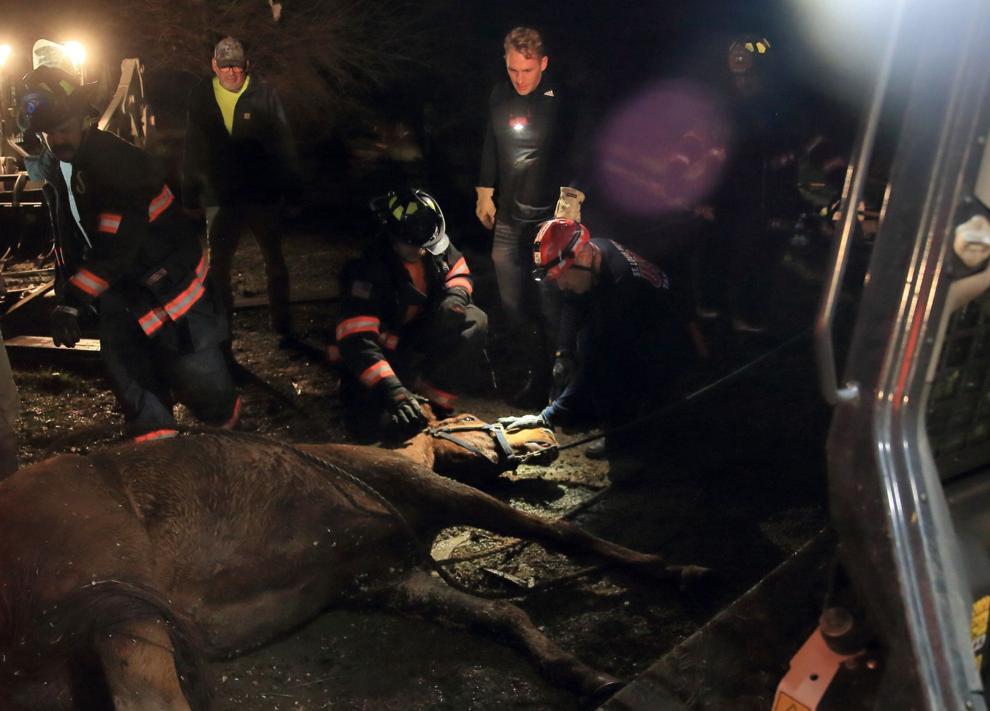 At least one person is dead after severe storms and tornadoes ravaged an area along Hwy. F in St. Charles County near Defiance, Missouri, leve…
A death in St. Charles County
In St. Charles County, a tornado caused extensive damage in the New Melle and Defiance area, killing one person.
Mark Borgmann combed through what was left of his childhood home Saturday morning, salvaging what he could following a deadly tornado that killed his mother and injured his father overnight.
The tornado swept his parents' single-story home and a neighbor's house off their foundations, scattering debris at least a half-mile east along Highway F and Stubb Road. His parents' one-car garage was gone, their white car overturned. The barn behind the home had collapsed around an old, mustard-colored truck. Nearby, a red car had landed upside down near a riding lawn mower. An orange-and-white vehicle was nearby, smashed as though squeezed by a vice. Carpets and a mattress were in a pile surrounded by trees split to their roots and fallen over.
"It's a mess," Borgmann said.
His parents, Ollie and Vernon Borgmann, both 84, were at home when the tornado hit. Vernon was on the phone with his other son, Keith, when the line went dead. The next thing Vernon remembers is waking up in a field surrounded by debris, Mark Borgmann said. Ollie was awake when she was transported to the hospital, where she later died. Vernon has scratches and bruises but is otherwise OK, Mark said.
He described his mother as sweet and a "typical grandmother."
The tornado left a trail of debris for at least three miles along Highway F, mostly east of Stubb Road.
Dozens of trees had been uprooted, others snapped in half. Metal blown into a tree wrapped itself around branches. A vehicle lay in an empty field, smashed beyond recognition.
Near Jackola Ranch, a house on the hill had almost completely caved in, a nearby barn was torn up.
A few other homes had missing shingles and broken windows.
The tornado ripped off parts of a roof of a home on Red Barn Lane, with debris strewn across the lawn.
St. Charles County Councilman Joe Brazil said he was up till 2 a.m. Saturday, clearing debris off the road with skid loaders and helping rescuing five horses that were trapped. One horse later died.
"It was horrible," Brazil said.
Brazil said there was a lot of traffic out last night due to the Christmas Candlelight Walk. Folks there took shelter and were not injured. There was no damage at the Boone Home, where the event took place.
Most of the damage in St. Charles County was centered along Highway F, with up to 10 homes destroyed and at least 25 others damaged, officials said. 
St. Charles County police Captain Chris Hunt, who also serves as the county's regional management director, said the tornado warning sounded around 7:35 p.m. They mobilized resources as soon as debris was detected on radar.
"I'm extremely surprised we didn't have more injuries or catastrophic damage," Hunt said.
Fallen power lines had initially limited efforts by first responders to help residents. Crews from Ameren and Cuivre River Electric Cooperative were still repairing utility polls as of Saturday afternoon.
Officials with St. Charles County Code Enforcement arrived on scene around 7:45 a.m. and evaluated homes for safety, said County Executive Steve Ehlmann.
The county has sought assistance from AmeriCorps, Salvation Army, Red Cross and other volunteer organizations. More information about how to help will be posted to the county's Facebook page. Otherwise, officials said, people should stay away from the area. Highway F was closed to local traffic.
"This is a time in our history where a lot of people disagree about a lot of different issues and unfortunately sometimes it takes a tragedy to bring everybody together," Ehlmann said.
Damage in St. Louis County
The St. Louis County Office of Emergency Management said it did not receive any reports of injuries or severe structural damage as of noon Saturday.
There were some reports of fallen debris and damaged trees in parts of northwest St. Louis County, from Chesterfield to Maryland Heights, said Marshall Pfahler, a meteorologist with the National Weather Service.
The damage was likely from the tornado that hit Defiance, Pfahler said. Teams surveying damage in Defiance on Saturday morning were expected to cross into St. Louis County to verify whether the tornado crossed the Missouri River into Chesterfield.
The Weather Service had confirmed the tornado had reached speeds between 136 miles per hour and 165 miles per hour, Pfahler said. That put it at the EF3 category — the third-strongest rating on the Fujita Scale. The agency considers EF2 tornadoes, which reach speeds of at least 111 miles per hour, to be "strong."
The last tornado of similar strength that hit the St. Louis region was the infamous "Good Friday" tornado of 2011, which was rated EF4, the second-strongest rating on the scale.
But Pfahler warned that the weather service may revise the rating of the tornado that hit Defiance as it assesses damage in parts of St. Louis County to figure out the tornado's path, width and strength. 
The damage at the Amazon facility was also rated EF3, Pfahler said, and the winds there could have reached 158 miles per hour.
NWS survey teams are still assessing the path the tornado took, but Pfahler said it continued through Madison, Bond, Montgomery and Fayette counties. He noted, though, Weather Service officials were still unsure if the cyclone's path was continuous.
An unseasonably warm and wet air mass from the Gulf of Mexico floated into the Mississippi River valley, Pfahler said, and brought with it strong pressure and a cold front. The lift that the system generated, in tandem with the moist air, produced numerous severe thunderstorms. Strong wind shear encouraged the storms to turn into tornadoes.
The two St. Louis-area tornadoes were part of a system of five in the bistate area monitored by the National Weather Service office in St. Louis, which stretches from Jefferson City and Farmington in Missouri to Quincy and Vandalia in Illinois.
There were three other tornadoes reported in Missouri: one near Middletown in Montgomery County and two near Fayette in Howard County.
Shortly before noon Saturday, Ameren reported there were about 894 homes in St. Louis County without power and about 179 homes without power in St. Charles County. Outages were more severe in the Missouri Bootheel: at least 4,700 homes in Pemiscot County were without power, Ameren said.
In Illinois, Ameren reported about 435 homes in Madison County were without power. More than 1,500 people were without power in and around Carbondale in southern Illinois.
Helping neighbors
Emergency crews with St. Louis County had offered assistance to first responders in Madison County and St. Charles County.
Volunteers with the American Red Cross were sent to Edwardsville and Defiance to assist in rescue operations, the agency said. Red Cross volunteers were also sent to Wright County and Stone County in southwest Missouri and to northeast Arkansas, where homes were damaged by the overnight storms.
The Salvation Army also sent volunteers to Edwardsville to provide water and snacks to first responders and utility workers aiding rescue efforts at the Amazon warehouse.
President Joe Biden spoke with both Pritzker and Missouri Gov. Mike Parson on Saturday to offer assistance from the Federal Emergency Management Agency.
"To lose a loved one in a storm like this is an unimaginable tragedy," Biden said. "We're working with governors to ensure they have what they need as the search for survivors and damage assessments continue." 
Parson on Saturday thanked Missourians for stepping up to help.
"I want our responders and all neighbors who acted selflessly to help their neighbors stay safe to know how much their efforts are appreciated by all Missourians," the governor said.
The St. Louis Blues announced that proceeds from the 50/50 raffle at their game against the Montreal Canadiens will go toward tornado relief efforts, through donations to the American Red Cross.  
Editor's note: This story was updated on Monday to clarify that the warehouse that was hit by the storm was a delivery station, one of three Amazon facilities in Edwardsville. It opened in 2020. 
Buildings were flattened in areas west and east of St. Louis -- from St. Charles County, Missouri to Edwardsville, Illinois -- damaging houses…
We are receiving additional reports of power lines down in Madison County. At the moment, I-270 in both directions, IL 111 in both directions and IL 143 in all directions are closed. Please avoid the area and allow first responders room and access. #ILTraffic

— IDOT District 8 (@IDOTDistrict8) December 11, 2021
My prayers are with the people of Edwardsville tonight, and I've reached out to the mayor to provide any needed state resources.

Our @ILStatePolice and @ReadyIllinois are both coordinating closely with local officials and I will continue to monitor the situation.

— Governor JB Pritzker (@GovPritzker) December 11, 2021