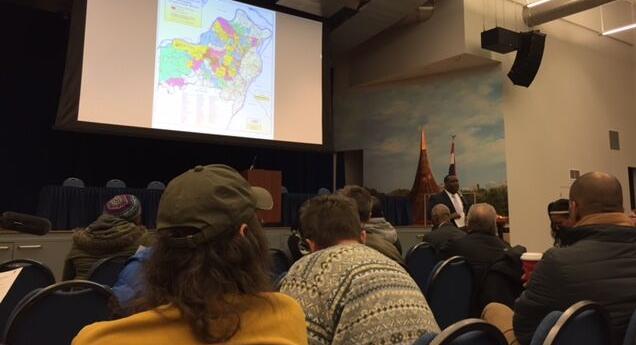 The St. Louis region is policed by 60 separate departments. Is it working? What does the ideal police department look like? What can be changed?
The first of four town hall discussions was held Wednesday night in St. Louis to explore answers to these questions. The meetings are part of a study by Better Together and the Police Executive Research Forum, or PERF.
Better Together is a grassroots group addressing the fragmented nature of local government in the region. There are 115 local governments serving 1.3 million people, Marius Johnson, with Better Together, pointed out at the meeting. Better Together contacted PERF in June to help with a study about the "ideal" policing solution for the region.
About 70 people broke into three groups at the meeting, held at the Sheet Metal Workers' Hall at 2319 Chouteau Avenue. Some believed police departments should consolidate services, that police need more diversity and better training, and that police and members of the community need to respect one another. Disagreements among group discussions were respectful.
Shrewsbury Mayor Felicity Buckley, speaking in one group, said that to say the region is fractured drags it down, and that she and leaders in other cities work well together. "I look at our region as a mosaic of municipalities with their own traditions and things that make them different," she said.
John Chasnoff, a community activist working on issues of police accountability, says he sees value in smaller, local police departments but sees issues if they rely too heavily on ticket revenue. "We need to come up with a system that shares resources more readily," he said.
Angela Newsom, a community activist in the city's West End neighborhood, said people who may have once turned their back to crime are fed up and speaking out. "Some of the sleeping giants have been woken," she said. "That's what's good about this."
The second town hall meeting takes place Thursday from 6 to 8 p.m. at The Lodge Des Peres, 1050 Des Peres Road in Des Peres. The third meeting will be Wednesday from 6 to 8 p.m. at Greater St. Mark Family Church at 9950 Glen Owen Drive in north St. Louis County. A location will be announced for the fourth meeting, scheduled for Thursday, Jan. 15 from 6 to 8 p.m. Those who register for the last meeting will receive an email as soon as the location is confirmed. To register, visit bettertogetherstl.com/policetownhall.