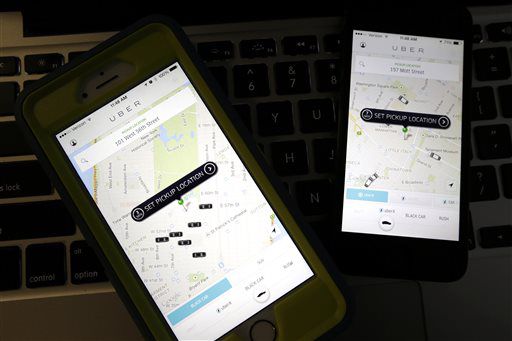 UberX will give free rides in St. Louis and St. Louis County over the long Fourth of July weekend, a move that was welcomed by Mayor Francis Slay and Chris Sommers, of the St. Louis Metropolitan Taxicab Commission.
The taxi commission is mulling changes to its code to allow ride-hailing services such as UberX to operate here, but has not approved it as a vehicle-for-hire service. But giving free rides does not fall into that category.
Many on the taxi commission want UberX drivers to be drug-tested as well as undergo a Missouri Highway Patrol background check, which involves FBI fingerprint checks — both are requirements for licensed cabdrivers in the St. Louis area. Uber has called the requirements burdensome and says the background checks it conducts are thorough.
UberX made the offer to give free rides from Thursday through Sunday in a letter to the taxi commission. The company also will donate $1 from each trip to Mothers Against Drunk Driving, and said its drivers — thousands have applied to drive in St. Louis and St. Louis County — have gone through the company's background checks.
"We believe these services will help save lives, reduce drunk driving and make everyone's holiday a safe and enjoyable one," says the letter dated Monday and signed by Sagar Shah, St. Louis general manager for Uber.
On Tuesday, Slay took to Twitter to call the offer a "positive gesture that we welcome."
He also indicated that UberX will get the green light to operate here soon, although it's unclear under what terms.
"This seems like a good way to preview any problems that might arise later when it operates vehicles for hire next month," Slay said via Twitter.
The taxi commission meets next on July 29 and a vote to allow ride-hailing services to operate here is likely.
Sommers, who has advocated for getting Uber in St. Louis, also welcomed Uber's offer of free rides.
".@Uber is proposing FREE rides in #STL over 4th of July weekend. FREE? Fewer drunks on the road? What's wrong with that? Nothing, IMO," he tweeted Monday evening.
St. Louis is the largest city in the country to not allow UberX, an app-based ride-hailing service in which drivers use their own cars to ferry passengers. It is allowed in Illinois, and most of St. Charles County has signaled support.