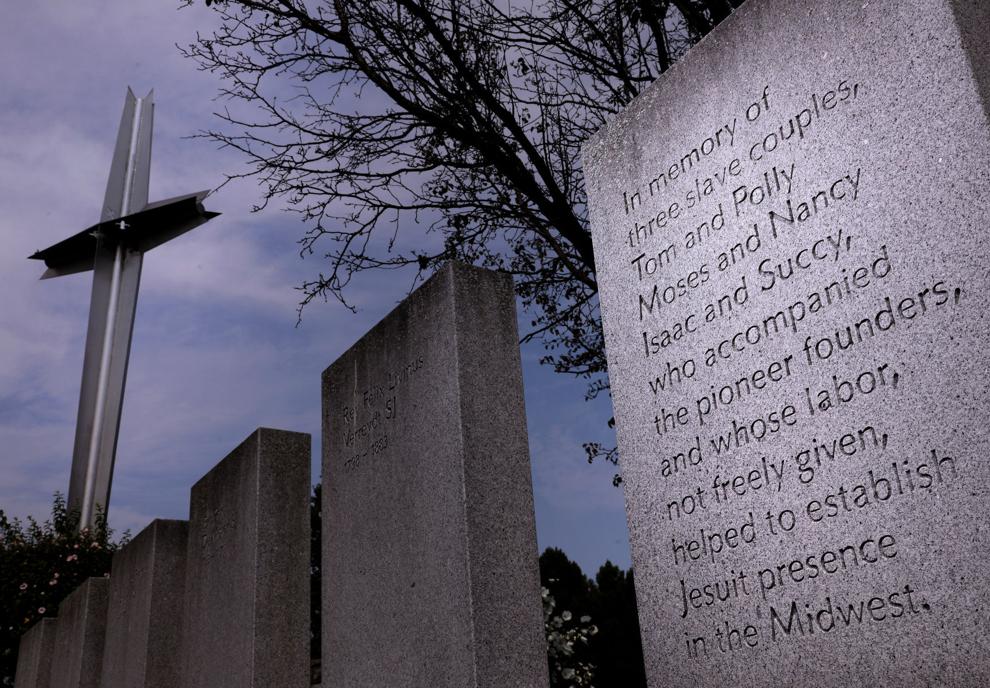 ST. LOUIS — The Society of Jesus, a Roman Catholic order of priests and brothers, has shaped part of the region's identity for two centuries. They guide St. Louis University, which, along with its law and medical schools, were the first west of the Mississippi.
Now the Jesuits, as they are commonly known, are again in uncharted territory. Only this time it's a mission to confront their history of holding people in bondage to build up and run an institution that's supposed to serve God.
Four years into an ongoing research effort, officially called the "Slavery, History, Memory and Reconciliation Project," about 70 people have been identified so far, who, between 1823 and 1865, were mainly forced to work at the university, its church and St. Stanislaus Seminary, which initially operated as a farm in the Florissant area when Missouri was still a jump-off point to the wild frontier.
The Jesuits have started to reach out to the descendants of those slaves — to share the research, to connect in a "meaningful way," according to one detailed letter sent to a man in Pagedale.
"I write today with information about people we believe to be your ancestors ..."
Project representatives didn't say how many letters have been sent so far. Due to privacy concerns, they declined to provide the names of living descendants or contact them on behalf of the Post-Dispatch, including those on a working group established to help address the research findings.
Those descendants who the newspaper could find independently and interview offered a mix of strong reactions. Some said they are grateful to know — to finally have names and compelling details that break through a genealogical wall that so many African Americans hit when they reach back before the end of the Civil War. Others are angry that compensation isn't an explicit part of the Jesuits' project of reconciliation, given that St. Louis University has an endowment of about $1.2 billion and now it's clear their named ancestors were made to work there for nothing.
Observers, from both outside and within the Jesuit community, have questioned the point of such a research project. Slavery permeated society, they say. The Civil War was fought to end it. Let's move on.
Others, like Winnie Sullivan, who offers a presentation on the Black Catholic experience in St. Louis, sees similarities with the Truth and Reconciliation Commission hearings after the end of apartheid in South Africa.
"You have to acknowledge things or there will never be an opportunity for healing," said Sullivan, 69, an African American parishioner at St. Francis Xavier College Church on the university's campus.
Rep. Raychel Proudie, 37, the Democratic representative for Ferguson, was one descendant who received a letter from the Jesuits, she announced via Twitter late last year. "They now want a conversation," she wrote. "If the conversation doesn't include renaming buildings and reparations, I am not really sure what there is to discuss."
Proudie recently told the Post-Dispatch that her family was not ready to talk about their story.
Jonathan Smith, co-director of the project, said they are going to great lengths to ensure that descendants are part of any discussions that work toward any actions taken.
"We want to make sure the voices of the descendants are involved in terms of figuring out what the appropriate responses are," said Smith, also vice president for diversity and community engagement at St. Louis University.
Danielle Harrison, the other co-director, said it's going to take time to sort through the history and work with descendants in a way that has "lasting impact."
"We are not just going around changing names on buildings," she said. "What is more important is apologizing to the descendants, honoring their sacrifice and together discovering what we can do moving forward."
'Hundreds of references'
For years, the narrative was limited to the first names of six slaves Jesuit pioneers like Pierre-Jean De Smet brought with them in 1823 from White Marsh Plantation, Maryland, to establish a mission in Florissant. They were Tom, Polly, Moses, Nancy, Isaac and Succy.
"The Jesuits of the Middle United States," a 2,025-page history of the religious order written in 1938, designates just 10 pages of the three-volume set to being slaveholders, but there are other mentions. Like when the Rev. Charles Felix Van Quickenborne, in charge of the group that founded the Florissant mission, writes in a letter: "Our negroes are very well satisfied."
"The story has only been told in bits and pieces and usually from the perspective of Jesuits, rather than trying to understand what enslaved peoples' lives were like," said Kelly Schmidt, 28, director of research for the current project.
Her team has been studying many of the same original documents housed at the Jesuit Archives and Research Center in the Central West End. There are only a few thin folders labeled "slaves" or "slavery," but they've found "hundreds of references to slavery" throughout the collection like "servant of St. Stanislaus" or "slave of St. Louis University."
To piece together family trees and stories, they've studied journals, letters and sacramental records, which were useful because the enslaved people were Catholic, as well as financial ledgers and bills of sale. One folded piece of paper in the stack records the Oct. 28, 1850, purchase of Mary Hoppins Queen by St. Louis University for $600, or about $20,000 in today's dollars.
Record books that kept track of summer and winter cloth distributions to the enslaved people were particularly helpful at confirming family histories because they mention children's names and ages, along with the specific yardages and prices of cloth. Courthouse records and archives from the Archdiocese of St. Louis are also referenced in their research.
By now, the research project knows the full names of the first six slaves and many more details about their lives and those who followed. Schmidt has written several papers about them, including that of Matilda Tyler, who bought her freedom for $300 in 1848 and, over time, that of her five children, records show.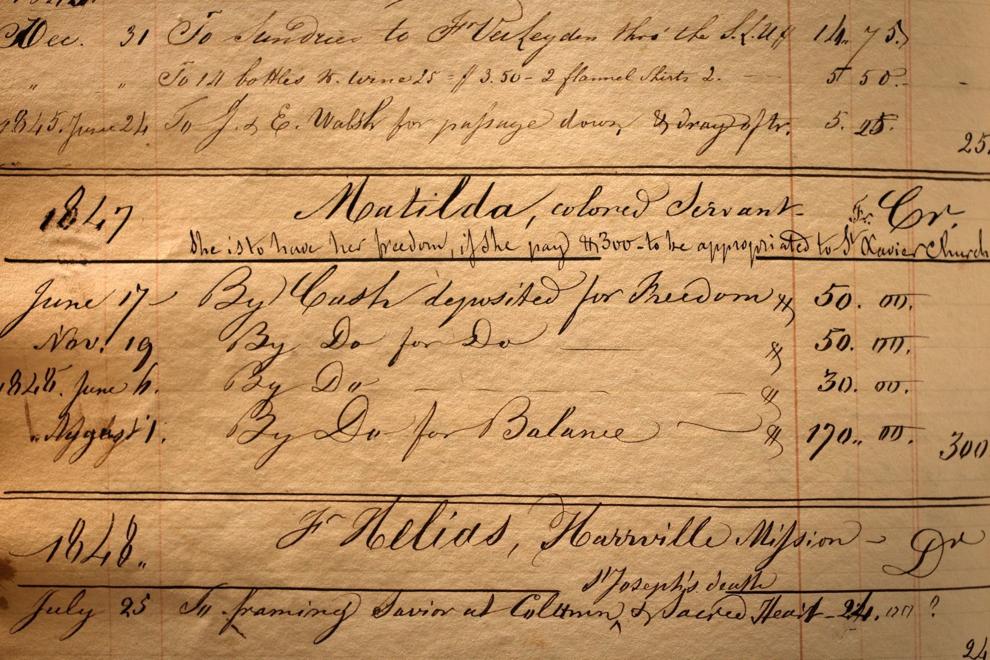 "Matilda's family were saving for their freedom and continued to make payments, long after they are free," Schmidt said.
While the Jesuits had rules to keep families together, research shows that sometimes they didn't.
A lengthy profile of a slave named Peter has been pieced together about how he was sold off to Kentucky, apparently for causing trouble, even though his young family was in Missouri. At his new location, he tried to escape, for which a reward was put out for his capture.
At times, enslaved people were also whipped and forced to live in poor conditions.
"In reality, Jesuits were just like any other slaveholder," Schmidt said.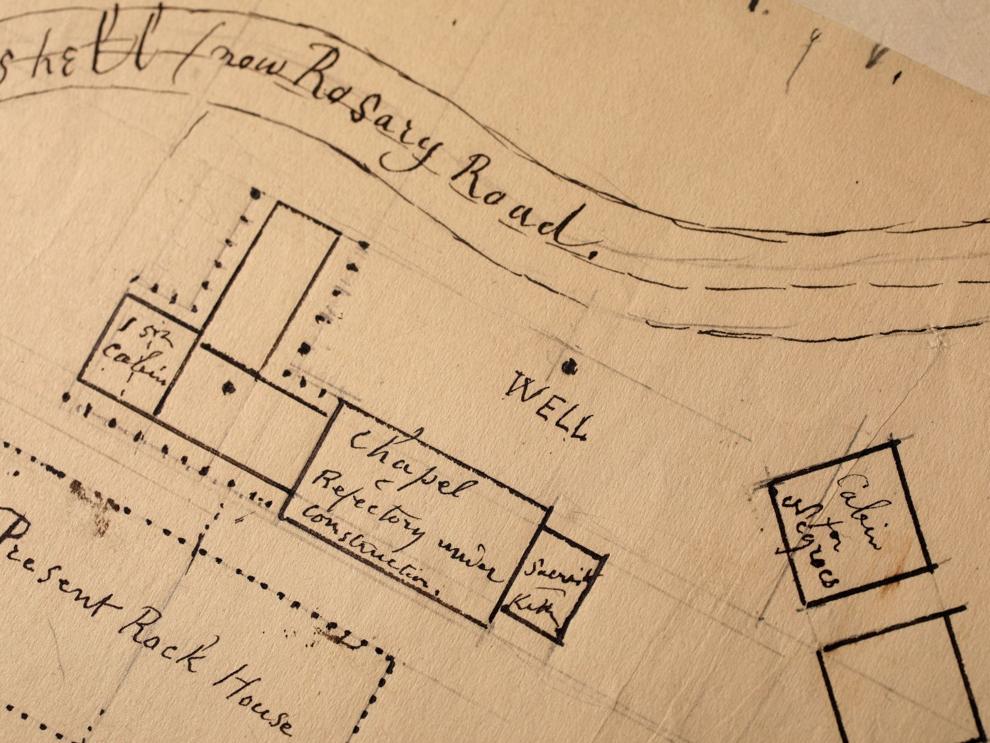 One map of St. Stanislaus shows a "cabin for negroes" where three families were supposed to live as well as do the cooking and laundry for the Jesuits there. The cabin, which would have been near the 700 block of Howdershell Road, is no longer standing. But "The Rock Building" is still there. A plaque by the door says the Jesuits built it in 1840.
"It rankles me a little because that's only a half-truth," said Schmidt, rattling off a list of enslaved people who worked on the building with seminarians and others.
Piety, not social justice
Even though the research project has been going on since 2016, it's news for many people to find out that the Jesuits had slaves. Last week, Wikipedia still described St. Stanislaus Seminary as a self-sustaining farm that "fed itself with an orchard, a chicken ranch, a cattle barn, wheat fields, vineyards, a butcher shop, a creamery, and a bakery."
"The whole concept of slavery would have been counter to their belief system," said Pat Jackson, long-time president of the board of the St. Stanislaus Historical Museum, adding that St. Louis University was ahead of its time on integration.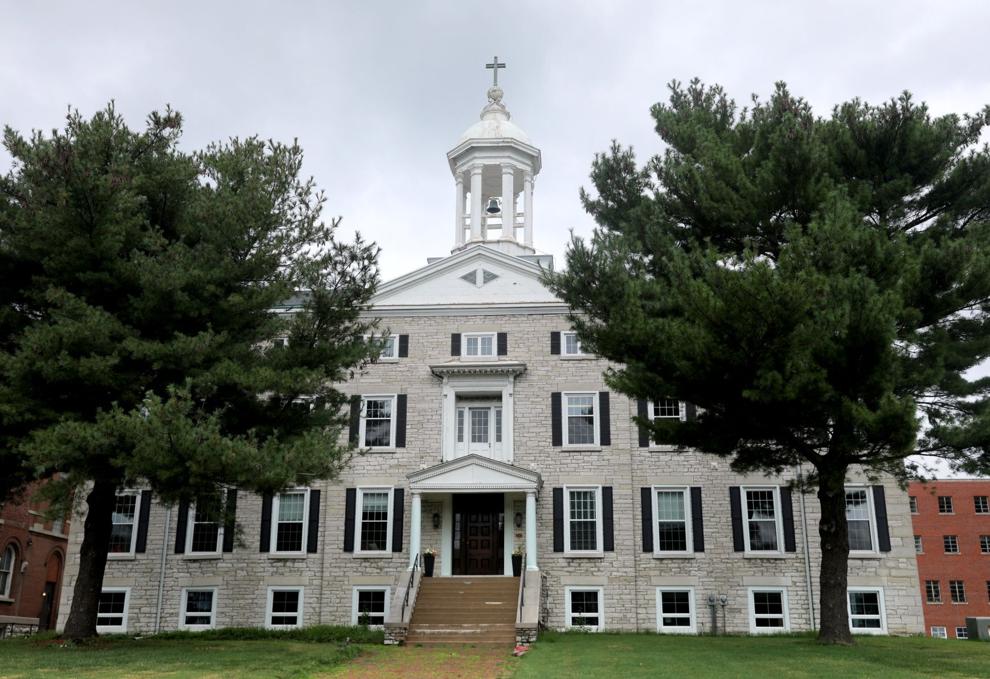 "From what I know it would have been an abhorrent concept to them," she said of the Jesuits, who are no longer affiliated with the museum. "They prided themselves on being free-thinkers."
Even though the Catholic Church was officially against slavery, Jesuits "were among the largest" slaveholders in the U.S., according to "The American Jesuits," a 2007 book by Raymond Schroth, a Jesuit priest and journalist.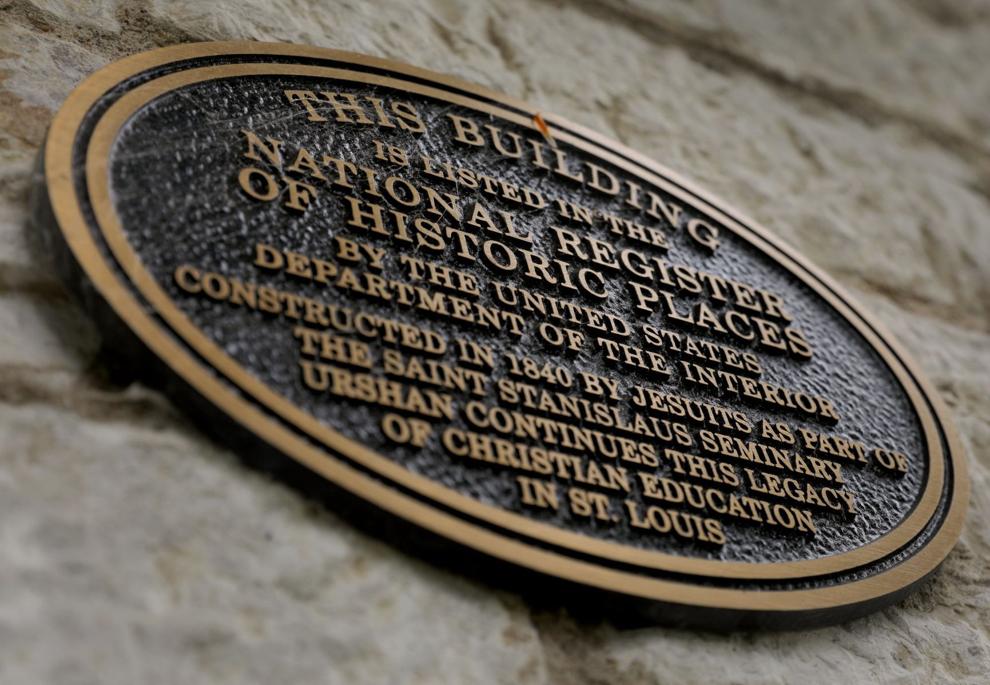 He wrote that American bishops "treated the papal decree as if it has nothing to do with them. It condemned the slave trade, they said, but not 'domestic slavery.'"
While social justice is a common Jesuit theme today, it wasn't always that way.
"Most important, the idea that religion is a force for social reform was mostly a Protestant phenomenon," Schroth wrote, adding: "Mid-19th century Catholic piety, including Jesuit piety preached by conservative immigrant priests, displayed itself in the weeklong parish missions aimed at getting congregations into the confessional, saying the rosary, revering relics, telling tales of miraculous cures, and promoting devotion to the Sacred Heart and the saints."
'Considerable work to do'
Beyond the Jesuits and other religious orders in town, like the Sisters of the Sacred Heart, Sisters of Loretto, and the Vincentians, slavery permeated society. Slavery was legal in Missouri until 1865, which has drawn some scorn about the research project, including from within the Jesuit community.
Harrison, the co-director, said there are often people with different opinions in any effort.
"Institutionally," she said, "the Jesuits are fully behind this work."
St. Louis University President Fred Pestello, in a commentary published last year in the St. Louis American, said the research is an "important contribution" to addressing the root cause of the "pain and frustration" manifested in numerous protests following the police shooting of Michael Brown in 2014.
"The Ferguson Commission report," Pestello wrote, referring to the 198-page call to action produced a year after the unrest, "documented what those who live it well know: we still have considerable work to do in combating the inequities that linger from the system of oppression that was institutionalized through slavery."
Within the Catholic and Jesuit press, there have been numerous reports and panels held about the goals and progress of the research project. Even still, the findings aren't common knowledge on campus at St. Louis University.
On a recent day, Raymond Jackson, 20, a biological sciences student, spoke with a reporter near Verhaegen and DuBourg halls, both named after early leaders of the school who were slaveholders. Jackson didn't know that slaves had helped build and support the university he attends.
"They should bring a light to it and make change," said Jackson, who is African American and from south St. Louis. "I'd like to see them do more."
Georgetown University, another Jesuit institution, is further ahead at addressing this. There have been student protests in recent years over the 1838 sale of 272 slaves made to finance the school and invest in the formation of more priests there. According to coverage in The New York Times, names of buildings have been changed and students voted to create a fund to help descendants. News reports say descendants asked for a $1 billion foundation to finance quality of life issues and other needs; Georgetown in October 2019 announced it would raise about $400,000 a year to benefit the descendants.
Ongoing research there indicates there could be anywhere between 8,000 and 10,000 descendants from the 272 slaves who were sold and shipped to Louisiana plantations. Researchers in St. Louis estimate there could be a similar number of descendants here, considering the 70 enslaved people forced to work for the Jesuits in Missouri, as well as an additional 130 recently identified who worked for the religious order in Alabama, southern Illinois, Kentucky and Louisiana.
Adding to the complexity, Schmidt, the director of research, said the laity, including students at St. Louis University, also often relied on family slaves to run errands and do other work.
"In addition to the enslaved people owned, rented, and borrowed by the University who cooked, cleaned, did laundry, bought goods, acted as couriers, did carpentry and made repairs, tilled the college farm, and did other labor, lay faculty members and students on campus also exploited the labor of their own enslaved people," Schmidt wrote in an email.
She cited a Sept. 10, 1844, letter from Victor Ralph Carr to his mother when he was a student.
"When Frank comes up with the clean clothes please send me some apples by him," he wrote about a family slave, adding in another note: "Tell mother when Frank next comes with or for my clothes, to tell him to get a peice [sic] of soap which is in the office, & to send me up a fine tooth comb."
'I can speak her name'
Rashonda Roundtree, 41, hasn't received a letter from the Jesuits, but just last week she was able to confirm she is a descendant of their long-ago slaves.
"Souls can't rest," she said of finding out. "If we could just pay attention, we could understand a lot of things."
News spread fast through her family, bringing up one obvious detail. So you paid to go to St. Louis University, a relative asked her, when our ancestors worked there for free?
While the distant past is about to become clearer as she sits down to have a formal appointment with the researchers, she already knows racism's deep toll. Her late grandfather, John O. Tilghman, who helped raise her, dealt with it when he served his country during World War II as part of the Montford Point Marines, the first Black Marines since the American Revolution.
"There was segregation and discrimination during and after the war," Tilghman told the Post-Dispatch in 2002. "We had problems in California on our bases. We had problems in Pearl Harbor. The white soldiers told the Hawaiians that we were monkeys and had tails out our behinds. I was on the islands during the war, and an island boy asked me where was my tail."
Through much of her childhood, Roundtree lived with Tilghman and her mother, Rochelle Denise Tilghman, in St. Peters. Every Sunday, they commuted to north St. Louis to attend Mass at Visitation Catholic Church, which later closed. The long commute ramped up when she went to Rosati-Kain, the Catholic high school near the Cathedral Basilica.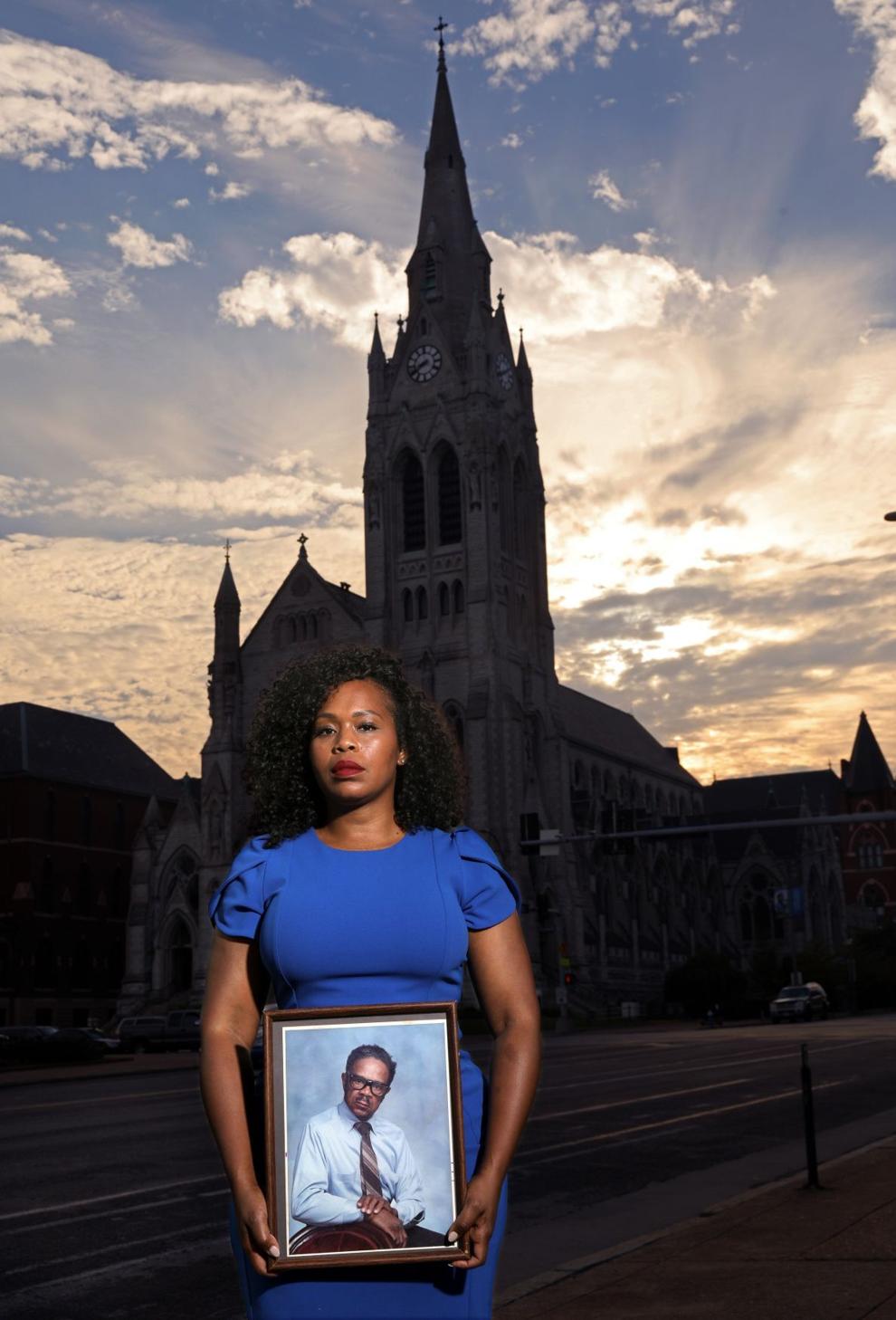 When it was time for graduation, she had a choice to make. Go to Xavier University in New Orleans, named after a co-founder of the Jesuits, on a full academic scholarship or St. Louis University, on a partial scholarship. She picked St. Louis because it was close to her family.
Roundtree is married now, and has two children. They live in the city. They are active members of St. Nicholas Catholic Church, where she serves as a lector and is active in the choir. Since her mother, Rochelle, died in 2016, around the time the Slavery, History, Memory and Reconciliation Project began, she's been trying to connect a lot of dots in her family history.
She said DNA testing traced her ancestry to the Tikar people of modern-day Cameroon. The results also signal she has Portuguese or Spanish heritage. And just last week, the Jesuits ultimately confirmed that she was a descendant of Jack and Sally Queen, who were forced to Missouri from Maryland in 1829. They were allowed to bring their children, who are mentioned in the seasonal cloth records.
"I am not shocked because I know the role the church has played throughout the world in this capacity. It's one of the evils, right, of the developments of the modern world," Roundtree said, adding: "America will have to atone for it one way or another. How that looks, I don't know."
As the Jesuits read to her the names of her descendants, she said she cried a lot. It was too soon to fully comprehend, but the information broke new ground in her family history. Details about Jack and Sally's daughter Louise Mary Queen — her great-great-great-grandmother — seemed particularly poignant.
"I don't have her picture on the altar, but I can speak her name," Roundtree said. "And I can honor her and thank her for surviving that level of brutality, so we could be here. Because from her, I am."