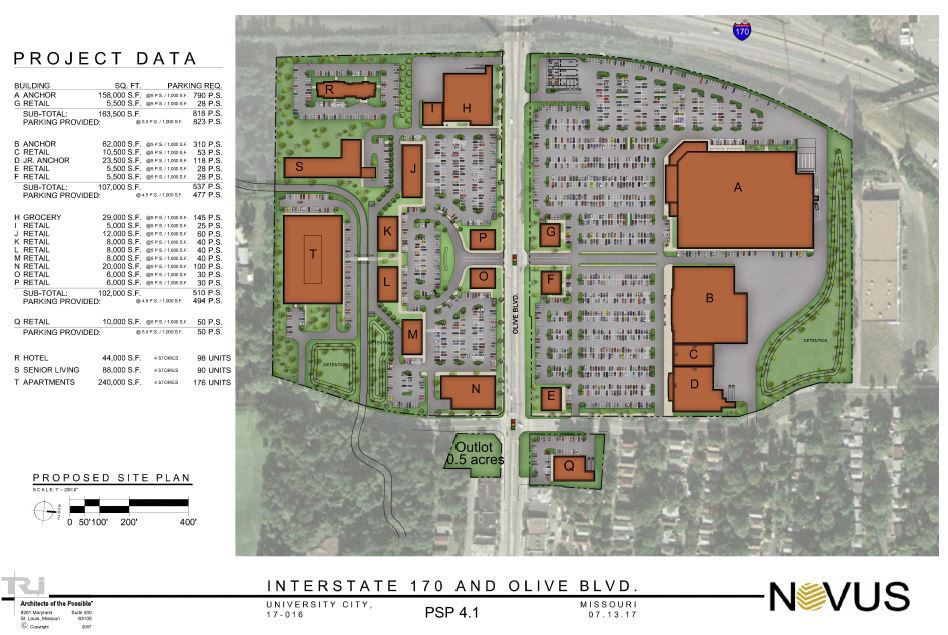 UNIVERSITY CITY — Mayor Terry Crow and the University City Council gave final approval Tuesday to an amendment of a redevelopment agreement with developer Novus Development for a proposed $190 million Costco-anchored project at Olive Boulevard and Interstate 170.
City officials said the developer had requested revisions to the agreement to enhance Novus' ability to obtain financing for the project.
City Manager Gregory Rose said Novus has told the city it intends to undertake the entire project, but that financing will be phased.
The project targets 50 acres on the north and south sides of Olive Boulevard near Interstate 170. It would reshape the northwestern entrance of University City as a big-box retail development with nearby apartments and a hotel. 
Tax-increment financing of up to $70 million to help finance the project was approved in 2018, and the current redevelopment agreement was approved last year. TIF financing freezes property taxes within an area and allows developers to use future sales and property taxes generated by their projects as part of their financing.
Novus has been working to secure purchase contracts with dozens of homeowners and commercial property owners. 
Some residents are concerned about deadline extensions included in the amendments.
Resident David Harris said in written comments to the city that "homeowners and business owners will face uncertainty for two and a half more years, until at least Dec. 31, 2022." 
Rose has said the amendments to the redevelopment agreement will not affect the overall scope of the project, but do change when the developer would have access to TIF money and extend the time lines for the developer to perform.
Key changes in the amendment include:
• Novus will have access to the first $55.5 million in TIF notes after obtaining 16 acres for the north phase anchor and  selling or leasing that site to an end-user of at least 140,000 square feet. 
• Novus has until Jan. 5, 2021 to acquire options or title to that 16 acres or to initiate condemnation, and has until Dec. 31, 2021, to acquire options or title to the rest of the north phase and the south phase of the project.
• Novus will have the right to TIF notes in excess of $55.5 million upon acquiring at least 10 acres in the south phase; closing on the financing for the construction of at least 30,000 square feet of residential/commercial space; and closing on the financing for the construction of a senior living facility or other commercial construction or a lease agreement or sales contract for construction of a hotel of at least 60 rooms.
The council will hold a public hearing on the final site plan.
Daily updates on the latest news in the St. Louis business community.