ST. LOUIS — A construction dumpster parked behind the four-unit apartment building on Newberry Terrace was filled to the brim Friday with remnants of the structure's collapsed floor.
Surrounding it, a construction crew of about 10 people was busy hauling out more debris that, a week ago, all but blocked the hallways of the 1906 brick structure in the city's Lewis Place neighborhood. Workers had already cut down overgrown trees, tuckpointed and boarded over weak floors. Most importantly, they installed a new roof on the building so rain couldn't cause any more damage.
When the crew from Nelux Development finishes in a few weeks, the hope is that someone will be in a better position to finish the rehab and buy the building from the St. Louis Land Reutilization Authority, the land bank that owns thousands of abandoned properties throughout the city. The big fixes, worth close to $50,000, will have already been completed.
There are about 10 such stabilization projects underway now, and a couple dozen more buildings in the construction bid pipeline under Prop NS, a city program that is finally humming to life four years after voters approved it. City officials hope rehabbers pick up where they left off, attracted by the investment already made to stabilize the structures.
"They're not your typical LRA buildings," said Sean Thomas, who leads the city's Prop NS program that oversees the work.
Prop NS — the "NS" stands for neighborhood stabilization — was intended to stabilize some of the crumbling structures owned by the LRA in the hopes of preserving some of the city's historic housing stock while putting a dent in a property inventory that has swelled after more than a half century of city population loss. And even if a buyer doesn't come forward right away, at least the building won't continue to rot. Most LRA buildings sit in the land bank for years — the Newberry Terrace building has been an LRA property for nearly a decade — and many are eventually demolished.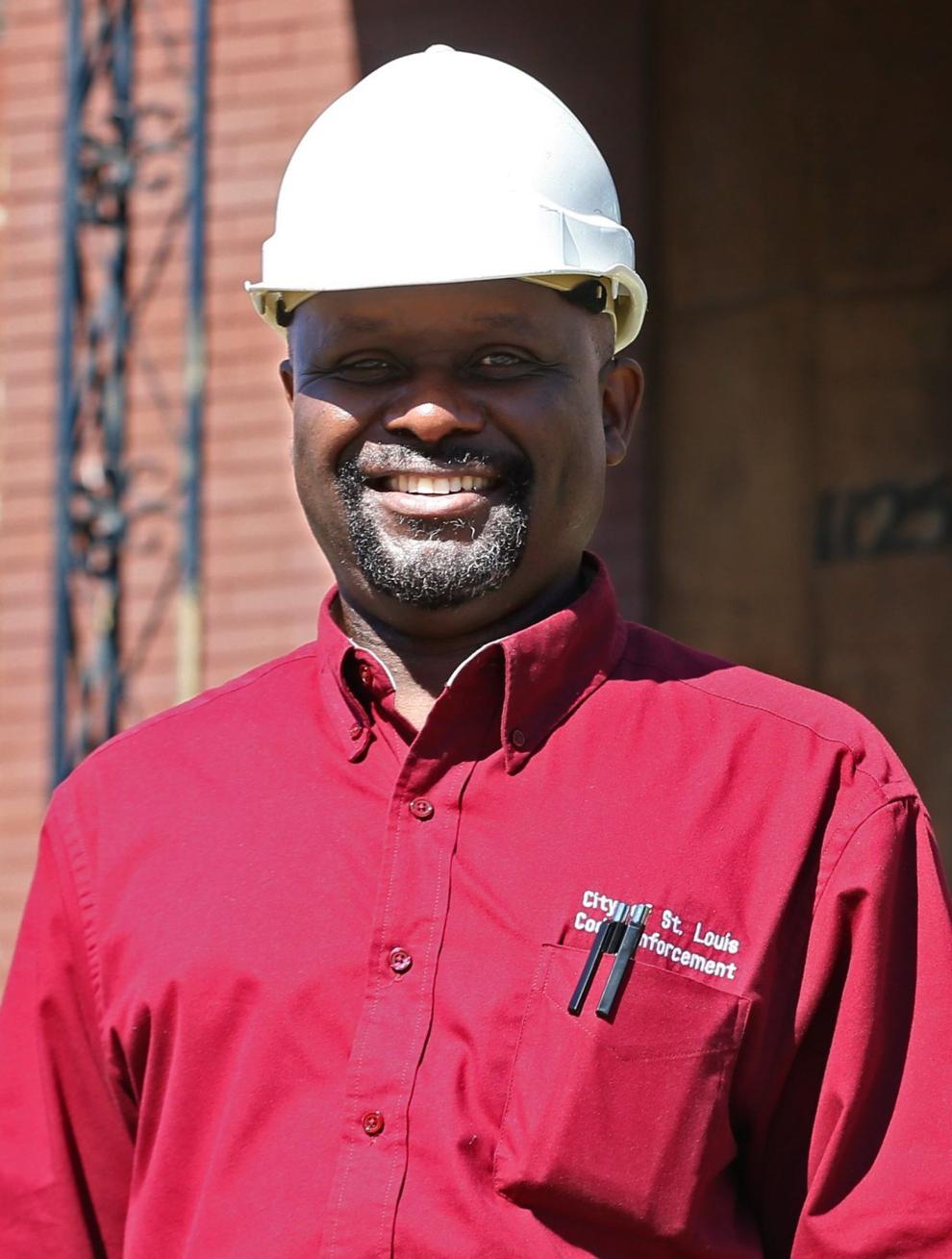 "If this program wasn't in effect, this building would be gone," Banjo Popoola, a city building inspector who works on the Prop NS program, said Friday as he watched the crew busy stabilizing the Newberry Place building.
Properties began moving through the program in December. Residents and neighborhood groups can nominate LRA buildings for the program. A new, seven-member "stabilization advisory committee" made up of three mayoral appointees and four appointees from aldermen representing the four wards with the most vacant properties, reviews the nominations to determine if the structures are salvageable before putting the stabilization work out to bid.
Thomas has had to build up a pool of small contractors interested in bidding for jobs in the program, which caps spending on single-family homes at $30,000 and multifamily properties at $50,000.
Now, with the process in place, and contractors familiar with the program, Prop NS staff is ready to begin ramping it up and is looking for the community to nominate more buildings for the program.
The ballot proposition voters approved authorized up to $6 million a year in bonds to be issued for the work, up to a max of $40 million for the program. The city issued its first round of funding in August, and Thomas said just under $900,000 in work has been contracted out so far.
Only buildings with up to six units are eligible, but that still leaves roughly 1,800 eligible LRA structures. "I don't think we're going to run out of them any time soon," Thomas said.
"It's still a reality that a lot of the vacant residential buildings are privately owned," Thomas said.
Neighborhood associations also can nominate buildings for stabilization, Thomas said. That helps city staff logistically but also maximizes the program's impact by concentrating resources to build momentum.
In the West End neighborhood, community group Cornerstone Corporation and the West End Neighbors recently submitted all 15 LRA structures in the neighborhood for the program. Tonnie Smith, a Cornerstone board member, said they've been waiting for the program to roll out for years.
"We had talked about it and knew it was coming and had our game plan together for when it officially rolled out," she said.
She said it's great to finally feel like they're making progress on buildings that have sat empty for years. One of them on Etzel Avenue, she said, with a robin egg blue exterior and stained glass windows, "used to be really beautiful." Smith said finding rehabbers and prospective homebuyers to finish the job will be the neighborhood's next task.
"We don't want the properties just stabilized, we want them to come back with a full rehab," she said.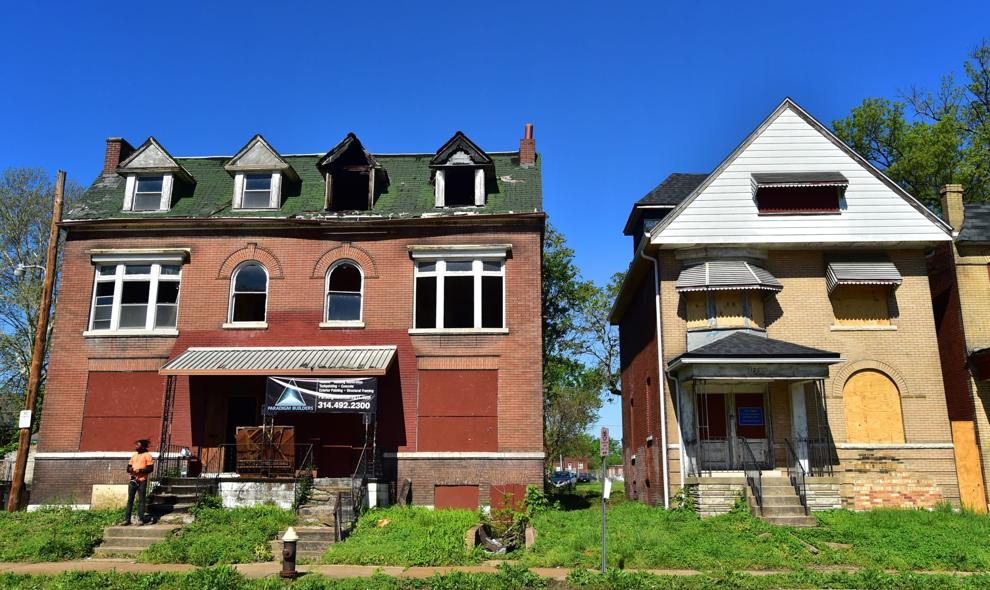 Back at Newberry Terrace, two structures less than a block away on Walton Avenue are also in the Prop NS program. Crews recently finished one, which now has a blue "for sale" sign on the door. Construction just started on its LRA-owned neighbor. The multifamily structure on the other side is also vacant, but privately owned. Maybe the Prop NS work will spur that owner to invest.
"We're praying that when they see this is done, they'll come do something," Popoola, the building inspector, said.
Soulard and Lafayette Square serve as powerful examples of historic preservation realized, but many other areas have been waiting so long for developers that falling debris is part of the backdrop. The city vows to raze more buildings − including some of its own.