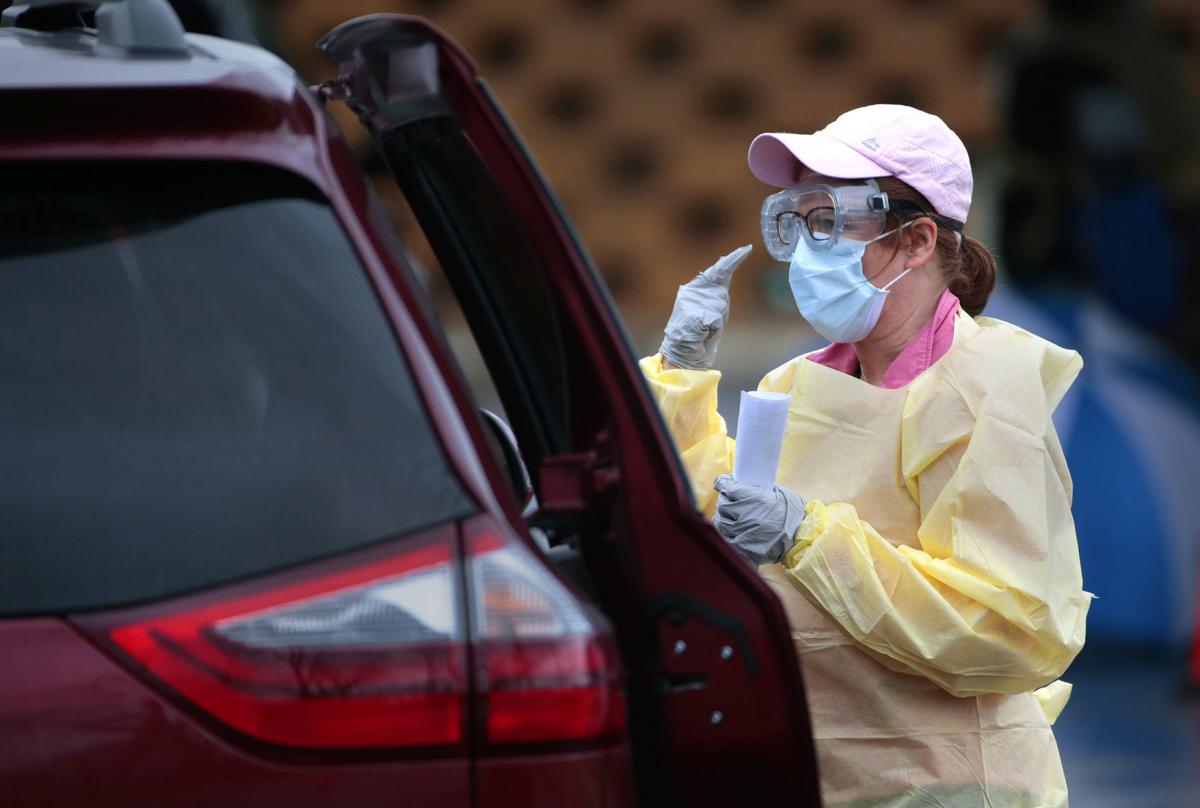 ST. LOUIS — The number of COVID-19 cases in Missouri was poised Sunday to surpass 7,000 while health officials in Illinois reported more than 2,000 additional cases, bringing that state's total to nearly 44,000.
Missouri officials said nearly 70,000 tests have been performed in the state to detect the coronavirus. The state recorded 274 deaths as of Sunday. It saw increases of 171 cases and one death from the prior day.
Illinois Gov. J.B. Pritzker said 2,126 cases of the virus had been confirmed in the prior 24 hours for a total of 43,903. He added that many people in that total had recovered from the virus. Cases have been confirmed in 96 of the state's 102 counties.
At least 1,933 people have died of complications related to COVID-19 in Illinois.
There were 4,595 people hospitalized with presumed or confirmed cases of COVID-19, Pritzker said. Of those patients, 1,267 were in intensive care and 772 were on ventilators. Medical staff across the state have performed nearly 215,000 tests for the virus.
Asked about video footage of a large gathering recently in the Chicago area, Pritzker urged residents to continue heeding social distancing guidelines for safety reasons.
"You're literally putting everyone around you in danger (and) they are putting you in danger," Pritzker said. "COVID-19 works like this: First you're asymptomatic — you're a carrier. You might feel just fine, and you'll go home and you might give it to people at home. You'll see your friends (and) you'll give it to one of your friends or more. You are a spreader of COVID-19. The whole purpose of social distancing, of wearing masks and staying home, is we don't want to spread this to our loved ones or others in the community."
Missouri Gov. Mike Parson did not hold a briefing Sunday.
Health officials in St. Louis have said the St. Louis region's rising number of coronavirus patients likely would peak in the last couple of days.
But it may take a bit of time and additional data to see whether that has happened.
Going into the weekend, Dr. Alex Garza, head of the St. Louis Metropolitan Pandemic Task Force, explained that officials "want to see a sustained reduction" in hospitalizations from the virus before safely relaxing safeguards and lockdown measures.
"Absent wide-scale testing, that is our best marker for what is occurring out in the community," Garza said.
Updated data from the state Sunday showed 74 new cases of the virus in St. Louis County.
On Monday morning, St. Louis County Executive Sam Page plans to announce an advisory panel that will guide county administrators on spending millions in federal relief money. The group will consider the public health, economic recovery and humanitarian needs of the county in its guidance.
Garza said Friday that the number of new COVID-19 cases was slowing in the St. Louis region. But he cautioned that only hindsight will make it clear whether the area has rounded the peak and reached the downside of the transmission curve.
"The virus will let us know when the peak has occurred," he said.
On Sunday there were 1,037 cases reported in the city of St. Louis, an increase of 18 cases from Saturday's total. There have been 48 virus-related deaths, city officials said.
Jefferson County reported five new cases of the coronavirus for a total of 258, with 101 of those cases related to long-term care facilities.
St. Charles County reported 550 cases on Sunday, up by 17 from Saturday's count.
Concerned about COVID-19?
Sign up now to get the most recent coronavirus headlines and other important local and national news sent to your email inbox daily.