ST. LOUIS — Joe Edwards, the innovative force behind the Delmar Loop, has sold nine properties to Washington University, including the well-known Pin-Up Bowl, a move that has turned the university into one of the entertainment district's largest property owners.
The private college acquired seven buildings and two parking lots from limited liability companies owned by Edwards, the longtime steward of the Loop whose revitalization efforts turned it into one of the St. Louis region's most popular shopping, dining and entertainment districts. The sales prices were not disclosed.
Edwards said the deals — which do not include his famed Blueberry Hill, Moonrise Hotel or concert venues — will ensure the Loop is taken care of for decades to come. The proceeds from the sales will help him pursue more projects in the Loop, he said, including a new mini-golf entertainment center that is slated to open later this year. He will still manage Pin-Up Bowl, which he first opened in 2003.
"This is a win for the Delmar Loop," Edwards said.
Washington University has long owned multifamily properties near the Loop that it uses for off-campus housing. But in recent years, the university has grown its commercial holdings along the entertainment district's roughly 1-mile stretch of Delmar Boulevard that crosses from University City into St. Louis.
The area was desolate before Edwards opened the now-iconic restaurant and music club Blueberry Hill in 1972. That success later led to a renovation and reopening of Tivoli Theatre and Blueberry Hill's Duck Room, where Chuck Berry played over 200 shows. Edwards also opened Peacock Diner, Moonrise Hotel and music venues The Pageant and Delmar Hall. More recently, he spearheaded the Loop Trolley.
The Loop now is a prime destination for tourists and locals alike. Its proximity to Washington University, whose Danforth Campus is less than a mile south, also makes it a major draw for students.
The university said that it maintains an interest in the neighborhoods around its campuses and tries to stay informed of properties available for sale.
In a statement, the university said that it may use some of the vacant space for administrative offices and that it has no plans to change the current tenants or how the businesses operate.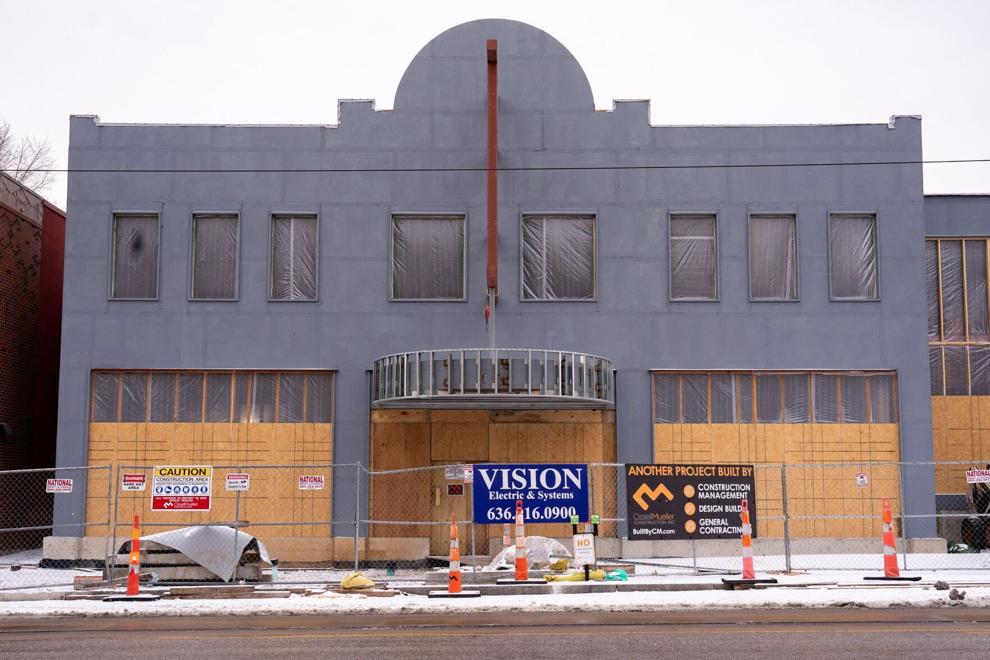 "We saw an opportunity to help preserve and support the vitality of the Loop and also secure space close to the Danforth Campus that could be used for university purposes," the organization said. "We're grateful for our partnership with Joe."
The university's biggest real estate play in the Loop has been The Lofts, a mixed-use student housing development it built 1 block west of Skinker Boulevard that features Peacock Diner and United Provisions grocery mart. It opened in 2014.
This latest acquisition represents one of Washington University's biggest land grabs on both the St. Louis and University City sides of the Loop.
In the city, the deal includes Pin-Up Bowl, at 6191 Delmar; several mostly vacant low-rise retail buildings, one of which housed Pi Pizzeria before it closed; and two parking lots behind Moonrise Hotel and The Pageant.
In University City, it acquired the former Craft Alliance building, at 6633 Delmar, and the retail shops that once housed a Ben & Jerry's ice cream shop and Babes Boutique and Rocket Fizz.
Washington University, which is typically exempt from paying property taxes, said it will continue paying taxes on commercial properties that are leased or will be leased to businesses. The properties have a combined tax value of $584,124.72.
University City spokeswoman Mary Goodman declined comment.
For Edwards, the mainstay of the Loop, he said he has no plans to retire. He already has his next big play with Magic Mini Golf, at 6160 Delmar.
The facility will have an 18-hole mini golf course, an indoor Ferris wheel and shuffleboard courts, among other amenities. He said it should open by late spring.
"I'm excited for the future," Edwards said.
---