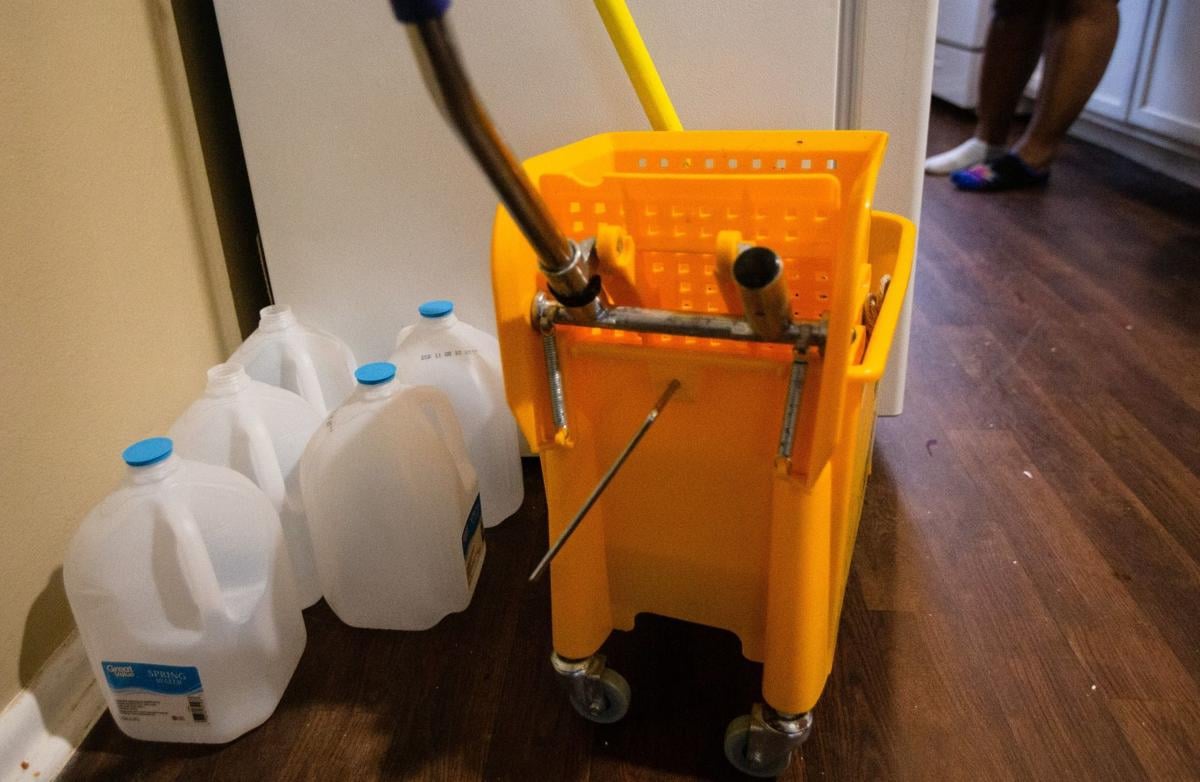 ST. LOUIS COUNTY — Missouri American Water, which provides potable water for much of St. Louis County, has vowed to keep lines open at troubled T.E.H. Realty apartment complexes, at least temporarily, even though the properties are way behind on bills.
Missouri American Water said it plans to seek guidance next week from a state regulatory agency on what to do next.
"We don't want people to be without water services through no fault of their own," said Brian Russell, a spokesman for the water company. "In the interest of fairness, we think this is the best way to handle it."
T.E.H. Realty, which recently owned as many as 12 large apartment complexes in the St. Louis region, has been under fire for months for providing dismal living conditions to hundreds of families. More recently, the firm appears to have walked away from the property management side of the business.
Residents at some complexes are using ovens for heat. Management and maintenance teams have disappeared. Trash, water and sewer bills — which are supposed to be included in tenants' rent payments — have backed up considerably.
On Oct. 31, T.E.H. Realty owed Metropolitan St. Louis Sewer District $162,471. A city spokesman recently said T.E.H. Realty owed "several thousand dollars" in delinquent water bills, mainly from Southwest Crossing Apartments, a 328-unit complex in south St. Louis, but that the water wouldn't be turned off.
In much of the county, Missouri American Water controls the taps. In the past, when Missouri American Water shut the water off at T.E.H.-affiliated properties — or threatened to — bills would get paid.
"Recently, it's just been a lack of payment overall," Russell said.
He said T.E.H. Realty is delinquent on 141 water meters. Some for as little as $10. Others for more than $1,000. Of the total balance due, he would only say: "It's not insignificant."
Russell said Missouri American Water is within its contractual rights to cut the water off on numerous meters but wanted to consult the Public Service Commission, a state regulatory agency, on Monday.
Though numerous meters have been shut off in recent weeks, Russell said all of them were supposed to be turned back on before Thanksgiving morning. In the event that some of the meters are still turned off, he said, residents should contact Missouri American Water.
"We will come back out there and turn their water back on as part of this," he said. "We feel like it's the right thing to do."
Looking away
After a day or two without water this week at part of Pinnacle Ridge Apartments, a 168-unit complex at 10613 Lookaway Drive, which straddles north St. Louis and unincorporated north St. Louis County, water was flowing by Wednesday.
"Nobody should live like this," James Moore, 60, said Thursday. His stepdaughter lives at Pinnacle Ridge with young children, including a newborn. "Whoever owns this property isn't living like this."
He said the owners should be punished.
"If you abuse an animal, they are going to lock you up," he said. "So why would you do a human like that — without water and all that?"
Last week, in his last email correspondence with the Post-Dispatch, Michael Fein, a T.E.H. Realty investor and manager, didn't shed light on what's going on at the firm. He downplayed the situation in St. Louis and said: "There are changes in the works …"
The firm has large, low-income apartment properties in St. Louis, Kansas City, Tulsa, Oklahoma, and Indianapolis. Yet months ago, the T.E.H. Realty website was wiped clean of information and still says only this: "Get Ready … Something Really Cool Is Coming Soon."
Fein, who commutes from Israel, said previously that he didn't know about the website content. He said he didn't use the internet.
Getting burned
This week, residents at Pinnacle Ridge and other T.E.H. Realty properties were honing survival skills. Robin Long, 27, gathered water in a large pot, then dumped it down the toilet to flush.
By Thursday, the big pot was on the stove, full of collard greens. She wants stability for her family.
Not just on Thanksgiving.
"What's going to be turned off next?" she wondered.
Though the water is back on, the heat isn't at some units.
For now, Sims and her husband, who is epileptic, have a fan set up in the kitchen that's supposed to blow heat from the oven to the rest of the apartment. They have to keep their eyes on it, though.
One of their young children, nearly 2, likes to be a good helper and close the oven door. They fear the oven, which cooked a large pork loin Thursday, might burn him.
Be the first to know
Get local news delivered to your inbox!