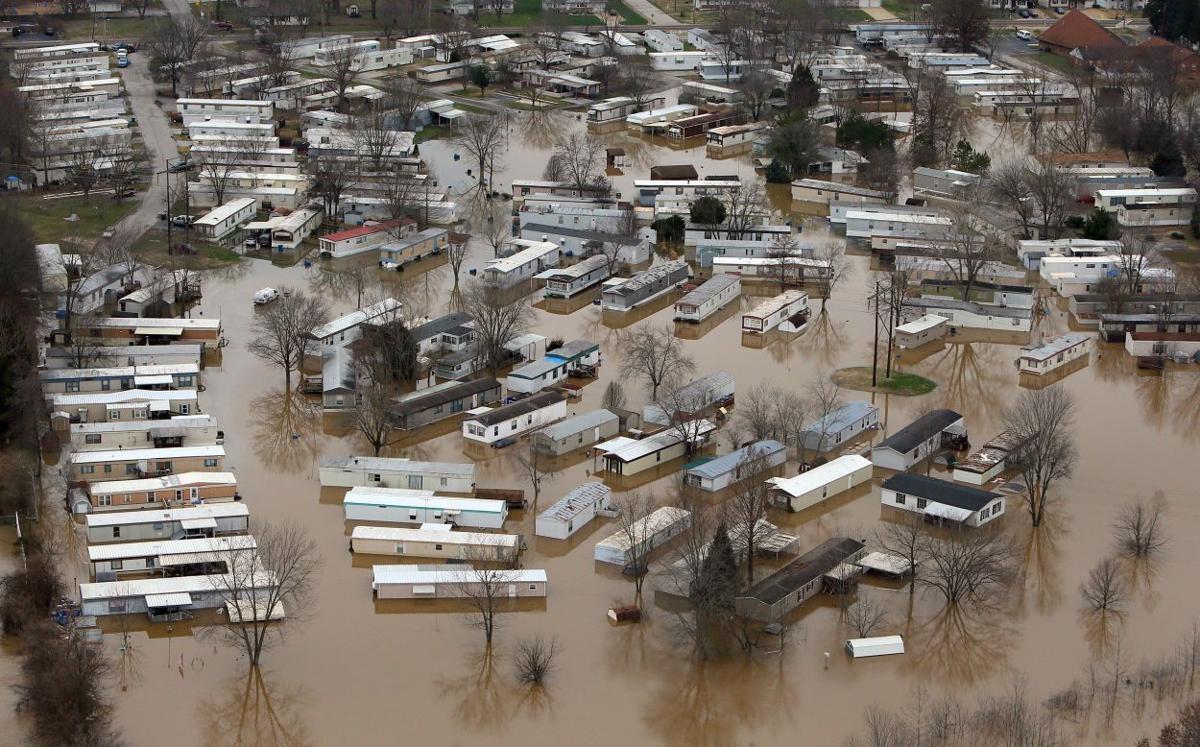 As the Meramec River continued falling, local inspectors followed the water's retreat to assess damage.
In Sullivan, in Franklin County, the Meramec already was below flood stage Friday morning after a drop of 24 feet since cresting Tuesday.
Here are other flood numbers on the lower Meramec, and some partial damage estimates:
At Pacific, where the river crested at 33.4 feet on Wednesday, within a few inches of its 1982 record, the river had fallen nearly 12 feet as of Friday morning and was forecast to drop below flood stage late Friday. Emergency director Dian Becker estimated the flood damaged nearly 400 homes and businesses, some with water six or more feet into living quarters.
In Eureka, the river crested Thursday at 46.1 feet, nearly four feet over the 1982 record. It had fallen more than 10 feet by Friday morning and is expected below flood stage Saturday.
At Valley Park, the river crested at 44.1 feet late Thursday, or 4.4 feet over its 1982 record. It had fallen seven feet by Friday morning. The city's levee, built after 1982 and numerous other floods, held against the crest.
In Arnold, the Meramec crested late Thursday or early Friday at 47.3 feet, two feet over the 1993 record. It had fallen two feet by Friday morning, but wasn't expect to drop below flood stage until mid-January because it flows into the flooding Mississippi River. The city emergency office estimated 150 homes were flooded or damaged by sewer backups.
Jefferson County emergency director Warren Robinson estimated that about 300 homes suffered damage in the unincorporated areas along the Meramec. He said thorough assessments will begin Monday.   
The Mississippi was falling slowly at Grafton and cresting at Alton and St. Louis. At the Gateway Arch, the river was at 42.6 feet Friday morning and was expected to fall below flood stage by Jan. 7. This flood will be the third highest on record at St. Louis, but still seven feet below the high mark of Aug. 1, 1993. Flood stage downtown is 30 feet.
The Missouri River was down 10 feet at Hermann and three feet at Washington, and down one foot at St. Charles since a crest of 35.1 feet Wednesday and Thursday. That is five feet below the 1993 level and is the 13th highest on record there.