ST. LOUIS — Officials from county health departments across the St. Louis region say they have the manpower, the space and the demand to vaccinate sometimes thousands of residents a day — but they can't get enough vaccine.
The demand for COVID-19 vaccinations is overwhelming. Health departments in Missouri and Illinois have received tens of thousands of sign-ups. Supply, though, is another story, as local county health officials describe a rollout of available vaccines that has been slow to materialize, unpredictable and riddled with logistical dilemmas.
"So much of this relies upon a consistent and dependable supply," said Christopher Ave, a spokesman for the St. Louis County Department of Public Health. "Until we have more vaccine, we're not able to be fully operational."
In St. Louis County, demand currently exceeds supply by orders of magnitude. The county — the most populous in the state — has received only about 5,000 doses of the vaccine, so far. Meanwhile, about 320,000 people have already registered to get vaccinated. With two separate doses needed for a full vaccination, that equates to 640,000 doses requested by county residents.
"Five thousand doses versus 640,000 doses needed," said Ave. "That is the No. 1 issue, no questions about it."
Missouri Gov. Mike Parson blasted the U.S. Centers for Disease Control and Prevention on Tuesday, accusing the agency of under-reporting the number of Missourians vaccinated. Parson also unveiled a state dashboard that is tracking vaccinations.
The CDC said on Tuesday that 4.3% of Missourians have received a first dose, the lowest in the nation. Missouri's dashboard reported an increase of average daily vaccinations, to 15,544 on Sunday, up from 11,076 a week earlier — but still only 4.5% of the population.
On Tuesday night, Parson spokeswoman Kelli Jones said the administration is looking at diverting 25,000 doses away from pharmacy giants CVS and Walgreens for distribution at mass vaccination sites run by the Missouri National Guard.
Illinois has also reported increases in vaccinations. Health department data showed that the state is adding 30,180 average daily vaccinations, as of Monday, up from 22,134 one week earlier.
And Illinois on Tuesday announced a partnership with Hy-Vee pharmacies across central and northern Illinois to offer the vaccines to eligible residents starting Wednesday. Hy-Vee has 16 locations in the area, and each will be able to provide a maximum of 200 doses per day, a state health department spokeswoman said in an email Tuesday. Vaccine has also been distributed to a total of 92 Walgreens and Jewel-Osco pharmacies throughout state, including two Walgreens locations in Madison and St. Clair counties in the Metro East.
At least one Missouri county shared good news on Tuesday: The Lincoln County Health Department said it would administer about 2,000 doses of the Pfizer vaccine on Friday at a mass vaccination event with the Missouri National Guard.
But most area health department officials said this week that they can't vaccinate en masse because they don't have vaccine on hand.
John Wagner, administrator for the Monroe County Health Department, said his county could administer 3,000 vaccinations each day. In a county with just under 35,000 people, that would mean the entire population could be inoculated with the first vaccine dose in about a week and a half.
But so far, over five weeks, the county has received just 1,000 doses.
"We just can't get vaccine," Wagner said.
Wagner is expecting 400 doses to arrive this week. When they do, appointments will probably be limited to residents age 75 and older, he said, even though residents 65 and older are technically eligible under the state's vaccine phases.
"Hopefully more things come online, or we start getting more vaccine, because if we don't, it's going to be a long, long time before we can get to the general population," Wagner said.
In St. Charles County, so far 101,000 people have signed up through the health department's COVID-19 vaccine registry. But the county has only received 3,150 doses, and all of those will be administered by the end of this week.
Public Health Director Demetrius Cianci-Chapman said the county regularly orders more vaccine doses, but only learns a few days ahead when it will receive a shipment.
With increased supply, the county could administer 2,500 vaccinations per week now, he said, and 5,000 per week soon.
In Washington County, about 70 miles southwest of St. Louis, officials say that about 1,000 residents or more have signed up for a vaccination, with "more and more" added to a waiting list each day.
Actual vaccinations, though, might only reach a few hundred, thus far, local health leaders estimate.
"We haven't received much vaccine," said Shawnee Douglas, the administrator for the Washington County Health Department.
Area health officials acknowledge that the vaccine isn't easy to distribute. The Pfizer vaccine, for instance, is available only in minimum shipments of 975 doses that require super-cold storage and need to be administered within 10 days.
Douglas said the county is preparing outdoor, drive-thru immunization clinics with plenty of staffing help from emergency personnel — and even retired nurses — to handle the volume.
"We will have to work like dogs to get it all given in the 10 days," Douglas said.
The department recently ordered some Pfizer vaccine and is waiting to hear back. It agreed to distribute unused doses to other counties.
As of Tuesday, Jefferson County's health department had not received any.
"We just can't get our hands on vaccine," said Kelley Vollmar, director of the Jefferson County Health Department.
The county Health Department Board of Trustees voted on Tuesday evening to approve an agreement so that the county could, in the future, receive doses redistributed from St. Louis County.
"You've got everything ready to go, and everybody's adrenaline is pumping," Vollmar said. "But you're just waiting, and there's no word about when you're going to get the vaccine."
For the first time since Nov. 5, Missouri on Tuesday reported fewer than 2,000 hospitalized COVID-19 patients statewide. There were 1,953 patients reported on Tuesday, down from 2,088 the day before. Missouri hospitalization data lags three days, and not every hospital reports every day.
Missouri reported 1,079 new cases of COVID-19 on Tuesday
Missouri reported 133 deaths due to the virus. Of those, 103 occurred in prior weeks: six occurred in November, 67 in December and 30 earlier this month.
Illinois reported 3,667 new cases of COVID-19 on Tuesday, and 87 deaths due to the virus.
The St. Louis Metropolitan Pandemic Task Force reported 61 new COVID-19 patients admitted to hospitals in the area, down from 67 the day before, continuing the downward trend the region has seen since hitting a peak of 155 in November.
Michele Munz of the Post-Dispatch contributed to this report.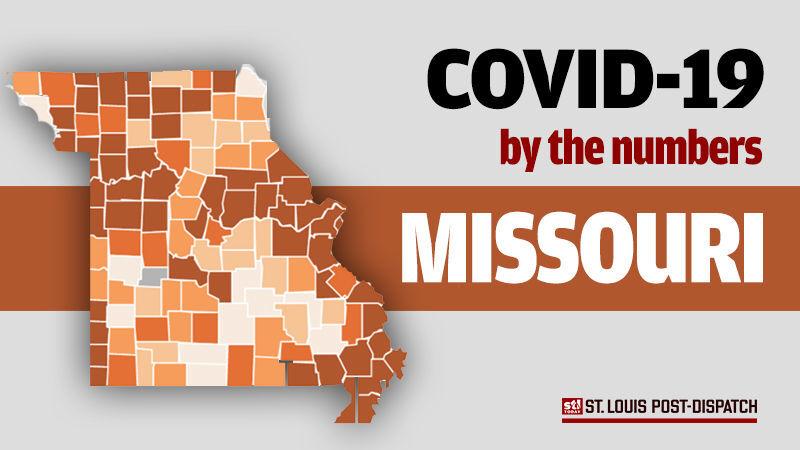 NOTE: Missouri updated its data dashboard on Sept. 28 to delete duplicate cases. This resulted in a decrease of total cases which caused the daily count to reflect a negative number.
Note from St. Louis Metropolitan Pandemic Task Force regarding the numbers for July 20: There was a delay in reporting some test results leading to the increase in reported hospital admissions.
Note from Missouri Department of Health and Senior Services: Note: Due to an abrupt change in data measures and the reporting platform issued by the White House on Monday, July 13, and effective Wednesday, July 15, Missouri Hospital Association (MHA) and the State of Missouri were unable to access hospitalization data during the transition. .