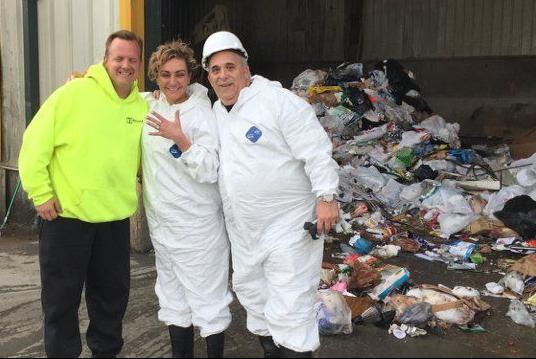 Standing in the middle of several tons of trash, Bernie and Carla Squitieri and the men helping them were all highly doubtful.
The garbage truck had pulled away from their Clarkson Valley home hours earlier, stopping at hundreds of houses after that, compacting more and more garbage on top of theirs as it continued on the trash route.
It was a little before noon at home Monday when Carla Squitieri started to panic.
She couldn't find her rings. One had a 12.5-carat diamond, a 15th wedding anniversary present from her husband. The other was an infinity band encrusted with diamonds totaling seven carats.
"I was like a lunatic, ripping the house up," Carla Squitieri said.
Bernie Squitieri froze when they realized the last place she had the rings was on a paper towel in the kitchen, where the jewelry was drying off after she washed dishes. She got distracted. Later that night, he tossed the paper towel in the trash while cleaning up the kitchen.
"We both ran out to the trash, only to realize (the garbage truck) had come and gone," Bernie Squitieri said.
As Carla Squitieri cried, distraught over the loss of rings that she had planned to pass down to her daughter, Bernie Squitieri got on the phone.
All told, the rings are valued at close to $500,000. Though they are fully insured, the jewelry has so much sentimental value Carla Squitieri was willing to dig through mountains of trash to find them and get them back on her finger.
That's how the couple ended up at a trash transfer station in O'Fallon, Mo., wearing white haz-mat suits (feeling like characters from "Ghostbusters") and digging through an estimated eight or nine tons of trash. Hopelessness permeated the scene more than the stink of yesterday's garbage.
It was an accomplishment just getting there, though.
Needle in a haystack
When customers call Meridian Waste Services about losing an item in the trash, the trucks usually have already dumped it in a landfill to be bulldozed and buried. Nine times out of 10, the item is never found, said Joe Evans, operations manager for Meridian.
Bernie Squitieri's first call was to Meridian. The person on the other end of line told him there was nothing they could do, as did the supervisors he asked to speak with after that. Needle in a haystack, they told him.
Bernie Squitieri knows the mayor of Clarkson Valley, so he got him on the phone. Pretty soon, the driver of the Meridian truck that picked up the Squitieris' trash was diverted from the landfill and to a spot in O'Fallon, Mo., where the Squitieris would be waiting.
"He said, 'I'm not calling to demand anything. I'm just calling to say whatever it is we can do, we'll do it,' " Mayor Scott Douglass said. "I thought, well, where there's a will, there may be a way. We'll get after it, see if we can find it."
Evans heard about the missing rings worth about a half-million dollars, and decided to head over with three guys to help the couple look. Lost cause, the men thought, as they pawed through one white trash bag after another.
Tearing into another about 20 minutes into the search, Evans recognized the Squitieris' address on a piece of mail inside. He took it to a clear space and dumped it.
And there, in midst of the other trash, he saw the sparkle of a diamond partly hidden by the paper towel wrapped around it.
"All it comes down to is luck," Evans said.
There were more tears, lots of hugging and then, a $500 reward for Evans.