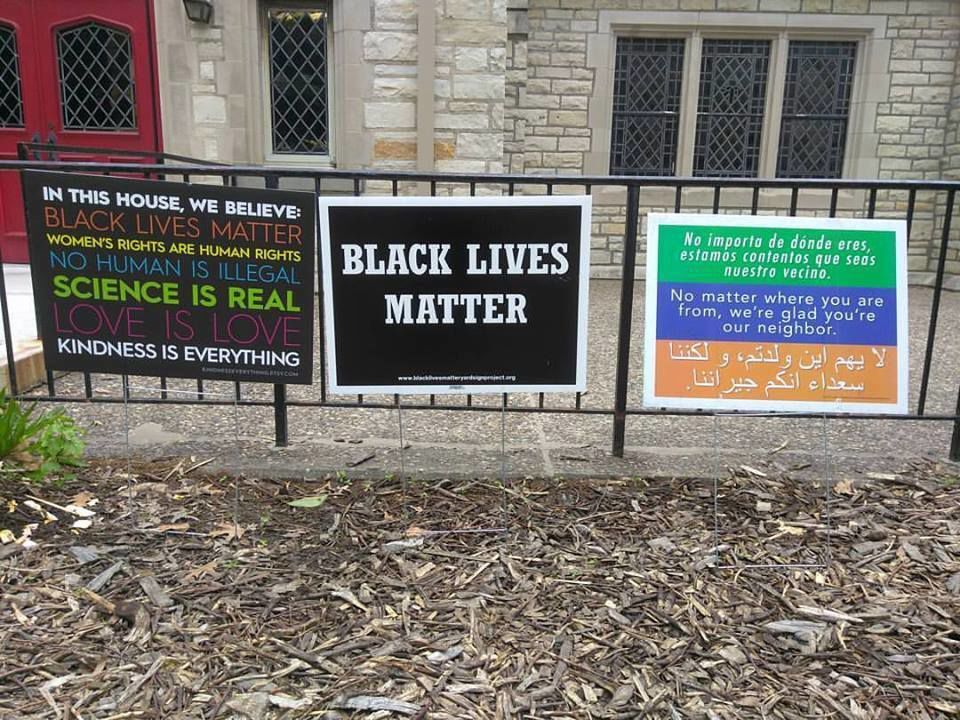 WEBSTER GROVES — A symbol commonly used by white supremacist groups was spray-painted outside of two Webster Groves churches on Friday.
The Rev. Wendy Bruner, pastor of Peace United Church of Christ, said she got a call from a colleague who noticed the symbol had been painted seven times on the public sidewalk not far from the congregation's flags and signs in support of Black Lives Matter and LGBT rights.
Peace UCC's nearby sister church, First Congregational Church of Webster Groves, also had the symbol painted on its sidewalk, Bruner said.
The markings painted in red were numbers often used by white supremacist groups to support skewed claims about minority violence.
The vandalism appeared hours before the church was set to hold its weekly vigil in support of racial justice and the Black Lives Matter movement.
Members of the congregation have been gathering each Friday since June outside the church property at 204 East Lockwood Avenue holding signs and photos of people killed by police officers.
"I've been noticing that things feel more charged right now in Webster," Bruner said Saturday. "Most people seem to support us, but there's been a lot more yelling. Yesterday one man drove by blaring a bullhorn at us."
Bruner said she sees the vigils as part of her church's mission.
"I firmly believe this is what Jesus would do," Bruner said. "He spoke up against the Roman Empire that oppressed people. We're speaking up for oppressed people today."
Bruner said she called city officials and the graffiti on the public sidewalk was removed by the end of the day Friday. Bruner posted an image of the graffiti on social media because she thought it was important to expose what had been done.
"We're a white church in a suburban neighborhood and there is so much worse going on in the world than getting tagged," Bruner said. "But this is a sign of divisiveness in our community. It shows there is this kind of hate in Webster Groves that we need to face."
Bruner said people have stolen the church's Black Lives Matter signs in the past, but this is the first time the area around the property had been painted.
There has also been similar vandalism at other churches in the area.
In 2015, the Eliot Chapel Unitarian Church had the letters "FU" and black squiggles painted on its Black Lives Matter banner placed on the building a year after the death of Michael Brown in Ferguson.
Be the first to know
Get local news delivered to your inbox!