Winter's surprisingly early opening act isn't done with us just yet.
A light snow had already begun falling as far north as downtown St. Louis by 8 p.m., though forecasters don't expect heavier snow until closer to midnight.
Forecasters say 4 inches of snow may be on the ground by sunrise. By the time the snow stops falling sometime Thursday afternoon, there could be 5 to 7 inches on the ground, and possibly more in some spots of the St. Louis area.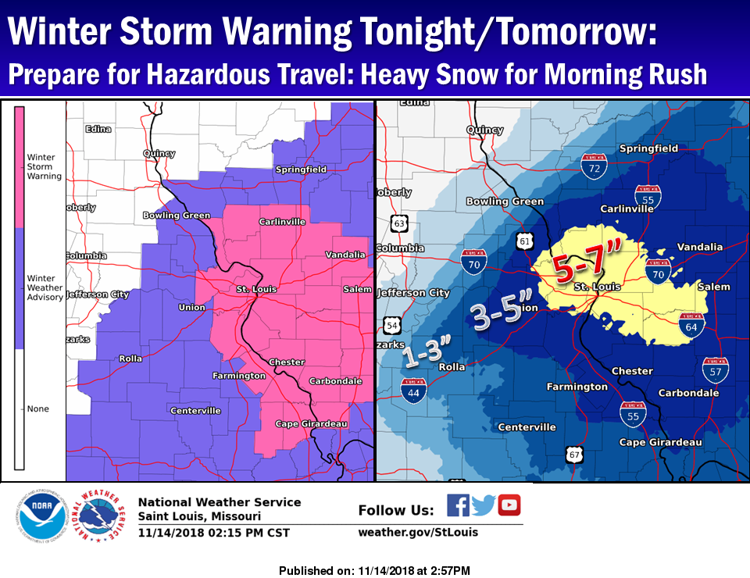 The National Weather Service in St. Louis has issued a winter storm warning effective until 6 p.m. Thursday. Areas in the warning include St. Louis city, St. Louis County, Jefferson County and St. Charles County in Missouri. Areas in Illinois include Madison, St. Clair, Monroe, Jefferson, Jersey and Macoupin counties.
A winter storm warning for snow means that heavy snowfall of 6 inches or more is expected, making travel difficult. Officials warn travelers to be cautious, have a full tank of gas and carry a winter storm kit including a shovel, flashlight and blankets.
Already at 7 p.m. Wednesday, the National Weather Service had received reports of roads in southeast Missouri and southern Illinois becoming snow-covered.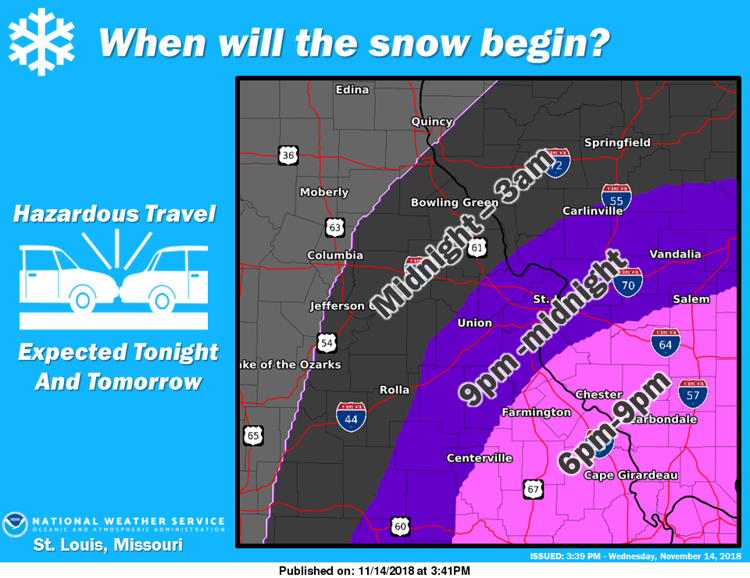 The timing of the snowfall means the morning commute Thursday could be a snowy mess. Depending on the storm's final track, the Thursday afternoon drive could be a problem, too.
Wind and bitter cold aren't expected to be major players in this storm. Temperatures are expected to remain steady in the upper 20s in the early morning hours Thursday, with a slow warming to a high of about 33. The wind is forecast to be less than 10 mph outside any gusts.
Forecasters have high confidence of a significant winter storm.
But the storm's track matters. If the storm system heading north from the Gulf of Mexico veers west from the forecast path, areas near St. Louis would see more snow. If the system wobbles even 20-30 miles east of the current forecast route, St. Louis would see an inch or two of snow, with areas north and west of the city getting little, if any snow.
Highs on Friday and Saturday will reach the low 40s, according to forecasters.