ST. LOUIS • Jobless and fresh off a break-up, Chad Bergman picked a spot to camp last August with a great view and tall grasses that hid his tent from discovery.
"I wanted to be nonchalant," said Bergman, 40, most recently of Waterloo.
Soon, more homeless people flocked to the same cozy spot. The small gathering became a small tent community, complete with a portable toilet, Dumpster and regular food drop-offs from goodhearted folks.
Still, unless you knew where to look, the group was camouflaged by overgrown weeds. Then fall arrived and killed the vegetation, laying bare the camp right at the Stan Musial Veterans Memorial Bridge off-ramp onto Tucker Boulevard.
There are 19 people who live there today, according to Bergman, who acts as the manager and fire marshal. There are couches around a fire pit, raised plywood walkways, two generators and a tire swing hanging from a tree.
The panoramic view of downtown is eye-catching.
"It's beautiful," said Jeremy Funk, a new arrival in his mid-40s. "My wife and I are starting all new. It's a good little place, right here."
The unofficial camp motto — "I don't know you but I love you" — resonated.
"If it wasn't for this," said Funk, a Marine Corps veteran who did time in prison, "my wife and I would be doing God knows what to survive. They gave us a chance to do it the right way."
While city leaders scuttle to come up with an alternative to the Rev. Larry Rice's New Life Evangelistic Center emergency shelter, the camp illustrates how complex tackling the homelessness problem is. And it illustrates its dangers.
Residents represent a particularly independent part of the homeless population that feeds off the camaraderie of shared suffering and the freedom to live outside with their own rules.
Unlike some shelters, they don't have to be out on the streets by early morning. They don't need to haul belongings all over the city in trash bags and suitcases until nighttime.
And if they want to slurp from a 32-ounce Milwaukee's Best Ice, apparently the beer of choice, that's fine, too.
But there are limits to the freedom. Pretty much anybody can stay for a night or two. After that, they need to be voted in. Crack is a deal breaker.
One of them slips away to school every day. Another has an apartment but chooses to stay at the camp for company. Some wrestle with alcoholism.
"As I get involved with them," Gonnella added, "I see that many of them are homeless inside themselves, unable to live within themselves."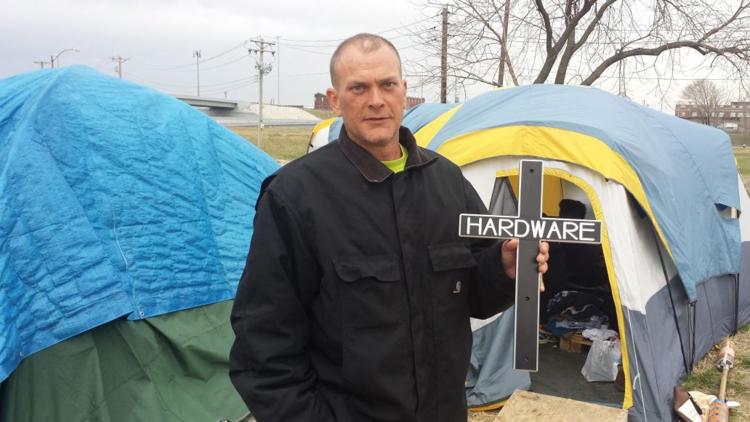 On a recent afternoon, a woman with two huge black eyes didn't get out of her tent. Bergman, who was in control and seemed respected by his community, had a nearly healed large round scar on the back of his head. He wouldn't explain, other than to say there used to be a few people around who didn't believe in the communal lifestyle of sharing donated items.
Fire extinguishers are scattered here and there. Extension cords run from generators to a limited supply of electric blankets. Propane stoves are supposed to be turned off by 10:30 p.m.
"The rule is, when you go to sleep, turn the heat off because you will die," Bergman said.
"Pops," the camp elder, asked Bergman for an extra power cord that would reach an electric radiator parked in the foyer of his large tent. Bergman expected it would be a couple of days before another cord came in.
In the meantime, Bergman said he'd share his tent with him.
"I like my own," said Pops, 82, sporting a clean gray beard and U.S. Army cap.
After Burkot's death, the city vowed there would be no more tent communities, which seemed like too broad of a stroke to Ronald Coleman, pastor of Holy Temple Church of God in Christ, whose north St. Louis flock drops off food.
"You can't make a temporary decision for a permanent situation," Coleman said.
Eddie Roth, St. Louis' new human services director, said the city was on track to establish by mid-April a new system of shelters that are "professionally managed," "publicly accountable" and open 365 days a year. The 175 beds for men, women and children will be scattered around four or five locations.
"We are making progress," Roth said, adding: "The idea is to not have anywhere near the concentration that exists in overnight shelter now" at New Life Evangelistic Center.
Roth said new protocol would be implemented for the health department and building division to intervene before tent encampments expand. He said camp residents would be given time to gather their things and would be encouraged to move to one of the new shelters or be referred to the city's network of nonprofits that tries to serve the poor.
"We are going to have a place for them to go," Roth said. "We'll give a reasonable time to gather their things. If you don't gather your stuff, we will bag them and store them."
Bergman knows the end is near for the camp and offers his own advice. Turn one of the abandoned public school properties into a facility for the homeless. Consider a community of small cottages such as Quixote Village in Olympia, Wash., that grew out of a homeless camp.
"It may not work in St. Louis, but can we give it a try?" he said, displaying paper renderings of the option.
Perhaps more so than his ideas for the future, there's more to learn from Bergman's history. He's a former resident of Dignity Harbor, one of three tent encampments that the city scraped from the riverfront in 2012.
Bergman said he had received a voucher for a hotel, then assistance for an apartment. He got a job driving trucks again before falling back into a similar hole in August, at the nameless camp on Tucker Boulevard.
He said he had family to lean on but instead chose to stay outside.
"When they take you out of here and put you in a home," he said, "you still have the same problems."
Be the first to know
Get local news delivered to your inbox!