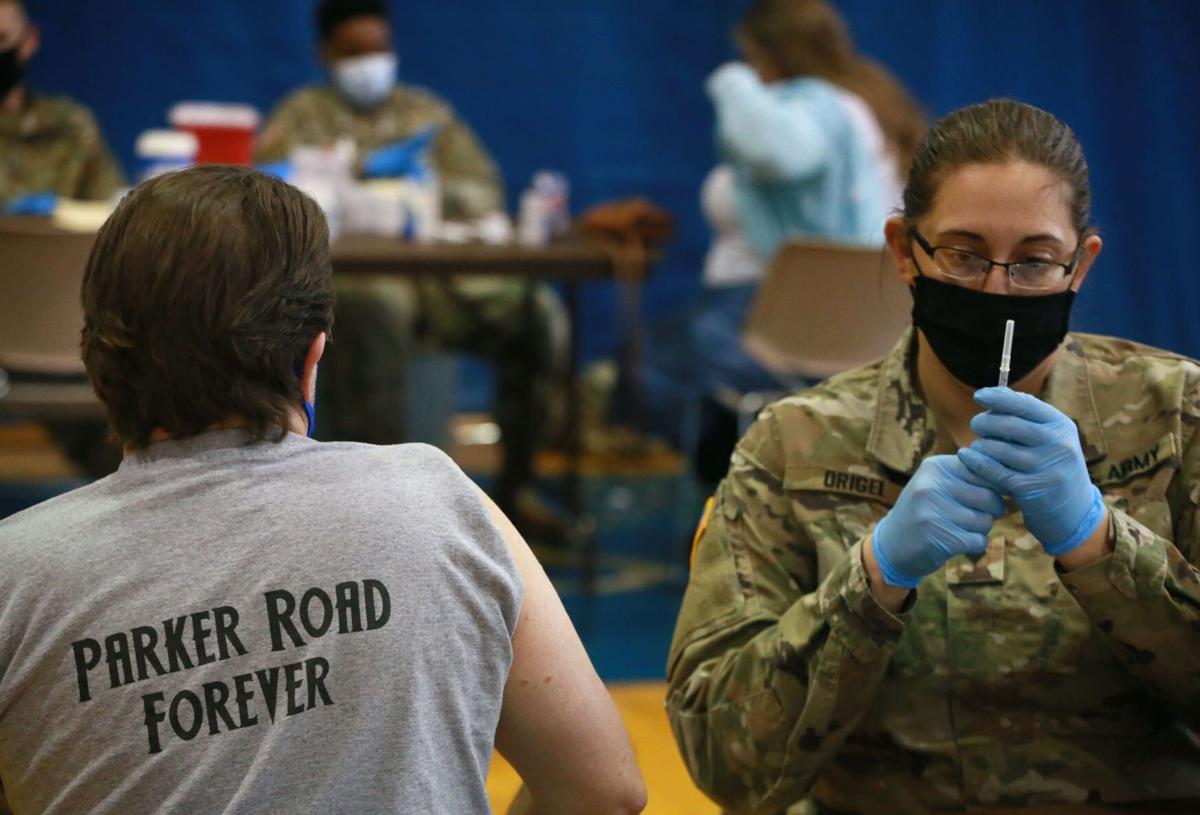 ST. LOUIS — The St. Louis Metropolitan Pandemic Task Force on Wednesday released data showing that, with COVID-19 vaccine supply increasing — plus a flurry of mass vaccination clinics — the region could reach widespread immunity sooner than previously projected.
The region is now seeing about 53,000 first doses of vaccine administered each week, and at that rate, 75% of the adult population could receive at least a first dose by mid-July, about a month ahead of schedule.
"We're gaining momentum," said Dr. Alex Garza, who leads the task force.
But Garza also cautioned that some public health departments in the region have reported slight upticks in new COVID-19 infections over the past week.
"It's sort of this concurrent race to get people vaccinated as quickly as we can, while keeping mitigation strategies in place so we don't see that rise in cases and hospital admissions," Garza said.
St. Louis case numbers, for instance, have risen recently, said Mayor Lyda Krewson, to a seven-day average of 30 new cases each day, up from 20 a couple of weeks earlier.
"That's really the last thing that we need," Krewson said Wednesday. She, too, urged residents to wear masks, continue social distancing and get vaccinated.
The city is holding a mass vaccination event on Saturday and Sunday at the America's Center, where between 1,500 and 2,000 people will be immunized each day with the vaccine manufactured by Moderna.
Krewson said that residents would receive invitations for those clinics on Wednesday afternoon. She said the state had not yet opened up registration for the mass vaccination events that are scheduled for the following week, at St. Louis Community College at Forest Park.
St. Louis County also announced on Wednesday new mass vaccination clinics, reserved specifically for North County residents in zip codes with low vaccine registration rates:
The county plans to administer 2,340 doses of the Pfizer vaccine from 7 a.m. to 9 p.m. Saturday at the North County Recreation Complex at 2577 Redman Avenue, in unincorporated St. Louis County near Interstate 270 and Highway 367. Another is set for next week, 8:30 a.m. to 4:30 pm. March 25, at the Metro North Fire District at 1815 Chambers Road.
While Black residents have been disproportionately sickened and killed by the coronavirus, only about 5% of eligible residents in several predominantly Black zip codes have registered for vaccines, county Executive Sam Page said. In other parts of the county, up to 23% of eligible residents have registered.
In addition, a two-day clinic run by the state starts March 26 at the Greensfelder Recreation Complex in Queeny Park, at 550 Weidman Road.
Missouri reported 407 new confirmed cases and 333 new probable cases of COVID-19 on Wednesday. The seven-day average of new confirmed cases fell slightly to 405, according to a Post-Dispatch analysis. The state also reported eight more deaths due to the virus.
Missouri reported on Wednesday that more than 1.2 million people have received a first dose of vaccine, or 20% of the population. And of those, 665,000 have received a second dose.
Illinois reported 1,655 new cases of COVID-19 on Wednesday, down from 1,997 the day before. That brought the seven-day average of new cases down slightly, to 1,579, according to a Post-Dispatch analysis. The state also reported 20 more deaths due to the virus.